NBA Star Starts #InHouseChallenge Using Socks And A Trashcan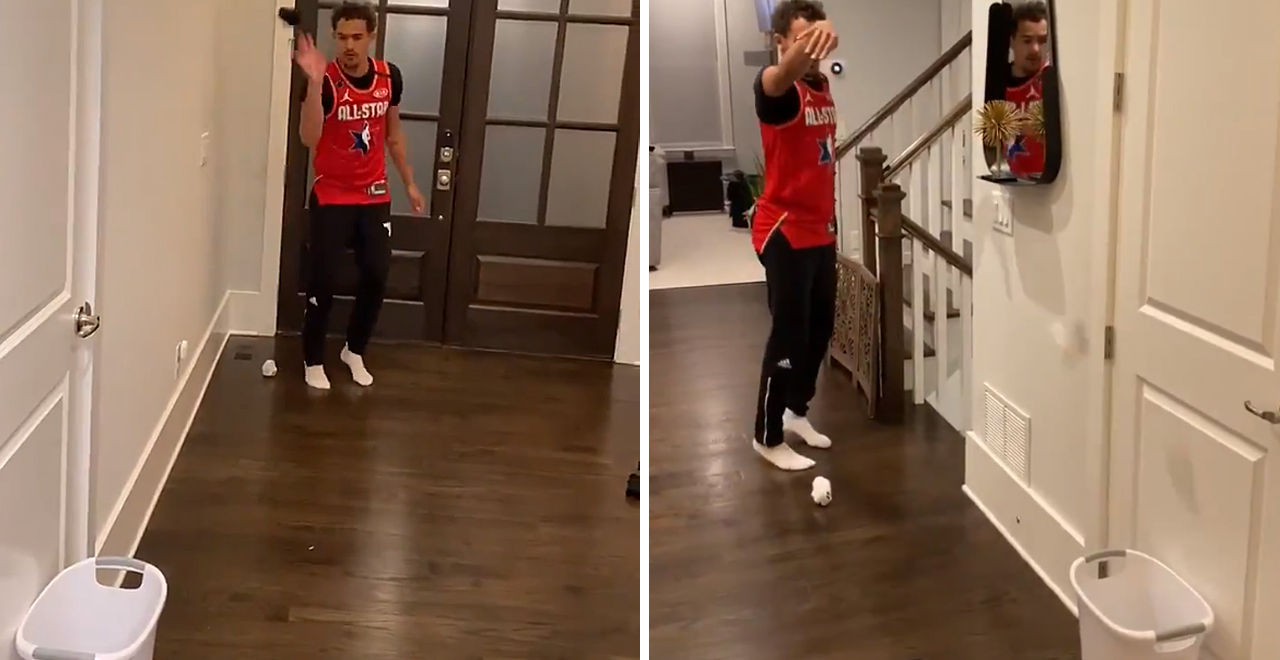 While most of the country stays inside as much as possible, it can be tough to fight off cabin fever. It's March, so you may have been like many, counting on a month of basketball. A moment of silence to those recovering from a vasectomy.
With all sports canceled, athletes are in the same spot as we are, looking for ways to pass the time. And Atlanta Hawks guard Trae Young has found one way to channel his focus: keeping his shot in line.
The young sharpshooter is one of the best scorers in the NBA, so he's been fine-tuning his skills in a manner that most sports fans can relate to by throwing rolled-up socks into a trash can. It's part of his #InHouseChallenge, and his followers are answering the call.
What I'm doing to keep my shot right while I'm at the Crib….🤣😷 #InHouseChallenge pic.twitter.com/h7N7J74S6D

— Trae Young (@TheTraeYoung) March 17, 2020
His video has been viewed more than 2 million times and the best part about this challenge is it's easy to replicate. Sure, you can't pull up at the logo of an NBA court and drain an impossible three like Young, but you can sure as hell throw some socks into a trashcan. And, to be honest, his isn't the most impressive one out there.
Even an NBA player could have trouble beating the backward shot from one college basketball player.
Backwards quarantine edition… 😂#InHouseChallenge pic.twitter.com/Mfvm3rctjn

— Leah Church (@leah_church3) March 17, 2020
Some have put their own spin on it:
He used ice cubes 😆 #InHouseChallenge (via stevenshoe/IG) pic.twitter.com/hUuHcylkEl

— House of Highlights (@HoHighlights) March 17, 2020
Thanks for the inspiration @TheTraeYoung.

You might have created it, but I feel like we perfected it (plus I went 100% from the field so) #InHouseChallenge #levelup pic.twitter.com/t5HLHUsQOz

— Katy Winge (@katywinge) March 17, 2020
But it may be the grapes that take the top billing, at least for creativity:
They grabbed some grapes for the #InHouseChallenge 🤣 (via daveburnett11) pic.twitter.com/wu20XREiFJ

— House of Highlights (@HoHighlights) March 17, 2020
But the point remains the same. Get creative, and find a way to keep yo' skillz sharp. Or, in this case, just find a way to have some fun, by taking on your own version of the #InHouseChallenge.