No-Nonsense Diner Openly Charges Patrons for 'Stupid Questions'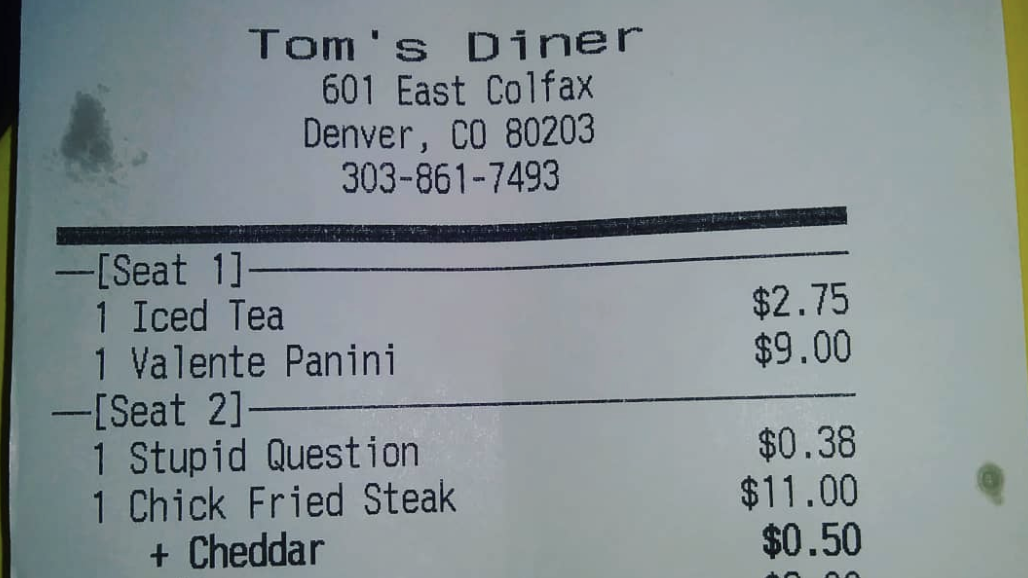 You've heard it plenty of times: "There are no stupid questions." Well, there's a Denver-based restaurant that is outright trying to prove that statement wrong.
Reddit user 'humblemangoes' recently posted a photo after visiting Tom's Diner that proves that they are not messing around when it comes to anything less than reasonable questions.
Listed under one side of mashed potatoes and one chicken tender basket was a charge for one stupid question. The internet couldn't help but take notice of the unique bill, some assuming it simply had to be a hoax, but as it turns out, 'stupid questions' are a clear menu item at Tom's for a mere 38 cents.
"It's meant to be playful. It's good to keep things light in today's world," Manager Hunter Landry told TODAY Food. "When we have a good fun table that engages with us or when they ask about the charge, it's always fun to add it on."
Landry said their prime demographic is, you guessed it… dads. Especially the ones who like to test the limits of what constitutes "stupid." Some of his favorites have included "Are there any dues for the turkey club sandwich?" and "Does the ice have any water in it?"
View this post on Instagram
Tom's Diner doesn't draw the line at "stupid questions," either. Under "healthy options", you can find "skip your meal" (that's free) and "walk home" (for "priceless").
"It's all about not taking yourself too seriously," Landry added. "We're not here for a long time, so let's enjoy ourselves and try to make the most of this life."