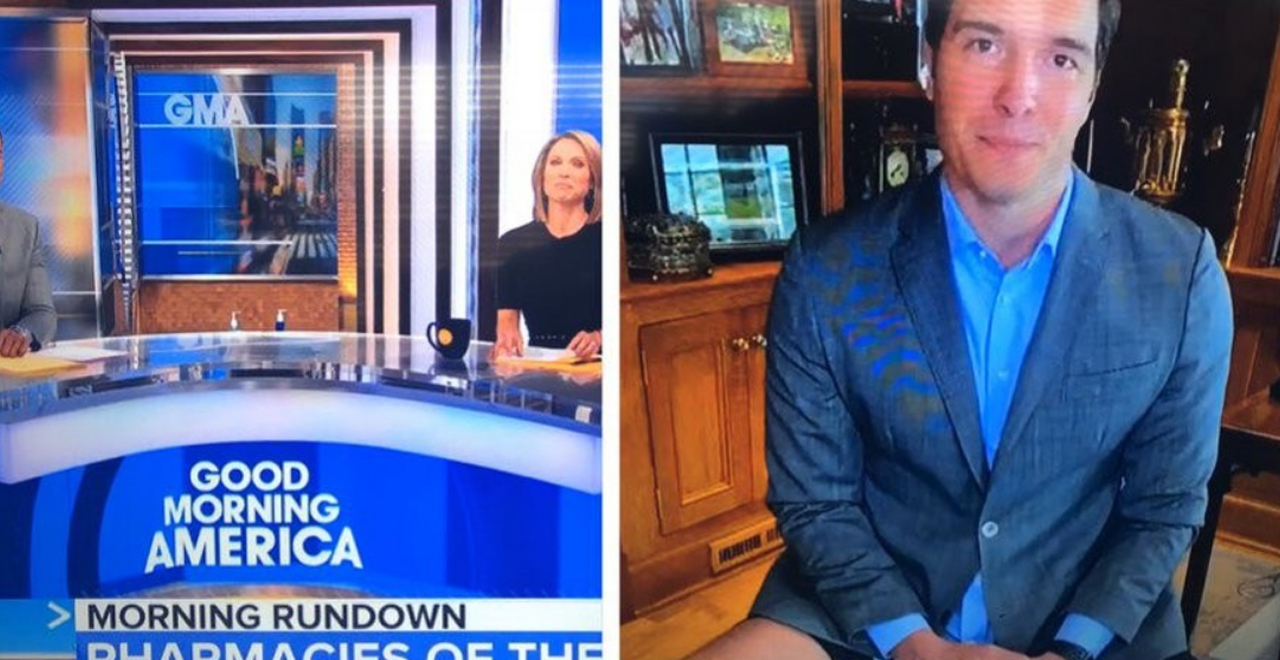 Credit: Twitter/ratemyskyperoom
Will Reeve, son of Christopher Reeve, and reporter from Good Morning America, was delivering a segment earlier this week from his living room (like many reporters, he's working remotely). However, once he finished his report a wider shot of Reeve revealed far more than just his dressed-up top half. He was clearly missing something important; his pants.
Reeve got caught with no pants on national TV and was quickly called out by hundreds of people on Twitter.
Nice room. Nice shorts. 7/10. @ReeveWill pic.twitter.com/UIdj5N64cq

— Room Rater (@ratemyskyperoom) April 28, 2020
Reeve was good-natured about the mishap, retweeting some of the "gotchas" and said, "I have arrived in the most hilariously mortifying way possible."
He quickly released a statement saying he was wearing workout shorts to get in a quick post-show workout and will be wearing pants for the foreseeable future.
When WFH goes wrong (or, your self-framed live shot goes too wide).
Hope everyone got a much needed laugh 😂 pic.twitter.com/GbyLBhL7Be

— Will Reeve (@ReeveWill) April 28, 2020
Make no mistake, he's far from the only TV reporter going pantsless on the air these days. He is, however, the only one who got caught. But other anchors have shown solidarity and support for their pants-less colleague.
Don't worry @ReeveWill… @GStephanopoulos says he was wearing shorts too 😂 pic.twitter.com/Bl2S3ywrNT

— Good Morning America (@GMA) April 29, 2020
If @ReeveWill doesn't have to wear pants, neither do I! #nopants #wfh #willreeve #gma pic.twitter.com/7YcIMHrALC

— Kevin Jeanes WXYZ (@KevinJeanes) April 29, 2020