No Signs of Intelligent Life at "Storm Area 51" Event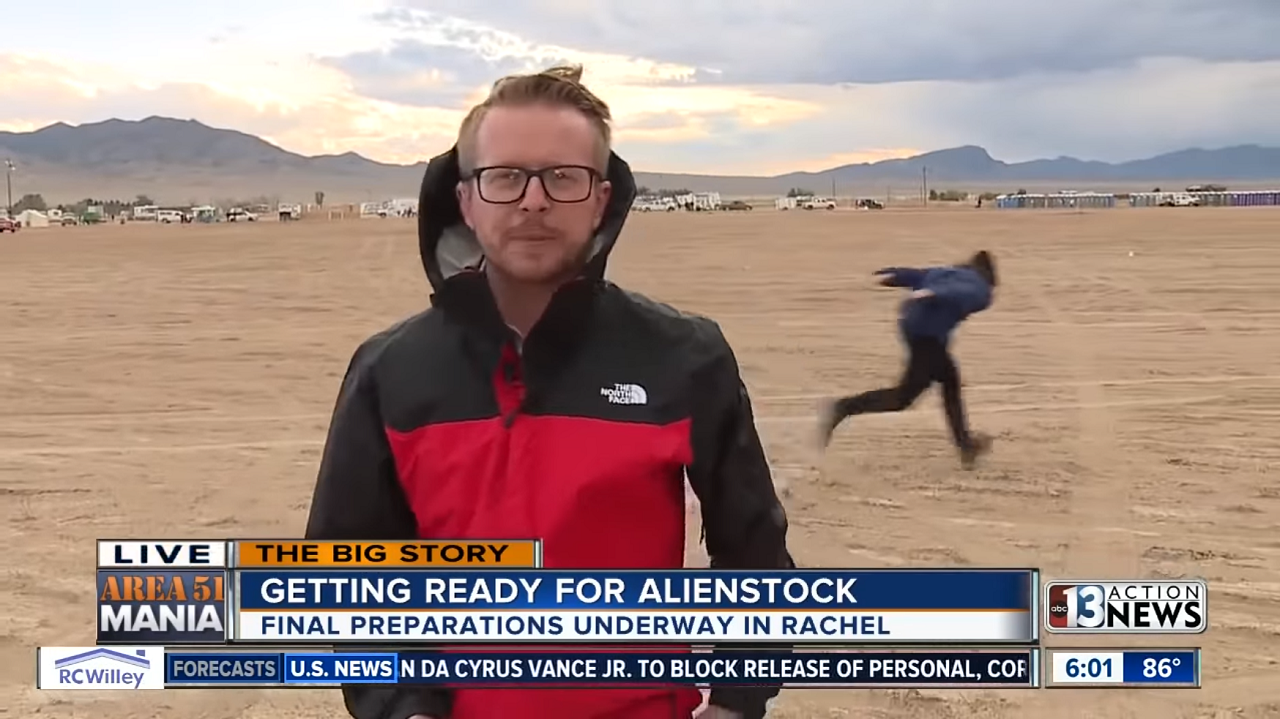 This past summer, the people of the internet got a crazy idea, as they tend to do. But this particular crazy idea caught on, and despite the extreme craziness of it – and the fact that it originated as a joke on Facebook – it gained so much momentum that the possibility of it actually happening couldn't be dismissed.
The plan was to storm Area 51, and it was supposed to take place yesterday. Well, guess what? It actually did, sort of.
The event, ominously titled "Storm Area 51, They Can't Stop Us All," was first proposed in July and received a lot of online attention, with hundreds of thousands of people RSVPing.
Budweiser even paid homage to it with a limited edition can.
Then the military responded.
"The Nevada Test and Training Range is an area where the Air Force tests and trains combat aircraft," Air Force spokeswoman Laura McAndrews told USA Today. "Any attempt to illegally access military installations or military training areas is dangerous."
Yesterday was D-Day, but it seems things didn't quite pan out. The location of the event was changed, and the storming morphed into a three-day music fest called Alienstock in Rachel, Nevada, which is less about finding aliens and more about having a party.
The event expects some 30,000 attendees, but the night before, only about 500 people had shown up, including someone running Naruto-style, because this event is about quality, not quantity.
Not everyone was letting go of the initial plan, and according to KTNV, some 40 people did actually attempt to storm the gates of Area 51, prompting police to get involved.
Thankfully, the "stormers" left peacefully.
Hopefully, any actual aliens who storm our planet will react the same way.
As you might expect, people watching things unfold online took no pity on the lackluster results of the Storm Area 51 event.
Expectation vs reality pic.twitter.com/K6q4Bo8H72

— Itsfunnythatsomeoneactually (@RealCookCrumb) September 20, 2019
Not even that Naruto-runner stands a chance:
Please don't get shot trying to invade Area 51. They know your tactics.#Area51storm pic.twitter.com/qagm1T7sEf

— cowbeef (@cowbeef) September 20, 2019
Some people questioned our priorities:
So today our generation is split between fighting for the climate and storming area 51 #Area51storm pic.twitter.com/HeJLBGZNba

— Szackariat (@Szacka) September 20, 2019
Either way, we know who's having the last laugh:
#Area51storm
The guy who started the area 51 raid group sitting at home like pic.twitter.com/crSIKDFsAj

— cristina | fan account (@katyslut) September 20, 2019