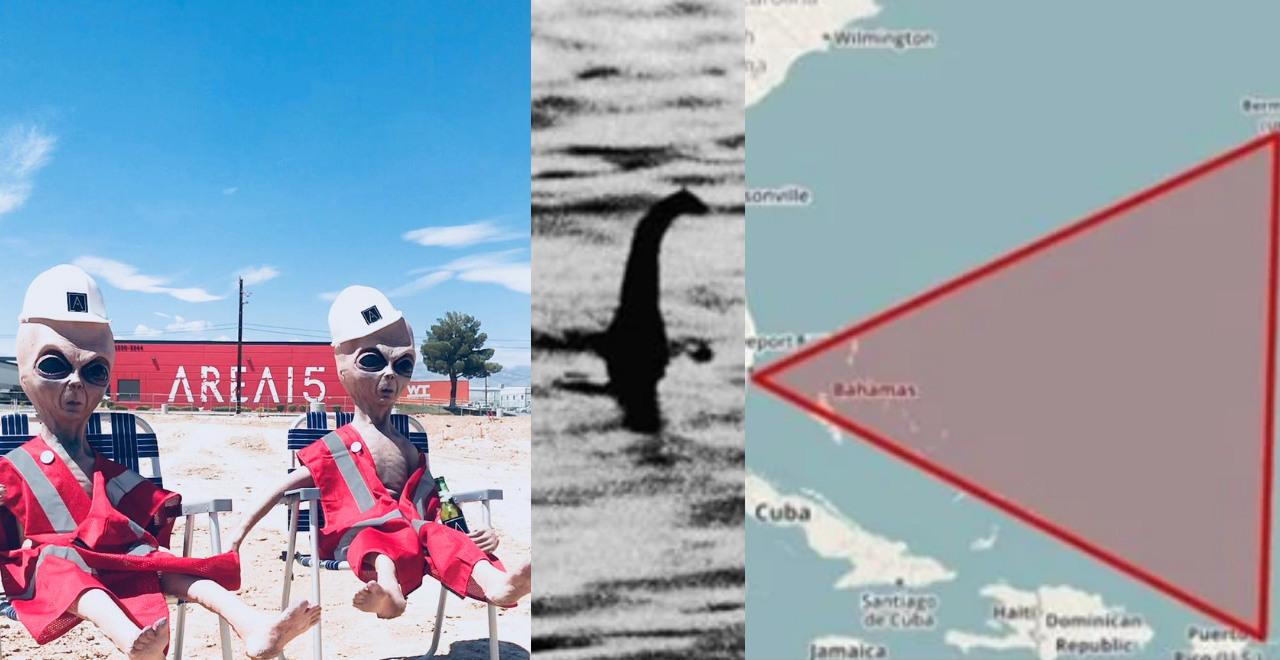 Credit: Twitter/AREA15official Facebook/Storm Area 51, Storm Loch Ness
There's strength in numbers.
Whether it's taking to the battlefield or protesting injustice, a massive group of people all driving towards the same goal is a force to be reckoned with, to say the least. That same mentality has recently sparked a new wave of unification around causes… well… slightly less monumental than war or political dissidence.
Instead, a number of Facebook groups have been formed in an effort to both rout out truth as well as declare freedom from the oppressive onslaught of daily routines and mundane Mondays.
Taking on the Triangle
First up is another novel notion with an impressive 19,000 people already behind it. "Storm The Bermuda Triangle, It Can't Swallow All Of Us" is still gaining momentum leading up to the October 1st kickoff. Page details stress that this is a "FREE EVENT" but also insist "attendees must dress as SpongeBob characters or pirates." A GoFundMe has been set up to defray event expenses which as of this post has pulled in $120 of its $175,000 goal. However, the event's creator, Anthony Dominick Carnovale, says this is a very real thing. In an interview with Fox, Carnovale said he plans on booking a venue and hiring event planners to ensure everyone has a good time.
On Loch
Since you're already navigating the high seas, why not take a trip to Scotland? Facebook user Bryan Richards started the group "Storm Loch Ness, Nessie can't hide from us all," an event scheduled to take place on September 21. So far over 26,000 people from all around the world have said they'll be there, with another 49k saying they just might. The event details short on substance, but strong on message: "The time is now for us to find dat big boi."
Area 51
You've probably already heard about the now infamous Area 51 raid. Originally started by Joerg Arnu, the movement now has over 1.9 million followers who say they're going, including many celebrities and brands who signed on to take the mysterious military base by storm. Perhaps not the wisest thing to announce on the internet. Then again, we share a lot of crap we probably shouldn't on the web anyhow, so what's a little premeditated crime going to do that my google searches haven't already?
If you can't make this event you can always just grab some popcorn and tune in to a live-stream.
Okay. Now we're curious about the storming of #AREA51. We're going to live stream the "event" here at #AREA15 to watch what goes down. And costumes & tin foil hats are required ???? Leave your info & we'll send you the details. https://t.co/BMC69hRFxg pic.twitter.com/AjeX4GApl1

— AREA15 (@AREA15official) July 14, 2019
Hooky & Hops
Speaking of things you shouldn't announce first, another group popped up suggesting everyone in the UK skip out on work early and grab a beer on Monday, August 19, claiming "they can't sack all of us." While there's likely truth in the statement, everything hinges on 100% participation, which unfortunately ends this dream before it really even began.
No matter the random cause, chances are you'll have no problem finding a few thousand folks on the web happy to show their support. However, when it comes to actually getting them to show up in person, odds are the ones who do will be cool teenagers or really weird adults — both groups I'd rather avoid for my own personal safety.
While the Loch Ness monster may be scary, it's far less terrifying than 15-year-olds using words I don't understand to describe my outfit and general appearance.