Guy Builds Off-Road "Wheelchair" for Wife, Makes Affordable for All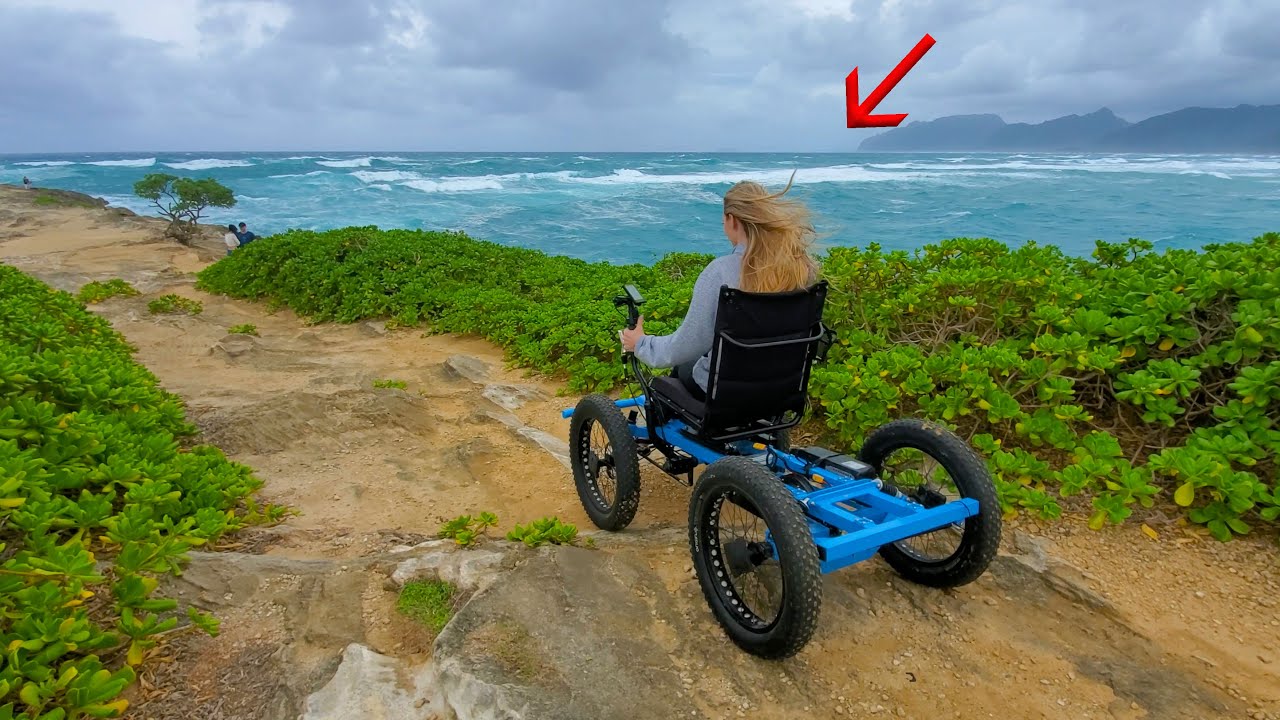 Being out in nature is one of the most freeing, exhilarating experiences imaginable. That is unless you have one kid who has to pee, another who's hungry (he ate 4 granola bars in the car?), and a sunburn so bad you may as well just get new skin. Or, in Cambry's case, if most paths out in nature are inaccessible because of your wheelchair.
Fortunately for Cambry, she happens to be married to YouTuber Zack Nelson, who calls his channel "Jerry Rig Everything". This guy is all about technology – he builds things, takes things apart, and tests the durability of different tech products. Very few people have the resources or the ability to do what Zack did when he decided to give his then-girlfriend the gift of a lifetime. He wanted to help Cambry access parts of the world that she had, until this point, only been able to dream of seeing in person.
Zack did exactly what any tech-savvy guy with two spare electric bikes would do – he fused them together and stuck a seat in the middle (I assume there was a lot more to it than that, but that's the gist). This innovative wheelchair-like contraption allowed Cambry to experience things she had only ever dreamed of experiencing. It operates as an electric wheelchair, but it's far more capable of handling off-road terrain than nearly any wheelchair on the market. The wheelchair operates so quietly that the sound doesn't at all detract from the peacefulness of being out in nature.
Now, Cambry and Zack have started selling their off-road "Not-A-Wheelchair" AKA "The Rig" to allow others to experience the same level of freedom. The Not-A-Wheelchair costs $4,750, which is more affordable than any other wheelchair branded for "off-road" terrain. It is also faster, quieter, and can last from 10-20 miles on a single battery.
The Not-A-Wheelchair website explains, "Shopping for an off road wheelchair can be frustrating. There are a few different options out there, but they can cost as much as a car or are super slow. Cambry and I decided to put our heads together, and build our own off road wheelchair. Something that's quick and light with a super long range. And we finally have it! We'd like to introduce 'Not-a-Wheelchair' a fully electric, super quiet, accessible bike that can go 12mph with a range of about 10-20 miles. Our whole goal is to provide something that is capable and affordable. We hope you enjoy! Be safe! Wear a helmet."
Thanks, Zack and Cambry, we'd love to roll with you any day.