Credit: YouTube/Old Milwaukee
Sometimes it's a troop of Clydesdales charging through a beautiful landscape. Other times it's an elaborate party setting filled with frolicking females. It's no secret that beer companies usually funnel a fortune into eye-catching commercials to get our business.
Old Milwaukee (a unit of Pabst Brewing Co) is not like other beer companies in this regard. Despite previously featuring big-name talents like Will Ferrell and Jose Canseco in their commercials they purposefully restricted where the ads were shown. This forced fans to search, record, and upload the comedic gems to the internet themselves. Every new ad rumor led to an internet-wide scavenger hunt.
Then in 2012 Old Milwaukee continued their don't-try-too-hard ad strategy by jumping at a pitch by two beer-flinging brothers.
Meet Nick and Jack Packard.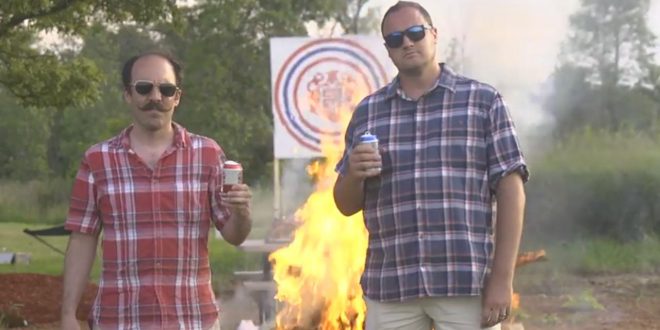 A marketing consultant and a Funny or Die content supervisor respectively, Nick and Jack had been creating funny content together as The Packard Brothers for a while. So when thoughts of creatively passing cans of beer popped in their heads, they knew they were on to something.
"We did some test shots and ended up going through three cases of our own beer. We needed more beer (obviously), so we asked Old Mil, and they were nice enough to supply the rest of the beer for the video." Jack told Business Insider.
One hundred ninety-two beers later, the Packards called the video a wrap and still had enough for "a wicked afterparty."
Despite Old Milwaukee wanting a strong promotional push for the ad, Nick and Jack convinced them that uploading it to Funny or Die's website was a better move.
"It had a very natural build-up," notes Nick, however, "had there been a money exchange they [Old Milwaukee] would have wanted more control, so because we weren't really getting paid for it, we were able to do things how we wanted."
With the success and overall fun experience of the first video, Old Milwaukee and the Packards decided to team up once again for "Hey, Pass Me A Beer II":
Followed by "Hey, Pass Me A Beer: Hunting Edition":
And the more recent "Hey, Pass Me A Beer – Summer Finale":
So the next time your buddy asks for a cold one, maybe take a play from the Packard brothers' playbook: Spike it off a mini-trampoline, airdrop it from a drone, or fire it at them with a t-shirt cannon.
Whatever you do, don't hand them a beer.
Pass them a beer.