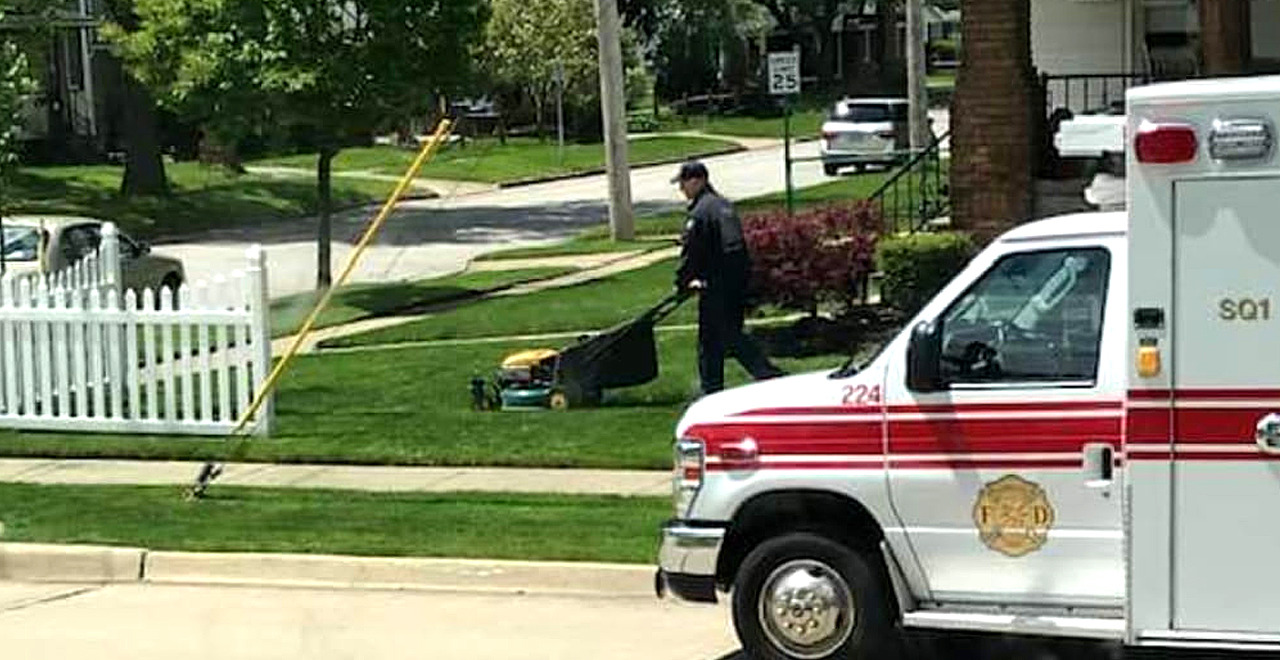 Credit: Facebook/mayordonwalters
As warmer weather finally descends upon most of America, the smell of fresh cut grass and gasoline fill the air like a Yankee Candle created specifically for dads.
Sure, mowing can be a chore, but for most men, it's a chance to be alone with their thoughts while letting the wind blow through any remaining hair at a break-neck four miles per hour. It's a chance to tend to your property and most importantly – an opportunity to show other dads in the neighborhood that you are lord of the lawn.
So when an Ohio man recently injured himself 3/4 of the way through mowing his yard, dads across America likely felt an instant, simultaneous sinking feeling in the pits of their stomachs. Much like watching someone take a swift kick to the junk, an unfinished lawn is a pain felt by any man who sees it.
Firefighter and Paramedic Dan Grimm of the Cuyahoga Falls Fire Department responded to the initial 911 call, treating the older gentleman who had sustained minor injuries.
It's all part of the job and nothing too out of the ordinary for the six-year veteran, but it's what Grimm did next that will truly bring a smile and sense of relief to any still wondering what happened to the partially trimmed grass.
Grimm told Ohio.com that it only took him about five or 10 minutes to complete the job including cleaning up the clippings.
"I thought I might as well help these nice people out and finish up their lawn so he doesn't have to strain or anything like that for the rest of the day, and worry about three or four strips unmowed and the neighbors looking at him funny."
One neighbor, René Rockwell, watched as the fully uniformed paramedic went above and beyond – capturing the shot that was later shared by Cuyahoga Falls Mayor Don Walters.
Rockwell was excited to see the random act of kindness, something she says we need now more than ever.
"I was so happy I was witnessing this that I knew I had to take a picture. There is so much hate in this world right now, that we need to see more of this. More people helping each other."
As for Grimm, he was just doing his job, followed by what he says was an easy decision.
"It reminded me of my grandparents and my parents and what I would want somebody to do for them."
The story – a simple photo of a local resident pitching in where needed – has now been shared thousands of times.
It's small acts like this that tend to spread quickest, likely because we can all relate to them while still somehow being mystified that they actually happen at all.