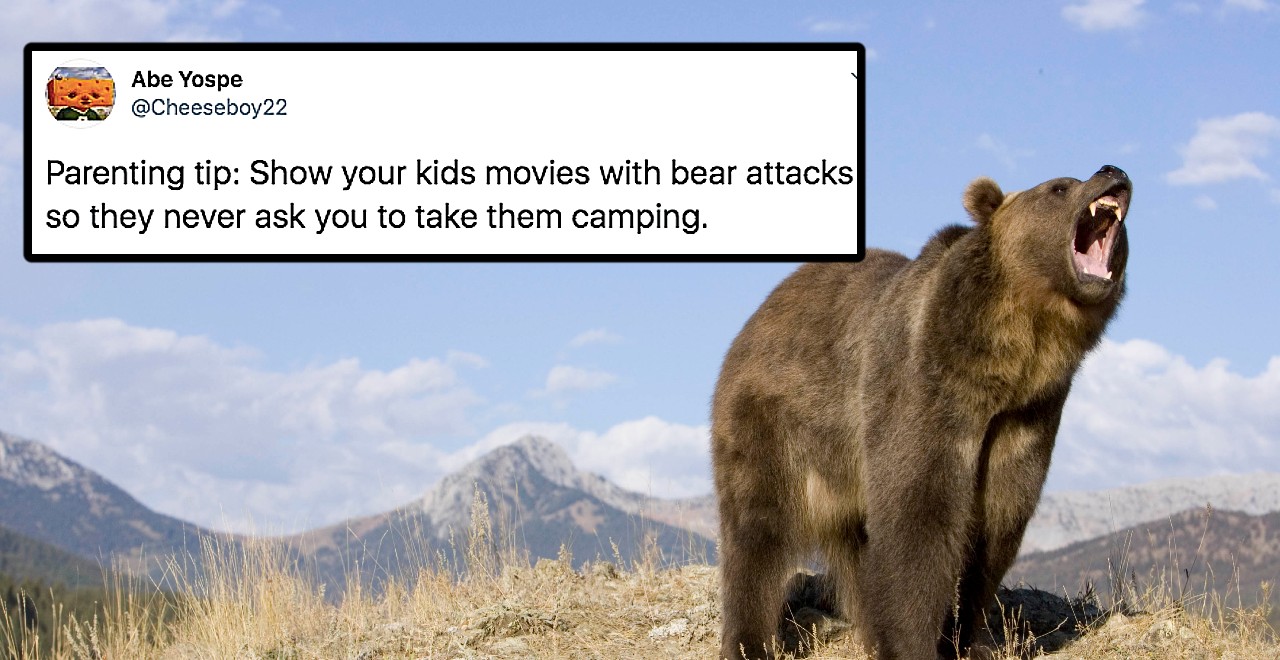 Credit: Getty/Avalon Twitter/Cheeseboy22
Another week (or so we assume, there's no way to know), another valiant attempt at finding the humor in all of this. Whether you're tired, stressed, stir-crazy – take a few minutes to stop and laugh. Here are 12 tweets from parents just trying to make the best of it.
Some parents are solving mysteries,
After doing some research and plotting some stuff on Excel I've concluded that there's a direct correlation between my kids not eating their food and me gaining weight.

— Marcy G 🍕 (@BunAndLeggings) July 15, 2020
While others are just trying to keep it together.
[dinner time]

me: what would you like to stare at for twenty minutes and then throw away?

kids: whatever's the most difficult to make

— *sigh*clops (@aotakeo) July 15, 2020
Spending time with their kids,
3yo: dad I'm swimming!

Me: amazing but try not to drink so much of the water!

3yo: I keep drinking the water!

Me: I know don't drink the water!

3yo: I just drank more of the water!

Me: please stop drinking the water!

3yo: my belly hurts!

— WTFDAD (@daddydoubts) July 8, 2020
Overcoming some, uh – communication issues,
My 3 year old just told me his favorite "engine turtle" is "Mikey Angio."

— TuSoon Shakur (@TuSoonShakur) July 11, 2020
Or at least trying to.
Listening to my 9yo talk is exactly like watching an episode of drunk history

— Professional Worrier (@pro_worrier_) July 9, 2020
Strategizing for the future,
Parenting tip: Show your kids movies with bear attacks so they never ask you to take them camping.

— Abe Yospe (@Cheeseboy22) July 9, 2020
Or maybe just trying to figure out what's going on right now.
Me: I bought apple juice because it was buy one get one free.

My teenager without taking out her airpods: DID YOU SAY SOMEONE BOUGHT A GOOSE TO GO UNDER THE CHRISTMAS TREE??

— Simon Holland (@simoncholland) July 15, 2020
But honestly, we're pretty lucky.
4-year-old: I did that back in the day.

Me: Back in what day? You're 4.

4: Back in yesterday.

— James Breakwell, Exploding Unicorn (@XplodingUnicorn) July 14, 2020
Even though it may not feel like it sometimes,
Which one is higher?

a) number of bricks in the Great Wall of China

b) number of stars in the sky

c) number of digits in π

d) number of times my 3 year old says he's hungry after he's just eaten dinner

— ThreeTimeDaddy (@threetimedaddy) July 14, 2020
Kids are also just trying their best.
Made the grievous mistake of laughing at my 5yo's joke so now I must hear that joke repeatedly until I die.

— mark (@TheCatWhisprer) July 13, 2020
And a lot of the time (ok, some of the time),
I like to play 20 Questions with my kids but I always ask the questions and every question is "Will you please stop that?"

— Rodney Lacroix (@RodLacroix) July 13, 2020
That's good enough.
5 YO: Can I tell you a story?

Me: I guess

5 YO: Once upon a time there was a HAMBURGER DELIVERING MAN who delivered hamburgers all over the city of the town…

Me: Oh shit this is good

— Schmrrrlex At Home (@alexlumaga) July 7, 2020