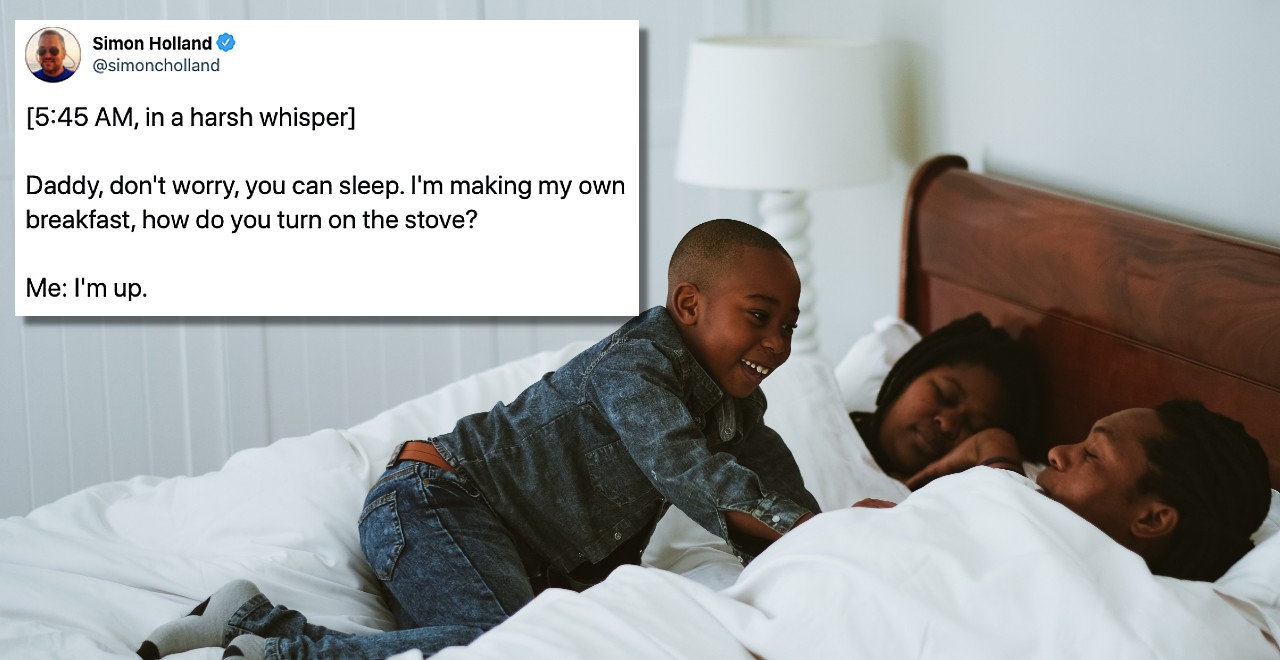 Credit: Getty/Hello Africa, Twitter/simoncholland
Possibly the funniest thing about kids is that they don't realize just how funny they are. Seemingly out of nowhere, kids pull out comedy gold and deliver it with complete sincerity. No matter how frequently it happens, it catches us off guard in the best possible way. Thankfully, Twitter parents share their kids' funniest moments, inviting us to laugh along with them. Here are 12 of this week's funniest parenting tweets, featuring both hilarious parents and their hilarious kids.
As long as you get the worst parts out, they should be fine
The biggest parenting challenge you ever face is raising the "you" out of your kids

— Richard Dean (@dad_on_my_feet) January 13, 2021
Honestly that's a steal
I'm not up-to-date on blackmail rates, but my kid is asking for a bowl of doritos and a bag of fruit snacks… does that sound fair for witnessing me break a lamp?

— wheaties~on~a~hill (@wheatiesmdub) January 12, 2021
Parenting is an enigma
My 4yo just taught himself to whistle, and how something so damn annoying can make me feel so damn proud I don't even know.

— WTFDAD (@daddydoubts) January 8, 2021
Absolute genius
My "do not disturb" sign was completely ignored by the kids when I had to get some work done, so I replaced it with "If you knock, you will do chores."

I haven't had this much alone time in 14 years. I think I'm on to something here.

— Shannon Carpenter (@HossmanAtHome) January 11, 2021
It's not *the worst* nickname
Son: the devil made me do it

Me: what did I say about that

Son: not to call my sister the devil

— 🧙‍♂️Nostradumbass🧙‍♂️ (@The_Albinoshrek) January 11, 2021
This is a big brain move
Me: What do you want for dinner?

Child: McDonald's.

Me: I'm not buying McDonald's. What do you want me to make?

Child: A Big Mac.

— Rodney Lacroix (@RodLacroix) January 12, 2021
Kids are brutal, part 2
My 2yo pointed at the octopus in the book we were reading and called it dada if any of you were wondering how attractive I am in real life

— Average Dad (@Average_Dad1) January 9, 2021
So awake, in fact, that I may never sleep again
[5:45 AM, in a harsh whisper]

Daddy, don't worry, you can sleep. I'm making my own breakfast, how do you turn on the stove?

Me: I'm up.

— Simon Holland (@simoncholland) January 10, 2021
Just for 5 minutes, I want to see the world the way my kid sees the world
"Wait…there are PEOPLE in Australia?!?!" My son and I talk about kangaroos, koalas, and Tasmanian devils pretty much nonstop, but I guess I'd neglected to mentioned that, yeah, humans hang out there too. All this time he thought it was "more like a Zootopia kind of place."

— Henpecked Hal (@HenpeckedHal) January 12, 2021
It's so hard to get mad at a response like that and they know it
i put 5 in bed last night. lights off. door closed. then i heard him scream bloody murder. i ran in and 11 is there by his bed. he thought it was a good idea to hide in the closet and come out in the dark. i asked him what he was thinking and he said "i'm a moron". the end.

— Dadman Walking (@dadmann_walking) January 12, 2021
He May be onto something
11: I don't like that kid, he's my March enemy

Me: I'm sorry, your what?

— DaddyJew (@DaddyJew) January 14, 2021
Did you miss last week's funniest parenting tweets?