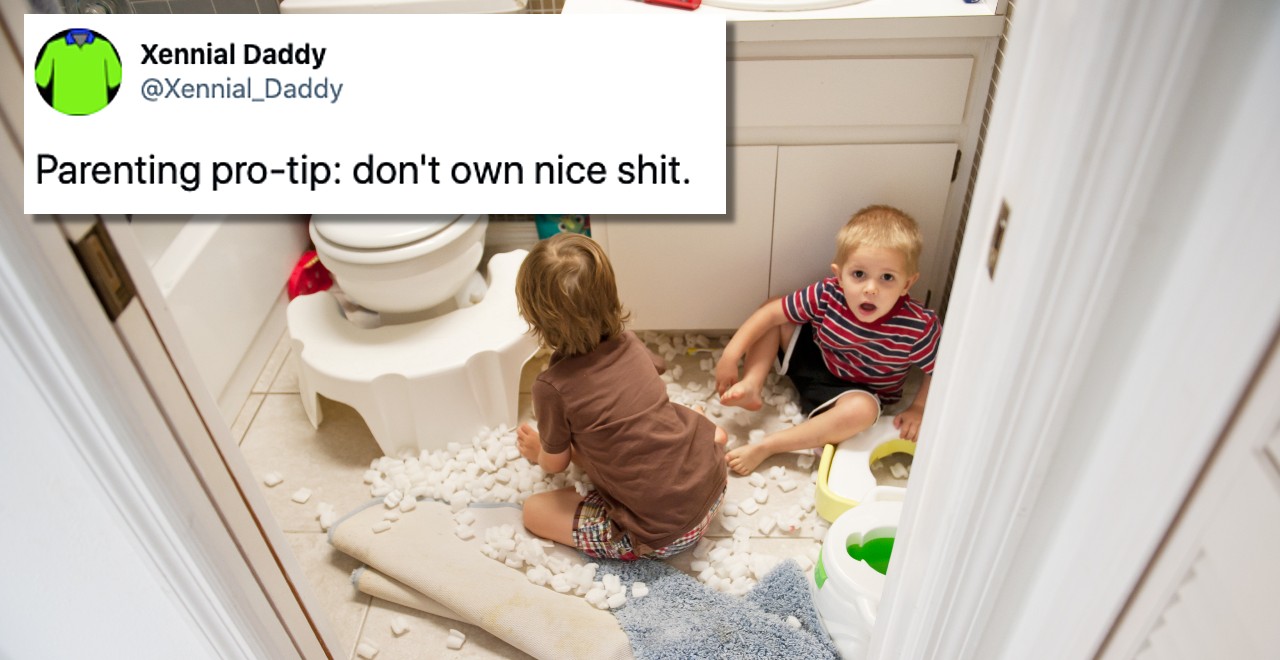 Credit: Getty/ Blair Colby Photography, Twitter/Xennial_Daddy
Well, 2020 is a full week behind us. Sure, a new year doesn't mean that everything is suddenly better, but it's a step in the right direction. All we can do is continue to do our best, and honestly, you're killing it (even though it may not always feel that way). Take a few minutes, read some funny tweets, and remember that we're all gonna be ok.
Impressively young for that level of "over it"
Impressively young for that level of "over it"
My 3-year-old refuses to learn the alphabet. Since he has mastered the fact that N and O go together, he must have decided the other letters don't matter.

— A Bearer Of Dad News ✊🏾 🇬🇾 (@HomeWithPeanut) January 5, 2021
Weird way to find out you're adopted
5 has been crying the past 2 nights because he said he hears a wind sound at night but we couldn't hear it. He was crying again earlier and he said he isn't crying cause of the sound but because he thinks he's a robot and we're human and can't hear it.

— Dadman Walking (@dadmann_walking) January 5, 2021
Sometimes not knowing is the best option
My son had a meltdown because his sister accidentally stepped on his piece of popcorn shaped "perfectly like an octopus" and he was saving it for "his collection." I don't know about this collection. I don't want to know about this collection.

— Henpecked Hal (@HenpeckedHal) January 4, 2021
That's also how I get ready for work
6-year-old: *practices ninja moves*

Me: You're supposed to be getting ready for school.

6: I am.

— James Breakwell, Exploding Unicorn (@XplodingUnicorn) January 4, 2021
They work great with my MathBook Pro
My favorite thing right now is calling air pods 'air buds' in front of my daughter and her friends.

— Simon Holland (@simoncholland) January 5, 2021
"Want to feel old?" is a rhetorical question when you have kids
ME: [quietly eating and minding my own business]

MY 5 Y/O: did they even have plates and forks when you were my age?

— mark (@TheCatWhisprer) January 4, 2021
And if you did, well, you don't anymore
Parenting pro-tip: don't own nice shit.

— Xennial Daddy (@Xennial_Daddy) January 5, 2021
So small, so brutal
Tonight, as I lay next to my son, having finished singing him a lullaby, he clutched my face in his tiny hands, leaned close until our noses were touching and whispered:

"I don't like your beard!"

Then he rolled over and went to sleep, because toddlers are indeed savages.

— Steve 🏳️‍🌈 (@papaneedscoffee) January 6, 2021
That's cold
Just flexed on my kids by using their own Frozen karaoke machine to follow them around telling them all the toys they missed while cleaning.

— Stay at Homies (@stayathomies) December 29, 2020
What else is there??
Well the kids decided they no longer like mac-n-cheese so now we are out of meal ideas for the rest of their lives

— Rodney Lacroix (@RodLacroix) January 5, 2021
Whatever, add it to the reading log. It counts
9 finally ran out of things to say, but rather than shut up for 5 minutes she just calmly picked up '999 Recipes of the World' and started reading aloud from the contents page. You have to admire her dedication to her craft.

Please send wine.

— bacon popsicle 🗣 (@Gupton68) January 7, 2021
Did you miss last week's funniest parenting tweets?