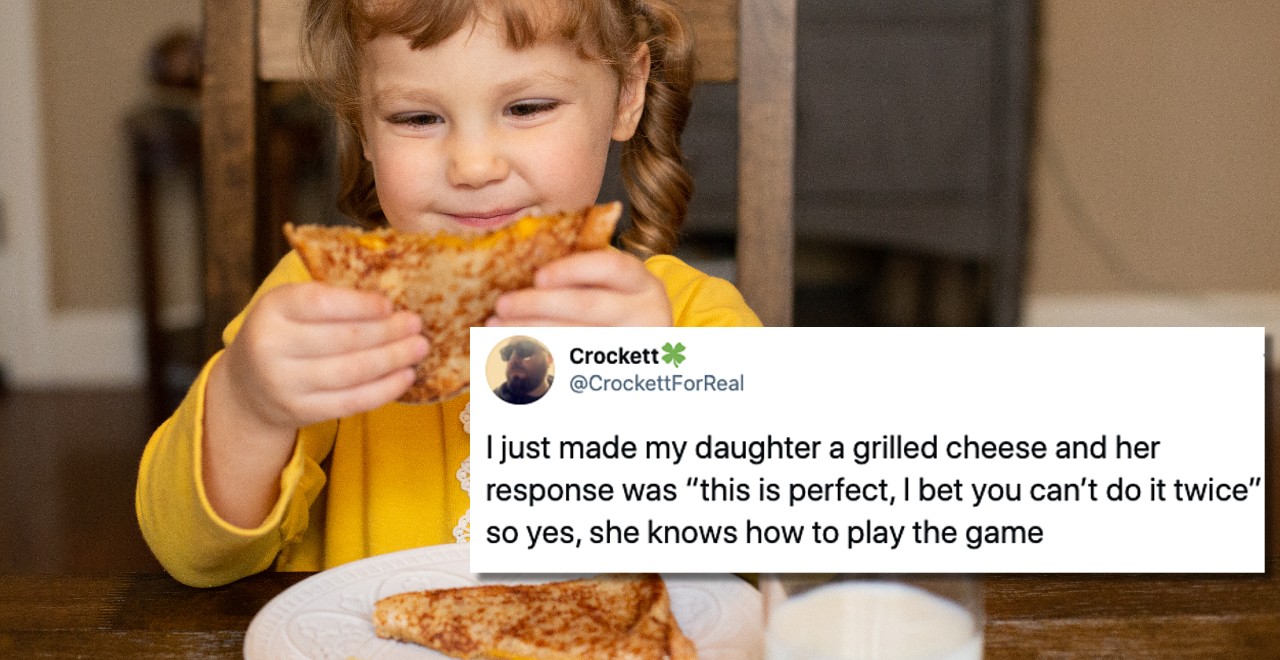 Credit: Getty/Photography by Rayleigh, Twitter/CrockettForReal
The parents of Twitter are back with another round of hilarity. Every week, the parenting corner of Twitter is filled with the most memorable (and sometimes, the most questionable) parenting moments, and we're here for it all. The hilarious, the cringe-worthy, and the just plain ridiculous – here are 12 of the funniest parenting tweets this week.
Painfully relatable
I told 5 to pick up his clothes and take a shower and he thought the appropriate response was to cry in bed for an hour because I told him to do "too much stuff".

— Dadman Walking (@dadmann_walking) January 17, 2021
We have to take full advantage before the inevitable day that they beat us fair and square
Kids are like "race me!" then throw a fit when you easily beat them, like what did you think was gonna happen

— Average Dad (@Average_Dad1) January 18, 2021
Even Alexa is tired of your shit
Child: Hey mom-
Wife: OMG WHAT NOW
Child: NEVER MIND I'll ASK ALEXA. Hey Alexa-
Alexa: OMG WHAT NOW

— Rodney Lacroix (@RodLacroix) January 18, 2021
And then in a couple years, throwing down the "draw four" in Uno
Nobody is more drunk with power than a 5-year-old telling you to "go fish."

— mark (@TheCatWhisprer) January 18, 2021
This dad joke unlocked the skill, "Super Sneeze"
My kid asked where babies come from and I said everywhere, man, they're worldwide.

— cap'n watsisname (@capnwatsisname) January 19, 2021
What's it like raising a genius
I just made my daughter a grilled cheese and her response was "this is perfect, I bet you can't do it twice" so yes, she knows how to play the game

— Crockett🍀 (@CrockettForReal) January 14, 2021
Parenting is a dang conundrum
My 4yo just taught himself to whistle, and how something so damn annoying can make me feel so damn proud I don't even know.

— WTFDAD (@daddydoubts) January 8, 2021
Has to be the truck, right? Right?
Kids will love the garbage man to a level that makes you question your paternity.

— Xennial Daddy (@Xennial_Daddy) January 14, 2021
*Tearing up* It's gotten so big
Dads take pictures of the fire they built like moms take pictures of their babies.

— Simon Holland (@simoncholland) January 18, 2021
Game night is canceled until further notice
me: [angrily flipping over table] I TOLD U I HATE BOARD GAMES U CHEATING LITTLE SHIT
daughter: once again, how does one cheat at hungry hungry hippos

— Grant Tanaka (@GrantTanaka) January 19, 2021
Hire kids to fix the world. They can do it
My 4 year old said that he wants to drive an ice cream truck when he grows up. When I told him it's not that lucrative of a career he responded, "No, not for a job. It's so I always have ice cream." I'm grown up. I want to drive an ice cream truck too.

— Henpecked Hal (@HenpeckedHal) January 15, 2021
It's nice to dream
Do you ever wonder how much time you would save if kids just did what they were asked the first time. I think it's about 87 years.

— threetimedaddy (@threetimedaddy) January 20, 2021
Did you miss last week's funniest parenting tweets?