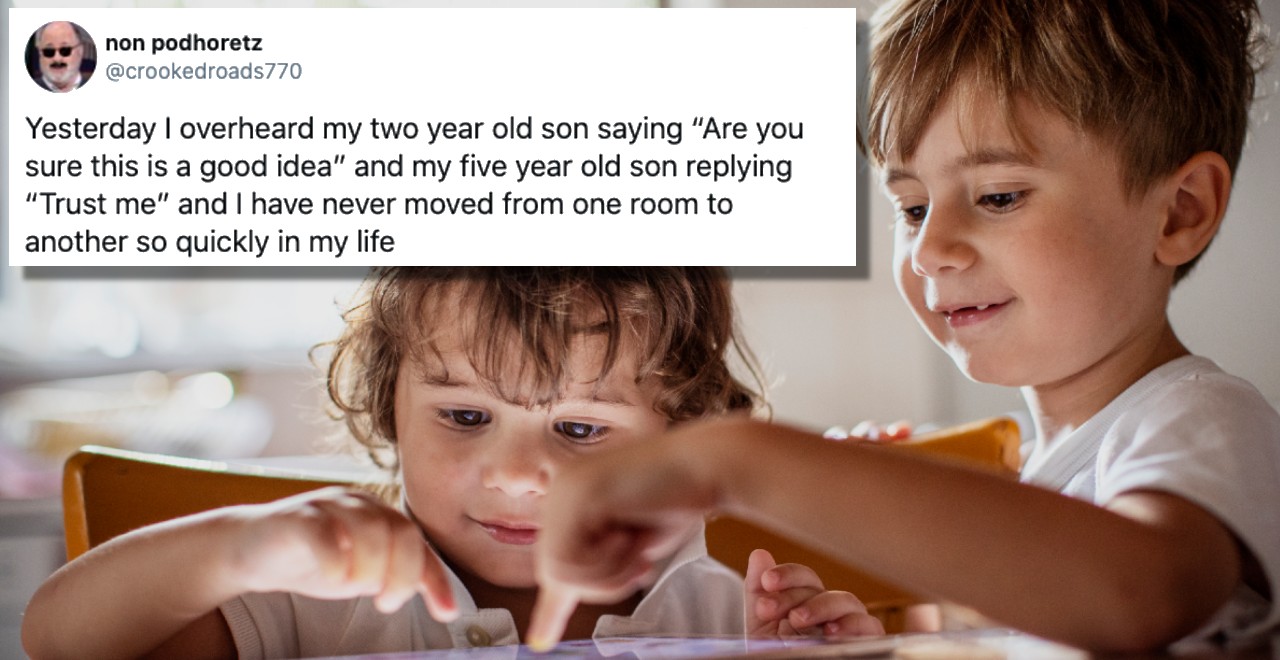 Credit: Twitter/crookedroads770, Getty/Thanasis Zovoilis
The parents of Twitter never disappoint. Whether they're sharing their kids' most hilarious quips or their very questionable parenting moments, we simply cannot get enough. Here's to another glorious week of parenting tweets – we've rounded up 12 of our favorites for a bit of much-needed comic relief.
That's one way to keep people from touching your money
My son keeps all of his money in an old mayonnaise jar.

I just wish he had cleaned it out first.

— Matty (@bestestname) January 24, 2021
So simple, yet so brilliant
Me: You haven't started your homework yet?!

8-year-old: I have a good reason.

Me: What?

8: I didn't want to.

— James Breakwell, Exploding Unicorn (@XplodingUnicorn) January 25, 2021
We'll never know how many unintentional world records dads have set in these critical moments
Yesterday I overheard my two year old son saying "Are you sure this is a good idea" and my five year old son replying "Trust me" and I have never moved from one room to another so quickly in my life

— non podhoretz (@crookedroads770) January 23, 2021
May the odds be ever in your favor
I'm taking a half-day off work so I can get my daughter dressed for daycare.

— Henpecked Hal (@HenpeckedHal) January 25, 2021
You'll have it eventually, you just have to wait a while
If I could have any superpower in the world, it would be the ability to put my kids to bed without leaving the sofa

— threetimedaddy (@threetimedaddy) January 25, 2021
I had the same kind of day at work
me: how was your day at school?

5: terrible

me: why?

5: i couldn't watch TV

— яicку (@iinkedZombie) January 26, 2021
And yet coronavirus wouldn't transfer through broccoli if you asked for a bite
My 4yo refused to let me try a bite of his hamburger and when I asked why he looks me dead in the eyes and without a trace of irony says "coronavirus"

— WTFDAD (@daddydoubts) January 27, 2021
I also choose this guy's most influential quote
My son asked me for the most influential quote of my time so naturally I said "when pizza's on a bagel, you can eat pizza anytime"

— Dave Ween (@pittdave13) January 26, 2021
I cannot unsee it
My 4-year-old insists that this Batman villain is named "Toothpaste," and it brings me so much joy pic.twitter.com/AMQQVVvSrP

— tim leong (@timleong) January 25, 2021
Sometimes lying is not only acceptable, it's necessary
5: my shooting gun needs new batteries. It's dead

me: oh. Sorry those toys can only have batteries 1 time. It's a silent toy now.

— Dadman Walking (@dadmann_walking) January 26, 2021
The one thing I mastered in college that actually helped in the real world
Let's get married and have kids so instead being asleep at 3 A.M. you can find the puke bucket while I change the sheets on a bunk bed.

— Simon Holland (@simoncholland) January 27, 2021
Let us know when you find out
Healthy outlets for my child's lust for absolute and unchecked power?

— Xennial Daddy (@Xennial_Daddy) January 26, 2021
Did you miss last week's funniest parenting tweets?