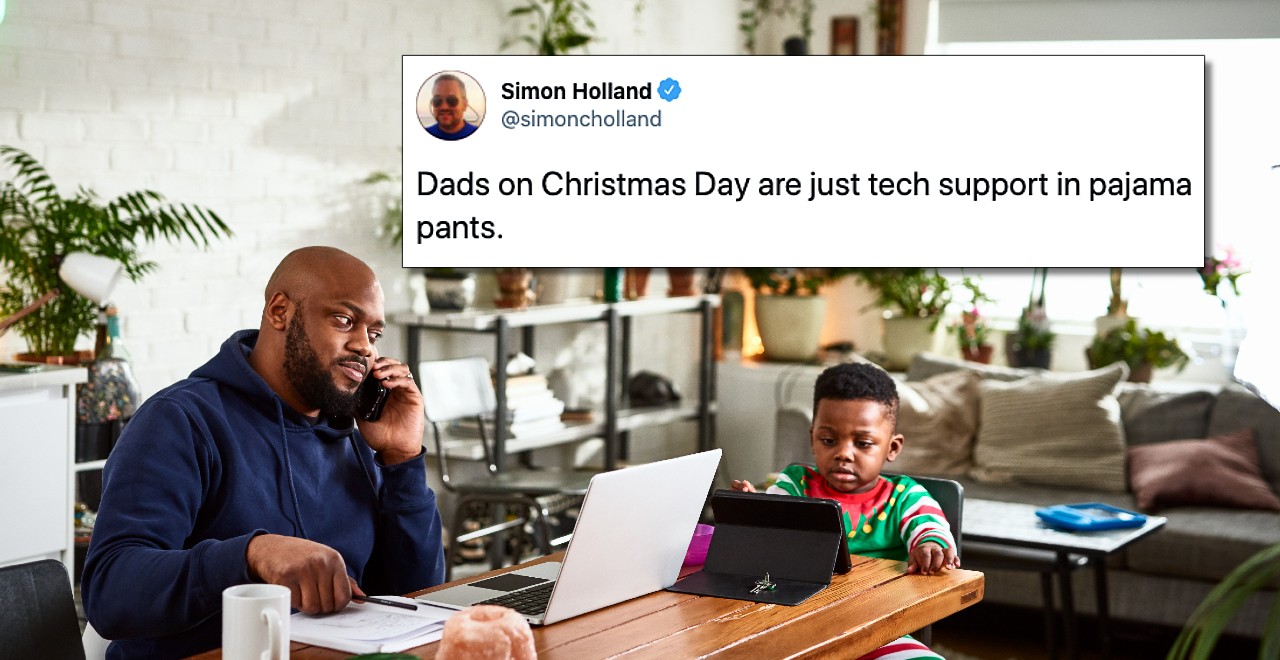 Credit: Getty/10'000 Hours, Twitter/simoncholland
It's a new year, and we won't be saying a single thing about that because we don't want to jinx it. What we will say, though, is this: you've made it. It doesn't matter if you accomplished anything you set out to accomplish this year, it doesn't matter if "formal attire" in your house just means putting on pants these days. We made it, and that in itself is worthy of celebration.
To kick off the festivities, enjoy 12 of the funniest parenting tweets this week, from parents like you who also deserve to celebrate and be celebrated.
He – He's beautiful
Welp…my daughters got make up for Christmas 🙃 pic.twitter.com/ZqzJ6yVGer

— Brad Cubbie (@Bcube40) December 25, 2020
And grossly underpaid ones at that
Dads on Christmas Day are just tech support in pajama pants.

— Simon Holland (@simoncholland) December 25, 2020
They're smarter than we realize and I hate it
My son is 4 years old & has a severe speech delay. He calls himself Tata because he can't say Oscar. I've said Oscar multiple times a day for over 4 years and have spent hours trying to get him to say it. This morning I said "fuck" once and you'd think he just invented the word.

— David Hughes (@david8hughes) December 26, 2020
A brilliant attempt
Me: Time for bed
7: But can we watch Back to the Future?
Me: No
7: Empire Strikes Back?
Me: No
7: Karate Kid?
Me: I see what you're doing and I respect it but the answer's still no

— Dude-Bro Dad (@thedadvocate01) December 30, 2020
But that's how you keep them warm?
I just found chicken nuggets in our heating ducts if any of you were thinking of having children.

— Rodney Lacroix (@RodLacroix) December 28, 2020
To be fair, that's also as much as I'd pour myself
If parenting has taught me anything, it's that you only give your toddler as much juice as you'd like to see on the floor

— Richard Dean (@dad_on_my_feet) December 28, 2020
Felt this one in my soul
8-year-old: *wakes up* Is it still Christmas break?

Me: Yes.

8: Phew. That was close.

— James Breakwell, Exploding Unicorn (@XplodingUnicorn) December 28, 2020
Don't tell them it gets worse
Sorry if my 3 year old woke everyone up at 3:17am last night – his "big toe really really hurt" and he needed someone to hold it all night

— threetimedaddy (@threetimedaddy) December 28, 2020
Please stop correcting her, we need this
We're teaching my kid to say ridiculous but she basically just keeps saying dickless.

— Tim (@Sir_TJP) December 28, 2020
The first rule of parenting club is no toys that record sounds
my kids got a lightsaber that records and replays noises, and when they were fighting over it they hit record, anyway now I have 2 screaming toddlers and a screaming lightsaber

— Village Person (@SvnSxty) December 27, 2020
Set the clocks ahead a couple hours, they'll never know
I tell my 5-year-old that she's too young to stay up until midnight but it's really because I'm too old.

— mark (@TheCatWhisprer) December 30, 2020
I'd show off that bumper sticker
"My kids on the honor roll" yeah well mine just brought the garbage out of their room without me asking, Carol

— Crockett🍀 (@CrockettForReal) December 27, 2020
Did you miss last week's funniest parenting tweets?