12 Funniest Parenting Tweets of the Week 10/16/20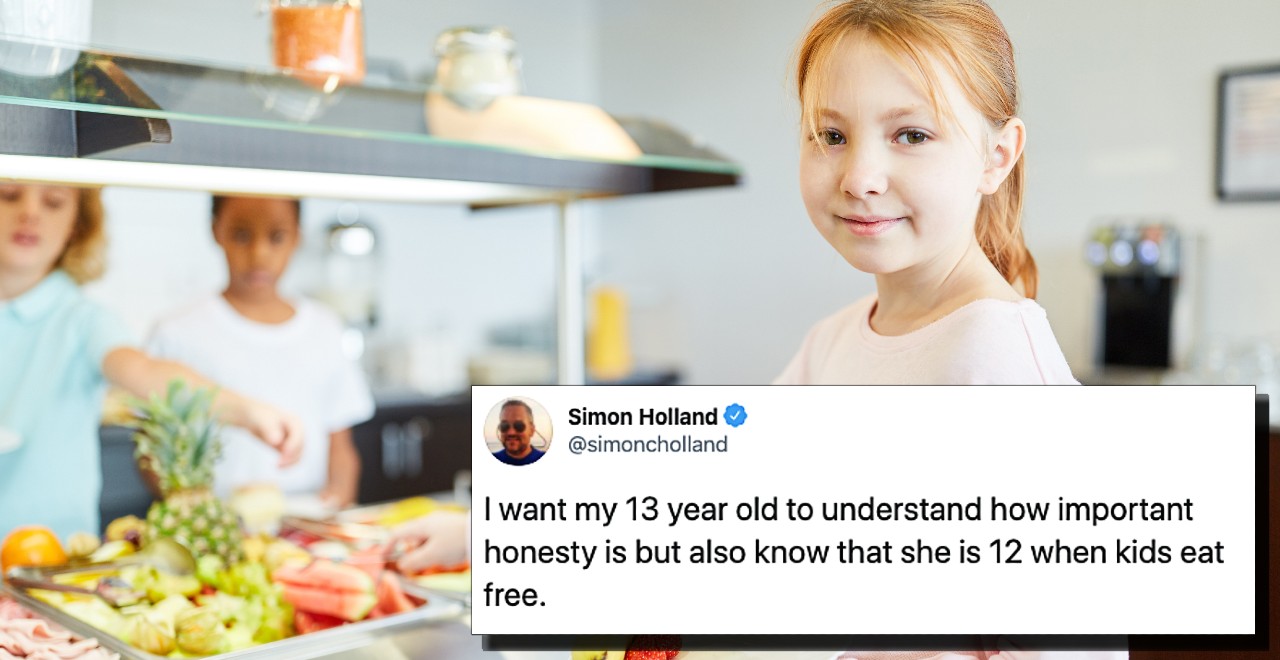 Every week, we take a break from the demands of everyday life. We spend a few minutes appreciating the fact that there are people out there who are willing to share their funniest, most ridiculous parenting moments with the world. Sometimes we laugh, sometimes we cringe in solidarity. Either way, we're gonna have a good time. Here are 12 of the funniest parenting weeks from this week, written by some hilarious Twitter parents.
Ah jeez
How midwestern are we? Our toddler, who was alone in the hallway, bumped into the wall and said "ope"

— *sigh*clops's monster (@aotakeo) October 8, 2020
Payback for limiting their screen time
Welcome to parenthood, you will now watch all your shows in 4 minute increments.

— Dadman Walking (@dadmann_walking) October 14, 2020
Like with anything, there's a time and a place
I want my 13 year old to understand how important honesty is but also know that she is 12 when kids eat free.

— Simon Holland (@simoncholland) October 10, 2020
The salt shaker goes next to the bowl of dried paint
Welcome to parenthood. Every flat surface is a crafts table now.

— Dude-Bro Dad (@thedadvocate01) October 11, 2020
A real Will Smith – uh, wordsmith
3yo: dad can you tell me a story from when you were a kid?

Me: in west philadelphia born and raised, on the playground was where I spent most of my days…

— WTFDAD (@daddydoubts) October 13, 2020
She's going to be a world traveler! Or an ENT
My 9-yr-old just asked if I wanted to see Italy, and then she showed me a dried booger that actually looked exactly like Italy

— Jonesy the Beautiful Idiot 🇨🇦 (@VikingJonesy) October 11, 2020
It's statistically impossible to be wrong this often
I just feel parenting would be a lot easier if there was some reliable guidance available on how to correctly put ketchup on a plate

— threetimedaddy (@threetimedaddy) October 11, 2020
Another point to address. NO, not address – a dress
Whenever I do go back into the office I'm not sure how I can function without a 5yo handing me Barbie dolls to dress in the middle of a meeting.

— mark (@TheCatWhisprer) October 10, 2020
RIP to your relatively low car insurance bill
Took my teen to practice driving in a vacant parking lot.

13 dead, dozens injured.

— Rodney Lacroix (@RodLacroix) October 12, 2020
[Clenches fist]
Dads hate stopping on road trips because then all of the vehicles they worked hard to pass for the last hour get back ahead of them

— Average Dad (@Average_Dad1) October 10, 2020
A whole new world
Preschoolers don't know anything so every new piece of info is shocking to them, no matter how basic. It's fun!

10yo: When dinosaurs were alive there were no humans.

4yo: Wait what?

Wife: Ice cream is made from milk.

4yo: Wait what?!

Me: Tomorrow is Tuesday.

4yo: WAIT WHAT?

— Dad and Buried (@DadandBuried) October 12, 2020
Hopefully it's not a chameleon
son: I have to tell you two things about my pet lizard

me: you have a pet lizard?

son: right, and the second thing is that it's missing from my room

— Henpecked Hal (@HenpeckedHal) October 8, 2020
Did you miss last week's funniest parenting tweets?