12 Funniest Parenting Tweets of the Week 10/09/20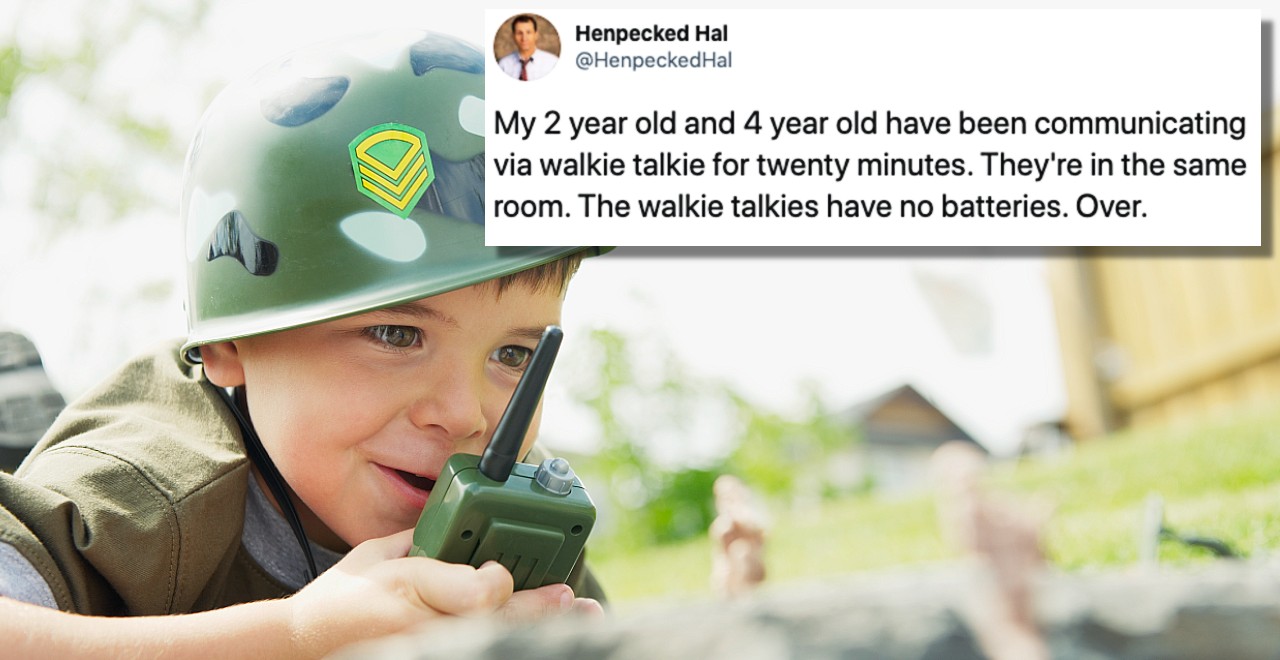 It's the freaking weekend. This feels like the type of weekend where it doesn't really matter that all events are canceled indefinitely, the only places that sound appealing right now are "bed" and "couch" anyway. Maybe it's the cooler weather, the news cycle, the fact that you've played video games until 3 AM one too many times (it was only once, which is one too many times at our age) – it's time to get some rest. Fortunately, we've arranged some solid parenting entertainment for you while you enjoy some much-needed relaxation. Here are 12 of the funniest parenting tweets of the week, for your viewing pleasure.
A proud moment
The kids let me sleep in until 9am today, so all I'm saying is never stop chasing your dreams

— Richard Dean (@dad_on_my_feet) October 4, 2020
Where can you buy shoes in bulk?
Let's get married & have kids so instead of trying a pumpkin beer you can stop the crying while I go back into the corn maze to find the shoe.

— Simon Holland (@simoncholland) October 6, 2020
Is it over? Over
My 2 year old and 4 year old have been communicating via walkie talkie for twenty minutes. They're in the same room. The walkie talkies have no batteries. Over.

— Henpecked Hal (@HenpeckedHal) October 3, 2020
Better that he hear it from you
I finally had 'The Talk' with my son yesterday. Sure he's 4, but you're never too young to learn that Gorbachev's introduction of Glasnost and Perestroika accelerated the inevitable collapse of the USSR, ending the cold war.

He was going to hear it in the schoolyard anyway

— Samhain Guzman 🍁 (@GrahamKritzer) October 6, 2020
How many seat belts can you legally wear?
Why did no one remind me that having kids would mean one day I'd have to teach them to drive? No amount of sexual congress is worth this much pain.

— bacon popsicle 🐦 (@Gupton68) October 6, 2020
Goodnight, Warden
6-year-old: No school tomorrow! That means no bedtime!

Me: You still have a bedtime.

6: This place is a prison.

— James Breakwell, Exploding Unicorn (@XplodingUnicorn) October 3, 2020
They learn so young
2: Papa you're my best friend!

Me: Aw that's so sweet-

2: Now help me clean up these Legos.

— A Bearer Of Dad News ✊🏾 (@HomeWithPeanut) October 5, 2020
[Taking notes]
My 5yo not wanting to brush her hair because her "hair is tired" is on another level of excuse that I think we can all learn from.

— mark (@TheCatWhisprer) October 3, 2020
Whose punishment is this?
my wife just grounded all kids from electronics and tv for 4 days and if you need me i'll be living anywhere else but here.

— Dadman Walking (@dadmann_walking) October 4, 2020
He was so young, so frustrated
Every time my toddler tells me "no" it takes a day off my life, which means I prob have two weeks left to live.

— WTFDAD (@daddydoubts) October 4, 2020
And you still have al- well, almost all of your fingers
I've given a Starbucks pumpkin loaf to my sons in the backseat of the car, so yes, I know a few things about hand-feeding piranhas.

— The Dad Briefs™ (@SladeWentworth) October 4, 2020
But we were supposed to leaf 10 minutes ago
My favorite part of getting a child ready for school is when she says, "Oh yeah, it's Spirit Week and I need to dress like a tree today."

— Rodney Lacroix (@RodLacroix) October 5, 2020
Did you miss last week's funniest parenting tweets?