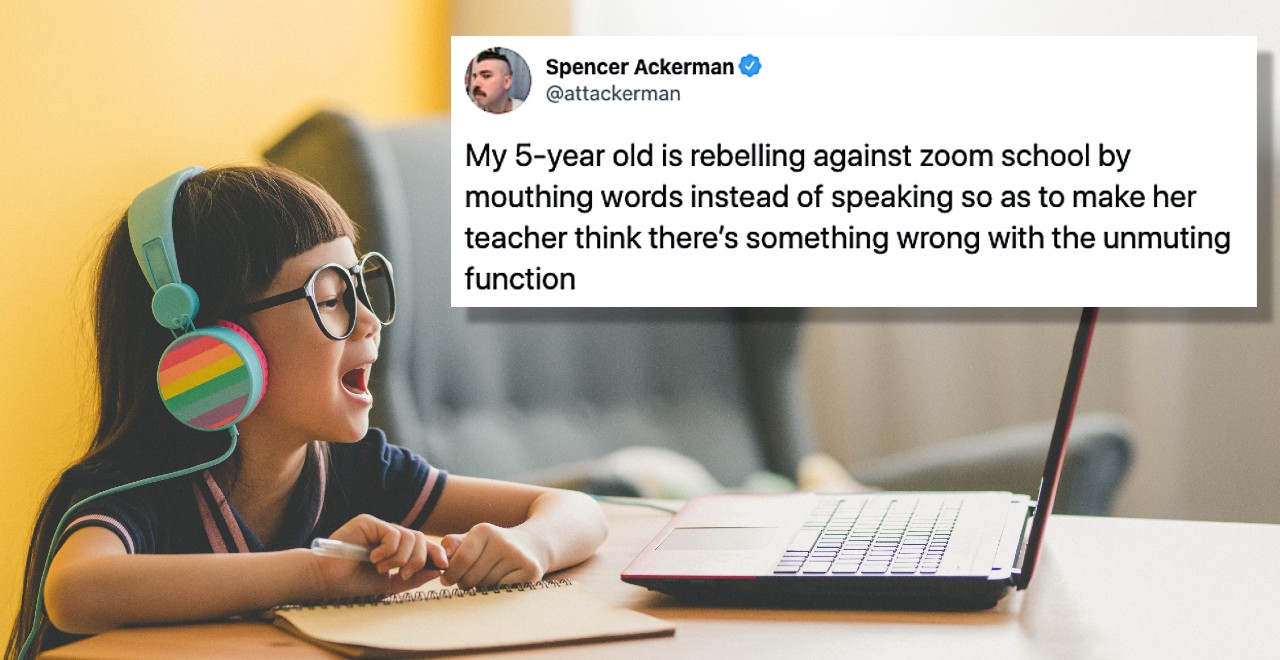 Credit: Getty/simon2579, Twitter/attackerman
Another week closer to Halloween, another bag of candy replaced after you ate the whole thing in what we call "Adult Trick-or-Treating" (standing in front of your open pantry dazed and exhausted, shoving candy down your throat without even chewing like some kind of snake). Though Halloween season already looks a lot different than previous years, one thing is certain – kids will continue to be kids, but this time, hyped up on sugar. Fortunately, Twitter parents continue documenting the best and funniest parenting moments. Whatever the season looks like, Twitter parents deliver. Enjoy 12 of the funniest parenting tweets of the week, a welcome constant in an unpredictable world.
Wanna guess why?
Kids really overestimate how much parents want to guess things.

— Simon Holland (@simoncholland) October 17, 2020
What they lack in size they make up for in vindictiveness
My 5-year old is rebelling against zoom school by mouthing words instead of speaking so as to make her teacher think there's something wrong with the unmuting function

— Spencer Ackerman (@attackerman) October 15, 2020
How the- it actually was a giraffe
Me, playing 20 questions: *meticulously eliminates big categories and systematically narrows it down*

Kid, his very first question: Is it a giraffe?

— HowToBeADad (@HowToBeADad) October 22, 2020
Calories don't count because technically it wasn't your food
Today our 4yo insisted on a large bowl of Golden Grahams, banana, and milk for breakfast, so long story short, my breakfast was 99% of a large bowl of Golden Grahams, bananas and milk

— Dad on my Feet (@dad_on_my_feet) October 17, 2020
It's what's on the inside that counts
Birthday card from my three year old pic.twitter.com/GYudZiEc2f

— Luke Pearson (@thatlukeperson) October 14, 2020
It's the abridged version
I let my kids turn the pages when we read together so they're more engaged with the story and also because they accidentally skip pages sometimes.

— Henpecked Hal (@HenpeckedHal) October 19, 2020
Hear me out though: Transformer baby
wife: the baby needs changing

me: I don't know I kinda like her

— tomBSTONE (@pilau) October 19, 2020
An understandably under-celebrated milestone
Today my toddler discovered that his penis can be used as a comedic prop, and now my parenting journey can truly begin.

— WTFDAD (@daddydoubts) October 20, 2020
Dad: 1, Kid: 4,829
Next time my kid's on a zoom class, I'm gonna get in a fight with someone in the background and then ask for a bowl of cereal.

— Dad Bits (@DadBits) October 20, 2020
[Out loud] I like this tweet
when my son is watching a youtube video and they ask for a thumbs up he gives them a literal thumbs up and it's just so cute how fucking stupid he is

— [email protected] (@TweetPotato314) October 21, 2020
Nothing good ever starts with "close your eyes"
5: close your eyes and open your mouth

me: that's a hard pass.

— Dadman Walking (@dadmann_walking) October 20, 2020
Abracadadra
[doing magic for my kids]

Me: watch as I make this toy DISAPPEAR *puts toy on shelf where it belongs*

8 year old: omg where did it go?

3 year old: *crying* did you throw out my toy?

— Roy🌾 (@Roy_oh_Roy) October 20, 2020
Did you miss last week's funniest parenting tweets?