12 Funniest Parenting Tweets of the Week 10/30/20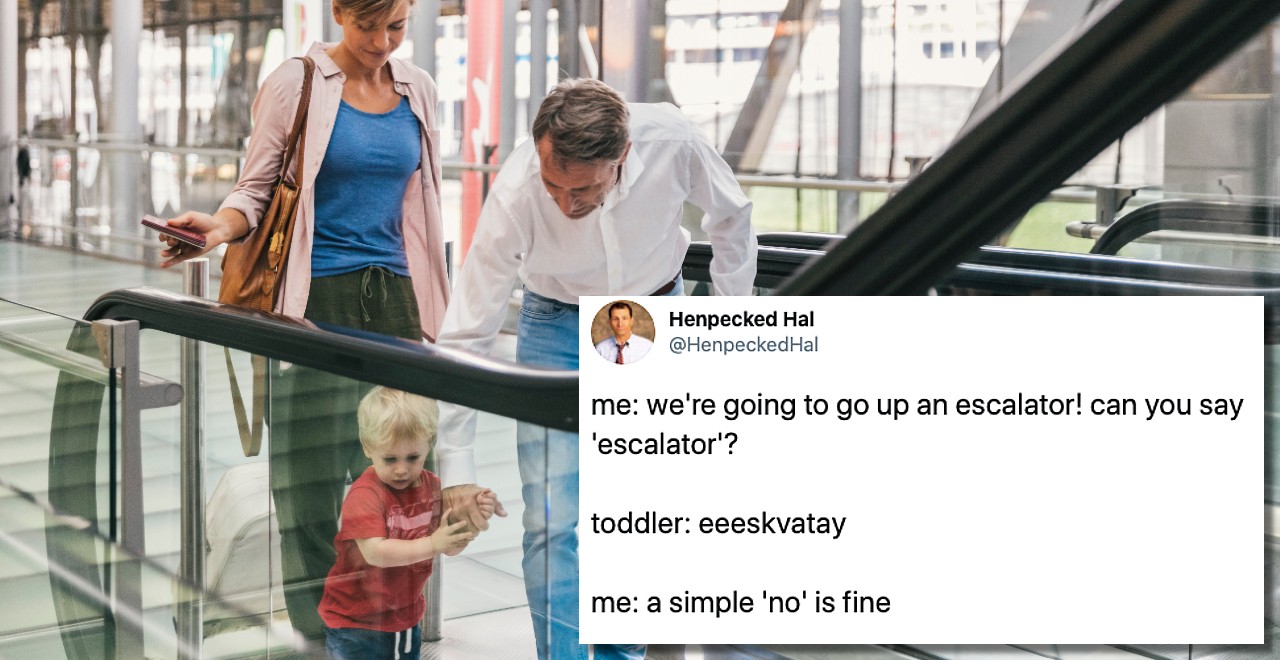 We're almost there, the spookiest time of the year is quickly approaching. Not spooky because of the ghosts and fake blood, but because the amount of candy kids consume in a few-hour period can turn them from kid-level goofy to a turbo-powered ball of energy until they inevitably crash on the floor at 9 pm with half a Twix bar hanging out of their mouths. In preparation for the long day ahead, take a few minutes and enjoy some good old parenting humor. We've rounded up 12 of the funniest parenting tweets this week because kids shouldn't get all the treats on Halloween. This one's just for the parents.
Sorry I'm late there was traffic in the living room
I'm very certain that my kids will be late to school, even if they lived inside the school

— Vinod Chhaproo (@Chhapiness) October 28, 2020
Usually, the answer is no
50% of parenting a toddler is deciding if the object they're about to break is worth getting up off the couch

— Dad on my Feet (@dad_on_my_feet) October 27, 2020
They learn so young
6-year-old: Can I get a tattoo?

Me: No.

6: Can I have a snack?

Me: Sure.

Excellent negotiating.

— James Breakwell, Exploding Unicorn (@XplodingUnicorn) October 25, 2020
It's like you're not even trying
me: we're going to go up an escalator! can you say 'escalator'?

toddler: eeeskvatay

me: a simple 'no' is fine

— Henpecked Hal (@HenpeckedHal) October 27, 2020
If this isn't art I don't want to know what is
can't decide whether my son's pumpkin is lazy or a work of art pic.twitter.com/uT66pdm4Rk

— Fred Delicious (@Fred_Delicious) October 25, 2020
Wait until you see #2 – I mean, the second impression
my new baby: *crying*

me: ok, to begin with, terrible first impression

— MehGyver (@TheAndrewNadeau) October 27, 2020
He just aced middle school health class
Had to explain to my toddler why his 13yo cousin has changed lately, now when he sees someone upset or crying he goes "puberty?"

— WTFDAD (@daddydoubts) October 27, 2020
Crayola's new "Existential Dread" line is killing it
Things I will never know:

Whether my 2 year old is repeating "no, no eat crayons" over and over at the table because he wants to show off his knowledge, or because he's trying to talk himself through a significant inner struggle.

— Xennial Daddy (@Xennial_Daddy) October 17, 2020
Third time this week
KID 911: wats ur emergency

SON: cant find my shoes

KID 911: have you looked literally nowhere?

SON: yes!

KID 911: then it is lost forever

— *sigh*clops (@aotakeo) October 28, 2020
So heartwarming when they pay attention to your interests
*listening to the Beauty and the Beast soundtrack*

4: Daddy guess my favorite!

Me: Belle!

4: Yah! I know your favorite!

Me: You do? Who?

4: LeFou!

Me: What why?

4: He has beer!

Me: That's true. Good call, sweetheart.

— QuaranTWIN Dad (@DadisGrumpy) October 24, 2020
A beautiful family moment
My wife was eating fries tonight and dropped ketchup on the newborn's head. She then dipped another fry in the ketchup on his forehead and continued on. Warrior.

— Chef Andrew Gruel (@ChefGruel) October 27, 2020
And then they'll tell you how you messed it up
I hope my kids enjoy watching me carve pumpkins again this year.

— Simon Holland (@simoncholland) October 29, 2020
Did you miss last week's funniest parenting tweets?