12 Funniest Parenting Tweets of the Week 10/02/20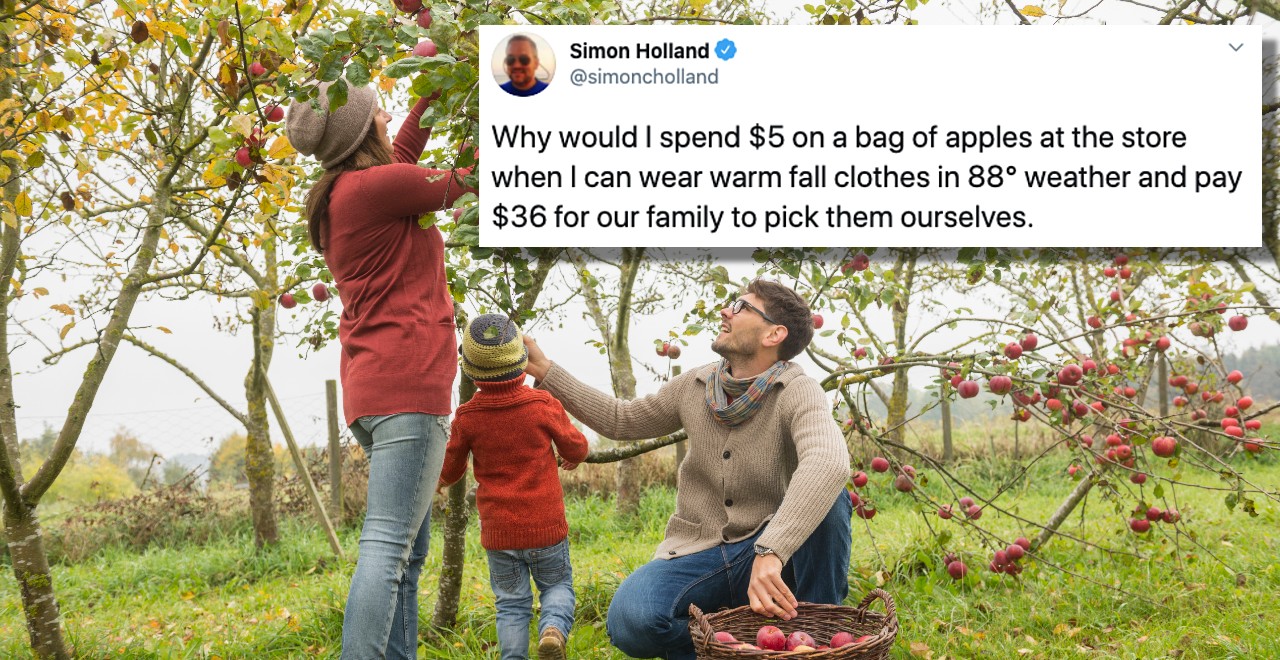 Few things are guaranteed in life. We don't know what's going to happen tomorrow, we have no freaking clue where we'll be in five years. But there are a few constants in life, things that we DO know for sure, that keep us grounded. McDonald's soft serve machines will break, it will definitely rain within 24 hours of getting a car wash, and Twitter parents will continue sharing their most memorable moments. Here they are – the 12 funniest tweets from parents this week.
Speaking of life's guarantees
My kids don't always fall asleep in the car, but when they do it's just as we're pulling up at our destination.

— Henpecked Hal (@HenpeckedHal) September 26, 2020
Practice makes, uh, something
Whoever said that with enough practice you can become an expert at anything sure as shit wasn't talking about parenting

— ThreeTimeDaddy (@threetimedaddy) September 26, 2020
You're paying "for the experience"
Why would I spend $5 on a bag of apples at the store when I can wear warm fall clothes in 88° weather and pay $36 for our family to pick them ourselves.

— Simon Holland (@simoncholland) September 27, 2020
He also forgot to pay the cable bill
7: ugh 11 ate all the lunchables!!

me, who ate all the lunchables: oh ugh he's the worst.

— Dadman Walking (@dadmann_walking) September 27, 2020
It means they're learning
Compare your kids school photos year-over-year and you can see them becoming adults through the gradual draining of emotion in their expressions

— Rodney Lacroix (@RodLacroix) September 24, 2020
The worst kind of people
I'm a dad. If you wanna insult me, call my parenting "babysitting"

— Dad off my Feet (@dad_off_my_feet) September 26, 2020
That makes the score Dad: 1, let's see. Kids: [counting on fingers] 5,938
I establish dominance over my kids by sprinkling LEGO around their beds while they're sleeping

— Crockett🍀 (@CrockettForReal) September 28, 2020
Let them figure it out on their own one day
6 just said he can't wait to become an adult so he can do whatever he wants. Should somebody tell him?

— Dude-Bro Dad (@thedadvocate01) September 27, 2020
Admirable dedication
Even though we're homeschooling, I decided that my son should have the same school experience I did. I packed ten pounds of books into his bag, made his lunch, and dropped him several miles away from the house. When he finally made it home, I gave him a wedgie and took his lunch.

— Uncle Duke (@UncleDuke1969) September 28, 2020
I mean same, but damn
u spend countless years and money raising ur child and one day somebody asks them who their hero is. they look at u with a big smile and say "i'd have to go with jim from the office"

— james (@videojames_) September 29, 2020
Is pizza still considered a vegetable?
Dad pro tip: left over pizza for breakfast is healthier than cereal

— Steve Howey (@stevehowey) September 30, 2020
D…Dad?
6-year-old: I have a spelling test tomorrow.

Me: What do you have to spell?

6: Words, probably.

— James Breakwell, Exploding Unicorn (@XplodingUnicorn) September 30, 2020
Did you miss last week's funniest parenting tweets?