12 Funniest Parenting Tweets of the Week 11/13/20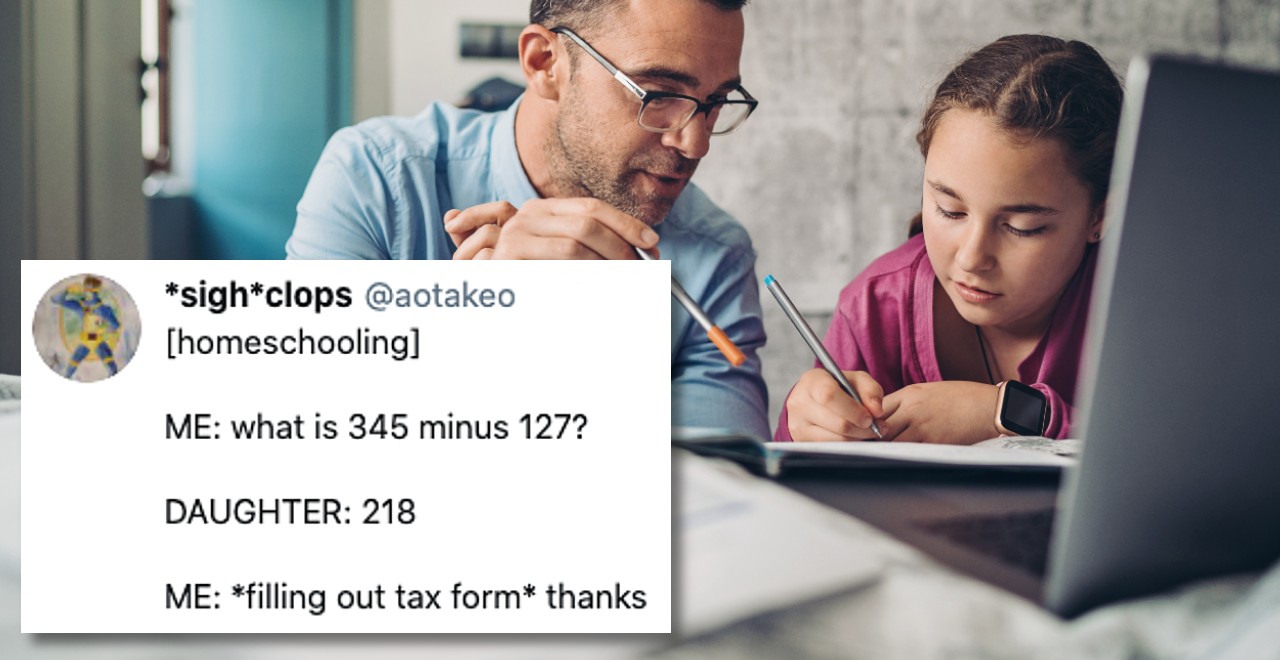 Another week, another assortment of brilliant content from the parents of Twitter. We will be forever grateful for the endless stream of hilarious stories, jokes, and glimpses into the lives of parents who share it all – there's something pretty incredible about the sense of camaraderie that comes with it. Thank you Twitter parents, who brought us 12 of the funniest parenting tweets this week.
Probably in a few tomorrows
When do kids firmly grasp the concept of time? When referring to last week, my four year old says, "a yesterday that happened a long time ago."

— Henpecked Hal (@HenpeckedHal) November 10, 2020
[Handing him a stack of bills] Awesome
8-year-old: I fixed the chain on my bike.

Me: That's great.

8: I'm my own dad now.

— James Breakwell, Exploding Unicorn (@XplodingUnicorn) November 8, 2020
That's what Mavid WANTS you to think
Audrey (6yo): Daddy! Did you know that after Michael left my school, he came back and now people call him David?
Me: Does he look and sound totally different too?
Audrey: Yes!!!
Me: That's not the same kid, honey.
Audrey: *long pause* Maybe

— Brian Wecht (@bwecht) November 6, 2020
Some things never change
The year is 2068. My son visits my grave for the first time. "thank you dad" he says. "I've had a good life…and I did it all with one shoe."

On my headstone is written : IT'S RIGHT HERE

At the base of my headstone is a size 10 toddler sneaker.

He still doesn't see it.

— WTFDAD (@daddydoubts) November 12, 2020
Sounds romantic [over the screams of fighting kids] I SAID IT SOUNDS ROMANTIC
Let's get married and have kids so instead of that pub crawl we got invited to you can make a dinner they will hate while I walk around the house turning off lights.

— Simon Holland (@simoncholland) November 11, 2020
Totally worth the 8 hour drive
Taking my son on his second college tour tomorrow.

They don't let you into the buildings so it's mainly just walking around saying "Now picture yourself passed out near that bush" or "Imagine yourself throwing up out of that window"

— Rodney Lacroix (@RodLacroix) November 9, 2020
Hopefully she gives you a discount
[homeschooling]

ME: what is 345 minus 127?

DAUGHTER: 218

ME: *filling out tax form* thanks

— *sigh*clops (@aotakeo) November 11, 2020
12% is digging Goldfish crackers out of the car seat
27% of parenting is digging the car seat buckle out from under your kid's butt.

— Dude-Bro Dad (@thedadvocate01) November 8, 2020
More like Noodle Meets
My kids have eaten multiple bowls of soup while on their school Google meets. Completely leaning into the chaotic energy this day deserves.

— Andrew Knott (@aknott21) November 4, 2020
But why?
My daughter asked me what it's like to be a parent, so I followed her around asking, "why?" over and over until she started crying.

— яicку (@iinkedZombie) November 9, 2020
I can't explain it, but she's not wrong
Showed my 5yo a picture of a Sphynx cat and she said it looked inappropriate.

— mark (@TheCatWhisprer) November 9, 2020
A proud day
My 7yo just "completed" his assignment by emailing the teacher that he would do it later and then wished her a great day.

So I think he's pretty much ready to go into the corporate world now.

— Shannon Carpenter (@HossmanAtHome) November 10, 2020
Did you miss last week's funniest parenting tweets?