12 Funniest Parenting Tweets of the Week 11/6/20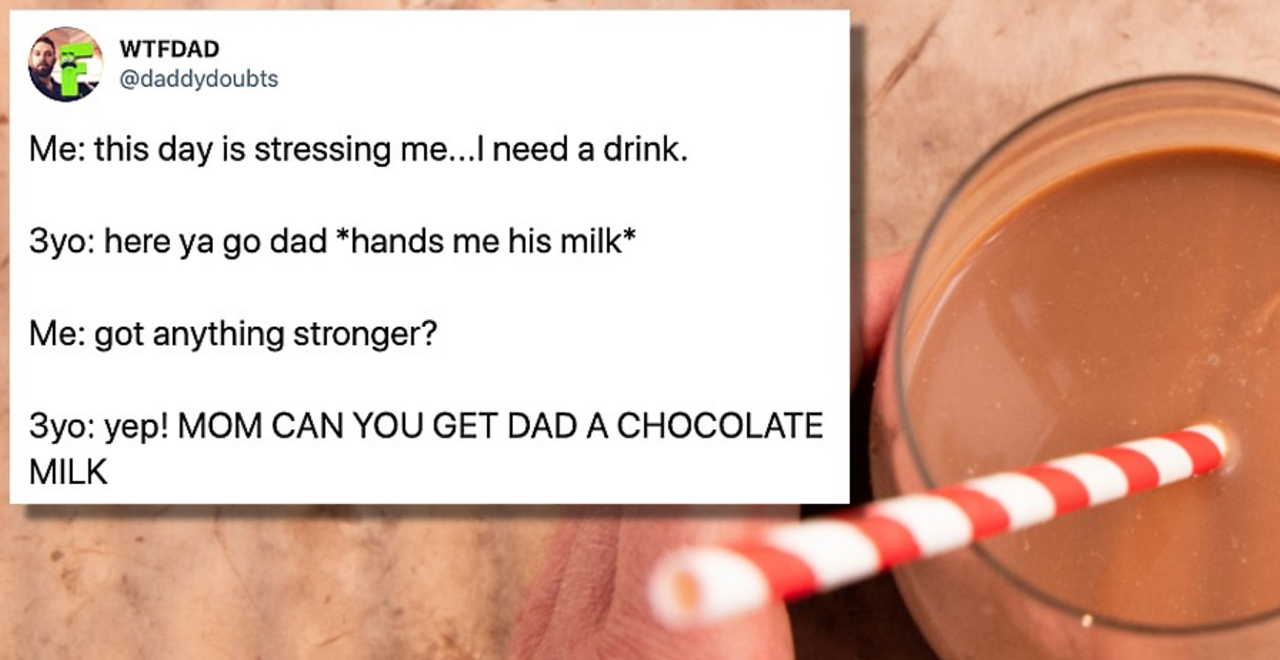 So, uh, how ya doin' champ? It's been one heck of a week, but as always, we're here with some comic relief. Well, the parents of Twitter are here with some comic relief. One beautiful thing about kids is that no matter what's happening in the world, kids are still kids. They'll still make us laugh, groan, and feel a whole bunch of gratitude for the normalcy they provide – however bizarre that normalcy may be. We've rounded up 12 of the funniest tweets from parents this week, a bit of everyday hilarity to remind us all that we're going to be ok.
False alarm
NASA: *finds water in the moon

My kids: that's my water bottle I'm saving it for later

— Dave Ween (@pittdave13) October 27, 2020
That's, uh, exactly what I meant
Me: this day is stressing me…I need a drink.

3yo: here ya go dad *hands me his milk*

Me: got anything stronger?

3yo: yep! MOM CAN YOU GET DAD A CHOCOLATE MILK

— WTFDAD (@daddydoubts) November 3, 2020
What do you mean the instructions are online
Y'all make fun of dads for keeping instruction booklets but guess who is about to flawlessly set the clock back one hour on an 18 year old microwave?

— Simon Holland (@simoncholland) October 31, 2020
He'll have to face his fate eventually
He's already lost, but he won't admit it. Maybe it's pride. Maybe it's fear. Maybe it's ignorance. Either way, he's going to drag this out as long as he can. Yes, he has a couple of possible moves, but no matter where my son puts his X, I've got a Tic-Tac-Toe. Then it's nap time.

— Henpecked Hal (@HenpeckedHal) November 4, 2020
They can learn the day after Halloween
I don't worry about my kids vandalizing yards with toilet paper on Halloween because apparently none of them know where the spare rolls are.

— Rodney Lacroix (@RodLacroix) October 31, 2020
Really adds to the ambiance
[toddler interior decorating]

Toddler 1: you know what this room needs?

Toddler 2: toys on the fl-

1: NO I WAS GONNA SAY THAT

2: *screaming and throwing toys*

1: *screams so hard he pukes*

2: omg you're a genius

1: it's the small touches

— Roy🌾 (@Roy_oh_Roy) November 2, 2020
Welcome to the club
hi I'm 37. I use to be cool. I have 3 kids and I'm going to bed at 7:58pm.

— Dadman Walking (@dadmann_walking) November 3, 2020
Ok but has anyone actually checked?
My toddler really wants to go to a swing state. It's not what you think it means, buddy.

— Dude-Bro Dad (@thedadvocate01) November 4, 2020
Someone knows the first rule of Fight Club
4-year-old: *draws a person*

Me: Why does he have two different colored eyes?

4: He got punched.

Me: Why?

4: He knows why.

— James Breakwell, Exploding Unicorn (@XplodingUnicorn) November 3, 2020
Didn't realize it was my 100th birthday already
Me: Whatcha doing?

3: Calling grandma.

Me: Shes not answering, so let's hang up.

3: It's still loading.

Me: That's a busy signal.

— Lessons from the Minivan (@FromMinivan) November 3, 2020
That was a close one
KID911: wats ur emergency

SON: sister is staring at me

KID911: did you tell her to stop

SON: yes! she isnt even blinking

KID911: omg ok take a deep breath

KID911: now scream for mom

— *sigh*clops (@aotakeo) November 3, 2020
And then somehow in a couple years it takes the jaws of life to get them out of bed
I would give anything to make my kid understand that just because you wake up it doesn't mean you have to get out of bed.

— mark (@TheCatWhisprer) October 23, 2020
Did you miss last week's funniest parenting tweets?