12 Funniest Parenting Tweets of the Week 11/20/20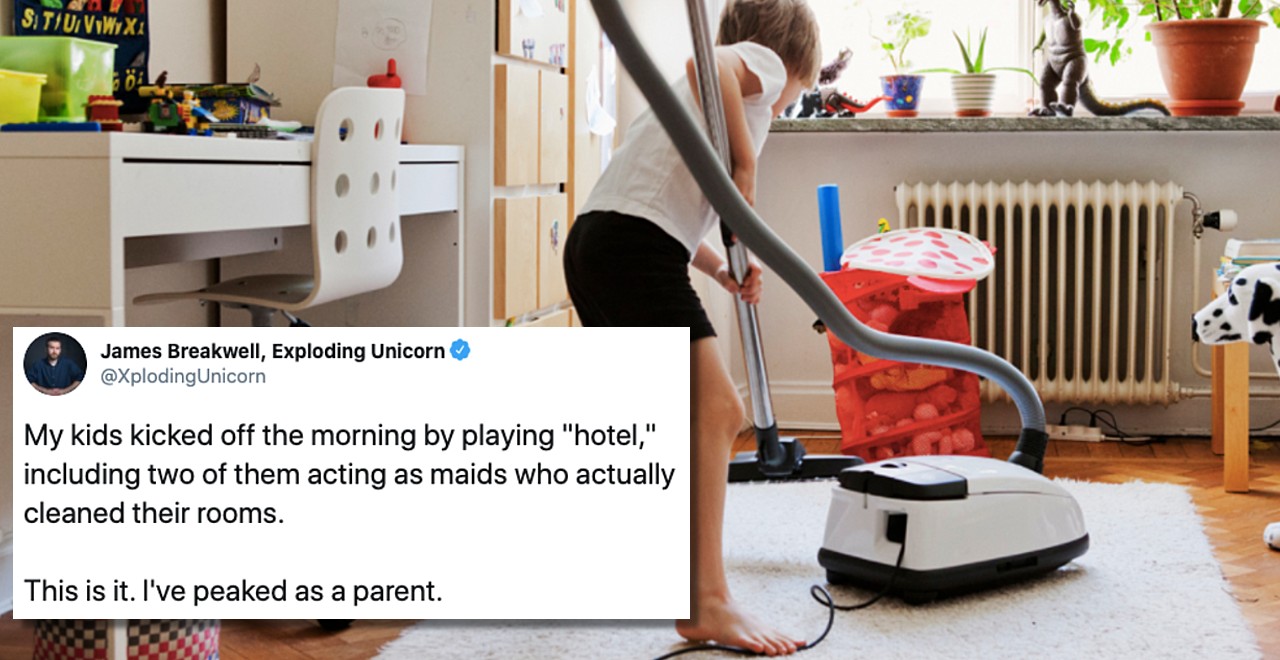 Thanksgiving is almost here, and though it's going to be an unusual one, it's still a time to reflect on everything that we're grateful for. Whether it's an enormous hug first thing in the morning when your kid isn't usually a hugger or an attempt at breakfast in bed that ended up with breakfast literally in bed, kids are great at providing moments we'll cherish forever. They make us laugh when laughter doesn't feel possible, and remind us that there's still so much good in the world. Every week, Twitter parents share their hilarious parenting moments, ones that they'll remember forever – and for that, we're also extremely grateful.
It's not a great paying gig, but the benefits are incredible
My daughter will procrastinate anything by sitting on the potty for 15 minutes at a time, so clearly she's practicing to be a dad

— Richard Dean (@dad_on_my_feet) November 16, 2020
You know what, let's just watch Disney+
Son: *looking through dvds* what are these?

Me: they're movies, bring one here and I'll tell you what it's about

Son: *hands me "fear and loathing in las vegas"*

Me: not this one

— Village Person (@SvnSxty) November 16, 2020
Should have used fabric softener
Until I became a parent I had never heard a human cry because they bumped their head on the roof of a blanket fort

— Vinod Chhaproo (@Chhapiness) November 16, 2020
That strategy almost never fails
My daughter helped me install a new ceiling fan for her room and learned some valuable skills such as closing your eyes and hoping for the best when you turn the power on.

— Shannon Carpenter (@HossmanAtHome) November 16, 2020
At least it wasn't The Shining
Me: can our son watch Lord of the Rings?

Wife: I'm not ready yet.

Me: why?

Wife: can you imagine him walking around saying stuff like-

Son: [kneeling] you have my sword.

Wife:

Me:

Wife: you already let him didn't you?

Me: [to son] dude.

Son: and you have my apologies.

— NewDadNotes (@NewDadNotes) November 16, 2020
Turbulence will now be known as "planes kicking ass"
We hit turbulence.

My 4yo, yelling: Whoa! The airplane was about to kick my ass!

— Dad That Writes ☕ (@dadthatwrites) November 18, 2020
Until eventually they're moved to a new home entirely
Parenthood is just one long never-ending chore of moving things to higher and higher shelves.

— Henpecked Hal (@HenpeckedHal) November 15, 2020
Afraid to say it, but I have to go to the bathroom
Me: I'm going to the store
Kid 1: I wanna go!
Kid 2: Me too!
Wife: I guess I'll go
Me: This is not at all what I had in mind

— Dude-Bro Dad (@thedadvocate01) November 15, 2020
Never mind, they unfollowed
Two of my kids are now following me on Twitter so this account will now be all tweets about abstinence and how to become financially independent

— Rodney Lacroix (@RodLacroix) November 18, 2020
A lot of stores seem to agree
My daughter thinks if she calls them joggers instead of sweatpants it makes them worth $75.

— Simon Holland (@simoncholland) November 14, 2020
I don't remember sleep well enough to know if it's cute
I just sneezed and my kid shouted from his bedroom "bless you dad!" which is adorable. You know what else is adorable? GOING THE FUCK TO SLEEP

— WTFDAD (@daddydoubts) November 19, 2020
This is a game all kids should learn
My kids kicked off the morning by playing "hotel," including two of them acting as maids who actually cleaned their rooms.

This is it. I've peaked as a parent.

— James Breakwell, Exploding Unicorn (@XplodingUnicorn) November 17, 2020
Did you miss last week's funniest parenting tweets?