12 Funniest Parenting Tweets of the Week 11/27/20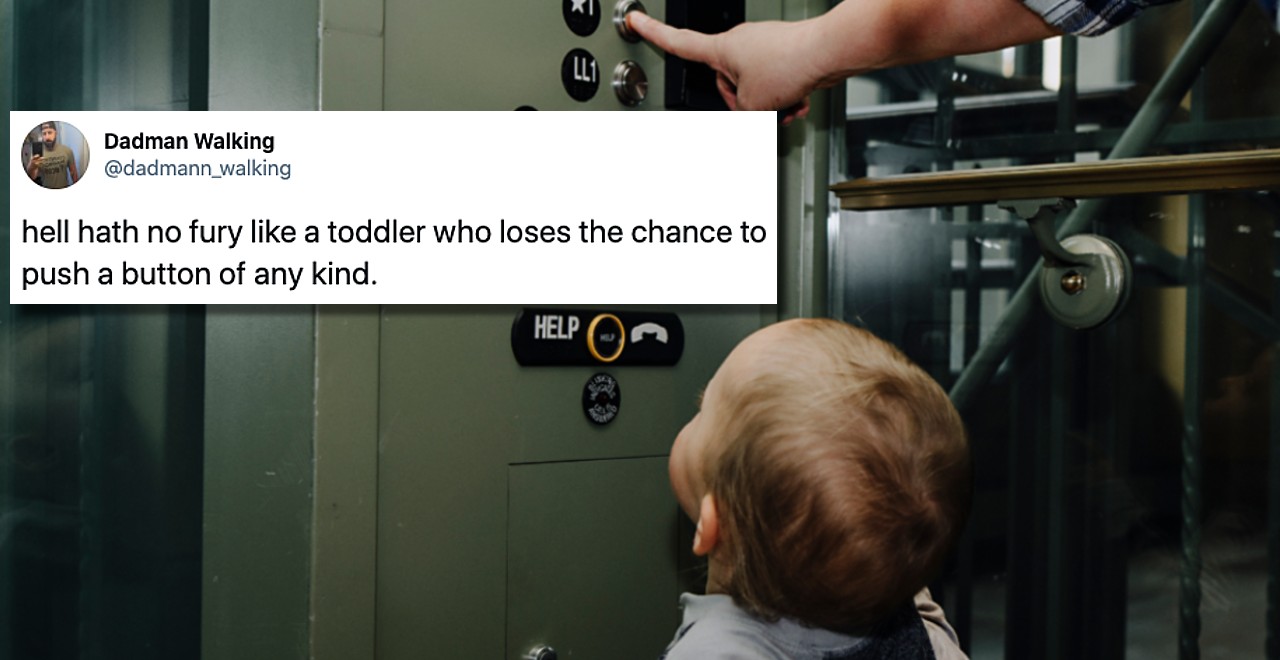 According to my records, we are quickly approaching The Season To Be Jolly. No matter what holiday you're celebrating in the coming month (though we're all united in the celebration of a Happy Honda Days), the lead-up is full of anticipation. This year, as we've grown tired of saying, things will look a bit different. As always though, we can count on our kids to remind us what's really important – making the best of every moment, because they really do grow up too fast. Here are 12 of the funniest parenting tweets this week, from Twitter parents who certainly know how to make the best of things.
The Thanksgiving dinner our ancestors intended
Let's get married & have kids so instead of enjoying Thanksgiving dinner, you can make sure no food touches on her plate while I microwave him a hotdog.

— Simon Holland (@simoncholland) November 22, 2020
I see no problem with this
Me: What do you want for dessert?

5-year-old: Sprinkles.

Me: On what?

5: My plate.

— James Breakwell, Exploding Unicorn (@XplodingUnicorn) November 22, 2020
Ho Ho Ho
Son: daddy, will Santa be allowed to come this year?

Me: Afraid not, kiddo

Daughter: *dismantling bear trap* so we wait til next year?

Me: no… *loading crossbow* …we take the fight to him

— Sir Reginald Longstock (@HansGrubertron) November 22, 2020
Thoughts and prayers
It was the best of times, it was the accidentally-pushed-the-elevator-button-before-offering-to-let-your-toddler-push-it of times.

— Henpecked Hal (@HenpeckedHal) November 24, 2020
Heartbreaking
I've never felt like more of a failure as a parent than when I learned neither of my kids likes cold pizza.

— Ken Jennings (@KenJennings) November 23, 2020
It's almost impressive
There is no limit to the number of things a 5-year-old will tattle on you for.

— mark (@TheCatWhisprer) November 17, 2020
A true inspiration
I watched my toddler eat a grilled cheese buck naked tonight, just buck ass naked eating a grilled cheese sandwich because he wanted to.

Someday, I'm gonna be just like him.

— WTFDAD (@daddydoubts) November 25, 2020
Sounds unhealthy
I usually find it cute when my kids mispronounce words but my 3 year old wanted porn flakes for breakfast

— threetimedaddy (@threetimedaddy) November 24, 2020
Might as well buy stock in Duracell
"I better shut this off when I'm done so the batteries don't die"

– no kid ever in the history of kids.

— Tired Dad of 2 (@Tired_Dad_of_2) November 23, 2020
You know they're kept in my room
I'm not saying my 4yo is an optimist, but while putting groceries away he held up a bag of cookies and said "I'll just keep these in my room, ok?"

— Richard Dean (@dad_on_my_feet) November 23, 2020
There goes the rest of your day
hell hath no fury like a toddler who loses the chance to push a button of any kind.

— Dadman Walking (@dadmann_walking) November 24, 2020
Sometimes the best thing to say is nothing
Me when my kids talk about how cute the turkeys on TV are: pic.twitter.com/WYgizSOYFl

— Xennial Daddy (@Xennial_Daddy) November 26, 2020
Did you miss last week's funniest parenting tweets?