12 Funniest Parenting Tweets of the Week 12/04/20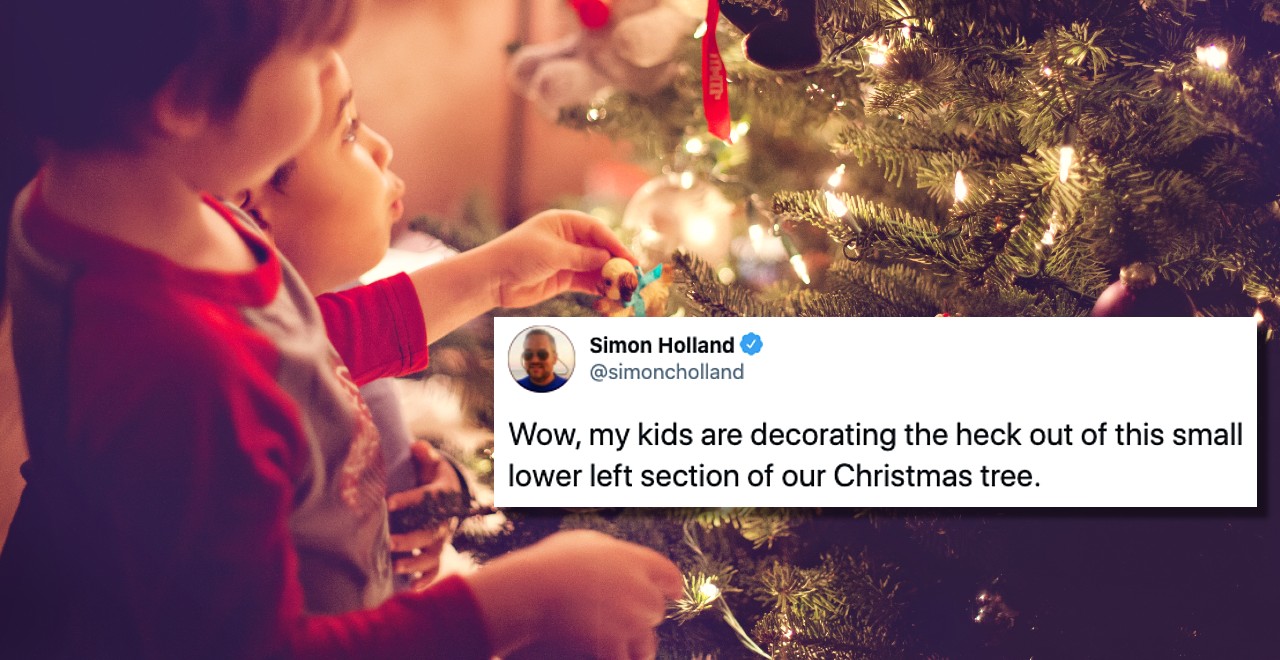 COVID or not, the festive season is upon us. The temperature's dropping, tiny lights brighten even the darkest streets, and honestly, it feels good. As with any event involving gifts and/or sweets, kids pick up the scent like a bloodhound hot on the tail of their prey. They're amped up, as they should be. Despite the countless curveballs this year has thrown, the holidays are a time for celebration – not even a pandemic is getting in the way of that. Fortunately, the parents of Twitter are here once again with their most hilarious takes to dampen the pre-holiday stress, and we've rounded up 12 of our favorites just for you.
HapPre-Holidays!
Just imagining it did the trick
If you're ever feeling down and need a good laugh, try and teach a toddler how to wink.

— WTFDAD (@daddydoubts) November 28, 2020
We're hovering around 10% festive
Wow, my kids are decorating the heck out of this small lower left section of our Christmas tree.

— Simon Holland (@simoncholland) November 28, 2020
It's a beautiful thing
Being a parent is literally just replacing the toilet paper roll and cleaning up messes that don't belong to you repeatedly until you die

— Crockett🍀 (@CrockettForReal) December 2, 2020
At least once they're asleep, it'll be a good 3-4 hours before they need a glass of water
Sorry I'm late for work I've been trying to put my child to bed for 37 hours

— Rodney Lacroix (@RodLacroix) December 1, 2020
Progress is progress
If you're looking for a good news story, today my 3 year old got out the bath to have a poop in the toilet

— threetimedaddy (@threetimedaddy) November 28, 2020
Well why did you tell her if she already knew
My 5yo has full on reached the "I know" stage whenever I tell her something. Please respect our privacy during this difficult next 25 years or so.

— mark (@TheCatWhisprer) November 29, 2020
There's no coming back from that
I was teaching my son to read and he asked me how to spell "momma." Not sure if my wife preferred "mama," I paused and said, "I don't know, I'll ask mom." After that we practiced DOG, CAT, and RUN, and after each word he'd ask if I was sure or if I wanted to check with my wife.

— Henpecked Hal (@HenpeckedHal) November 30, 2020
Wise beyond their years
6-year-old: It's time for pizza.

Me: It's the middle of the afternoon.

6: The pizza doesn't know.

— James Breakwell, Exploding Unicorn (@XplodingUnicorn) November 29, 2020
To be fair, this would also work on me
If you want to piss off a toddler just tell him he's tired.

— Dude-Bro Dad (@thedadvocate01) December 1, 2020
The hunter and its prey
My 4yo talked me into buying a bag of cookies at the store then kept holding it up to other customers like it was a belt he'd won in some sort of prizefight and now that I think about it that's exactly what it is

— Richard Dean (@dad_on_my_feet) December 2, 2020
Works every time
KID911: wats ur emergency

SON: corn is touching my potatoes

KID911: take a deep calming breath

SON: ok

KID911: now throw it on the floor!

— *sigh*clops (@aotakeo) November 30, 2020
Peppa is over 7 ft tall, that's honestly incredible
Grew up listening to Indian mythology. Stories with demons, death and gory violence, and here I'm protecting my 5YO from Peppa Pig

— Vinod Chhaproo (@Chhapiness) December 3, 2020
Did you miss last week's funniest parenting tweets?