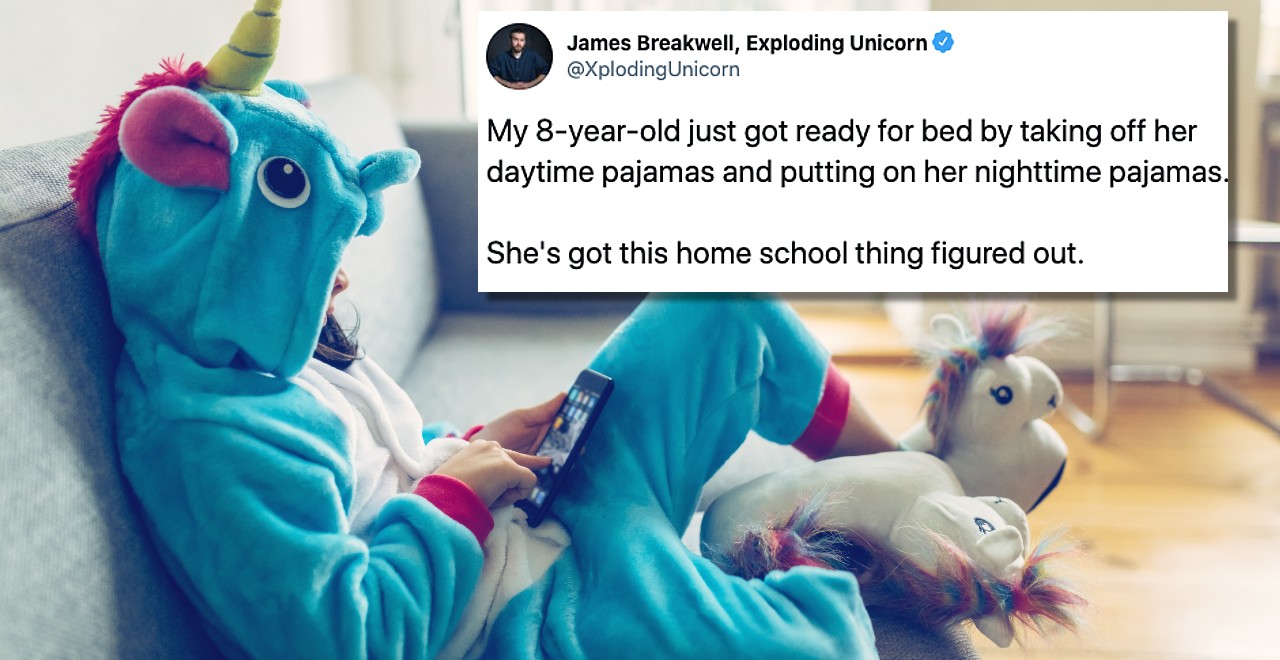 Credit: Getty/golero, Twitter/XplodingUnicorn
We still have a few more extremely short days before they (thank goodness) start getting longer again, but even so, Twitter parents are finding time to tweet out their most hilarious and absurd parenting moments. These parents have helped us laugh our way through the darkest days, and they aren't slowing down. Here are this week's funniest parenting tweets, curated just for you.
To be fair, same
My daughter on school mornings vs my daughter on weekend mornings pic.twitter.com/RpBXmHU3Xl

— Luke+ (@lukeplusone) December 11, 2020
Sorry, what?
Today was fun. We thought 11 was having hearing issues again. Took him to his ENT. Paid $85 to find out no he's fine. He's just literally ignoring us.

— Dadman Walking (@dadmann_walking) December 12, 2020
But vegetables are disgusting?
I swear to you, my child is eating a tortilla with mayonnaise on it right now.

— X(mas)ennial Daddy (@Xennial_Daddy) December 11, 2020
She's a lucky woman
When I'm feeding baby girl at 4 am I like to send my wife a bunch of "u up??" texts. She loves it

— Dabbling in Daddying (@dabbling_as_dad) December 11, 2020
Every. Single. Time.
My kid's toothbrush: pic.twitter.com/o1aLqfMHQa

— A Bearer Of Dad News ✊🏾 (@HomeWithPeanut) December 13, 2020
Next time just park in a Denny's parking lot and take a nap, they won't notice
Drove our kids around town to look at Christmas lights but they brought an iPad so they could watch a different kid drive around his town looking at lights.

— Simon Holland (@simoncholland) December 14, 2020
We live for these moments
I took the kids to a drive-thru light display last night

But after paying, then listening to 2 hours of whining before we could FINALLY enter I knew it was a waste of time…until I heard a tiny voice from the back seat:

"Thank you for this daddy"

So yeah. It was worth it.

— Richard Dean (@dad_on_my_feet) December 14, 2020
Too dangerous
Sometimes I like to live dangerously by asking my kids what they'd like for Christmas after they've written their letters to Santa and we've bought all the presents

— threetimedaddy (@threetimedaddy) December 13, 2020
At least now we also somehow have yogurt in our hair
If you're tired of always being the first one to join zoom meetings you should consider having kids

— Vinod Chhaproo (@Chhapiness) December 15, 2020
Is it carpet or wood? I need to see if your mom owes me $5
Me: I found it!

Daughter: found what?

Me: the floor in your bedroom

— Special K (@ServiceTech_) December 17, 2020
Don't we all have day pajamas and night pajamas at this point?
My 8-year-old just got ready for bed by taking off her daytime pajamas and putting on her nighttime pajamas.

She's got this home school thing figured out.

— James Breakwell, Exploding Unicorn (@XplodingUnicorn) December 17, 2020
Just for that, they'll still find some way to ditch
Me [waking child]: Hey.
Child: mmmph what
Me: It snowed last night so you have no school today.
Child: YAY
Me: Just kidding get up you're homeschooled now.

— Rodney Lacroix (@RodLacroix) December 17, 2020
Did you miss last week's funniest parenting tweets?