12 Funniest Parenting Tweets of the Week 7/24/20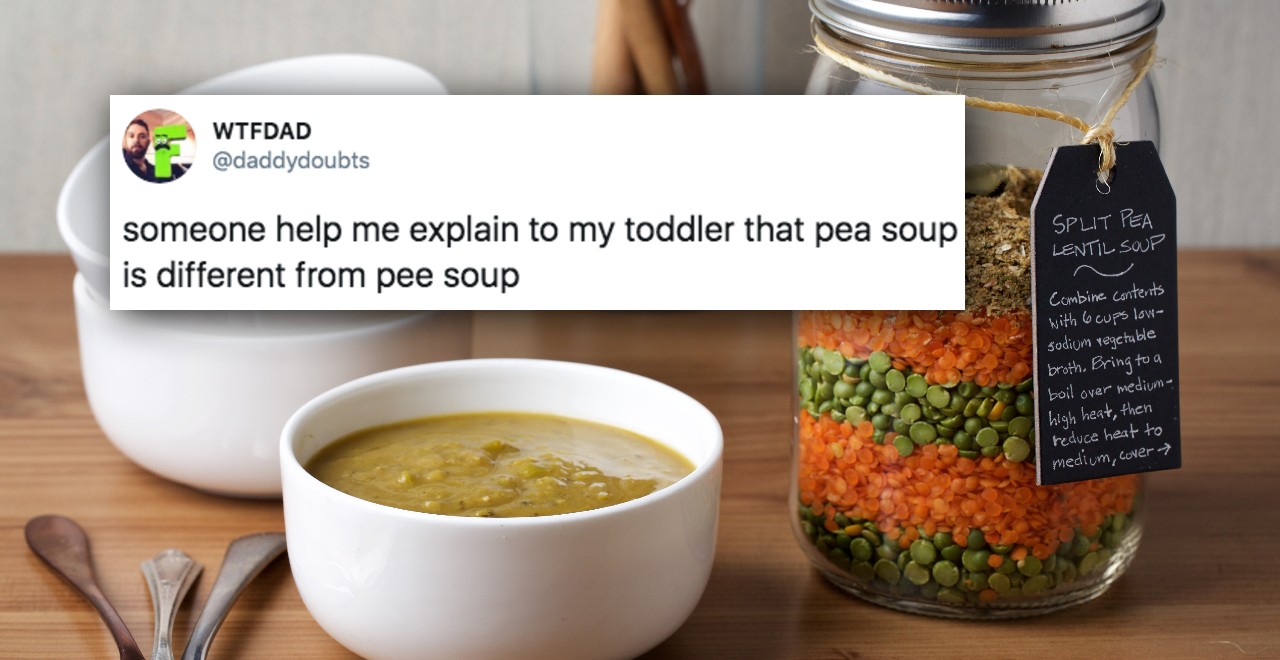 We made it, folks. Another week in the books. What'd you do, finish building that deck that's been sitting half-done for the past year and a half? Did you file your taxes? Did you even manage to put on pants? Even if you gave all of these a hard "no", don't worry about it. You still deserve a break. Grab some cheese puffs, a beer, and enjoy some of the funniest parenting tweets of the week.
Sometimes you hit,
Getting someone pregnant makes you a father. Secretly bending the hose your kid is using so the water stops flowing then suggesting that the hose must be broken and encouraging them to look inside as you release the pressure and set Old Faithful off in their face makes you a dad.

— Henpecked Hal (@HenpeckedHal) July 21, 2020
Sometimes you miss.
I'll never forget that on this day, 2 years ago, I tried to be spontaneous and took my kids to see a sunflower field… pic.twitter.com/RyQ7hmFW8W

— jnyemb (@jnyemb) July 14, 2020
You might be totally in your element,
If I'm going to play with the kids in the shallow end I will also need my handstand rated and underwater swimming timed.

— Simon Holland (@simoncholland) July 13, 2020
Or figuring things out as you go.
Parenting books never prepared me for how much time I'd spend arguing for kids to get into and then out of the shower.

— Rodney Lacroix (@RodLacroix) July 16, 2020
You might win,
12YO rollin in for lunch:
🎶Chef BOYardee once told me have some ravioli…🎶

— Stone (@StoneAgeRadio13) July 22, 2020
You might lose,
Until I had a 3 year old, I had no idea there was a wrong way to read a bedtime story

— ThreeTimeDaddy (@threetimedaddy) July 20, 2020
You might not even know what game you're playing.
My son came and got me, saying there was a serious leak under the kitchen sink. pic.twitter.com/OEqnR1McJ6

— Tenessa Gemelke (@gemelket) July 14, 2020
Sometimes we get lucky,
someone help me explain to my toddler that pea soup is different from pee soup

— WTFDAD (@daddydoubts) July 22, 2020
And kids really take an interest in us.
3yo is asking me who my friends are. Every time I name someone, he says, "And who else?" and this is really a lot of pressure for a 42yo introvert.

— Ohio mom of two #BLM 🏳️‍🌈 (@OhioMomoftwo) July 20, 2020
But when we run into trouble,
it's funny how much energy my children have until i tell them it's time to take a bath

— Crockett🍀 (@CrockettForReal) July 22, 2020
It might help to remember
I wish I was as certain about anything as my 5yo is that she brushed her teeth thoroughly in 6 seconds.

— mark (@TheCatWhisprer) July 19, 2020
That sometimes the answers are right in front of us.
Me: Guess what.

8-year-old: No.

I didn't know that was an option.

— James Breakwell, Exploding Unicorn (@XplodingUnicorn) July 22, 2020
Did you miss last week's Funniest Parenting Tweets?