12 Funniest Parenting Tweets of the Week 7/31/20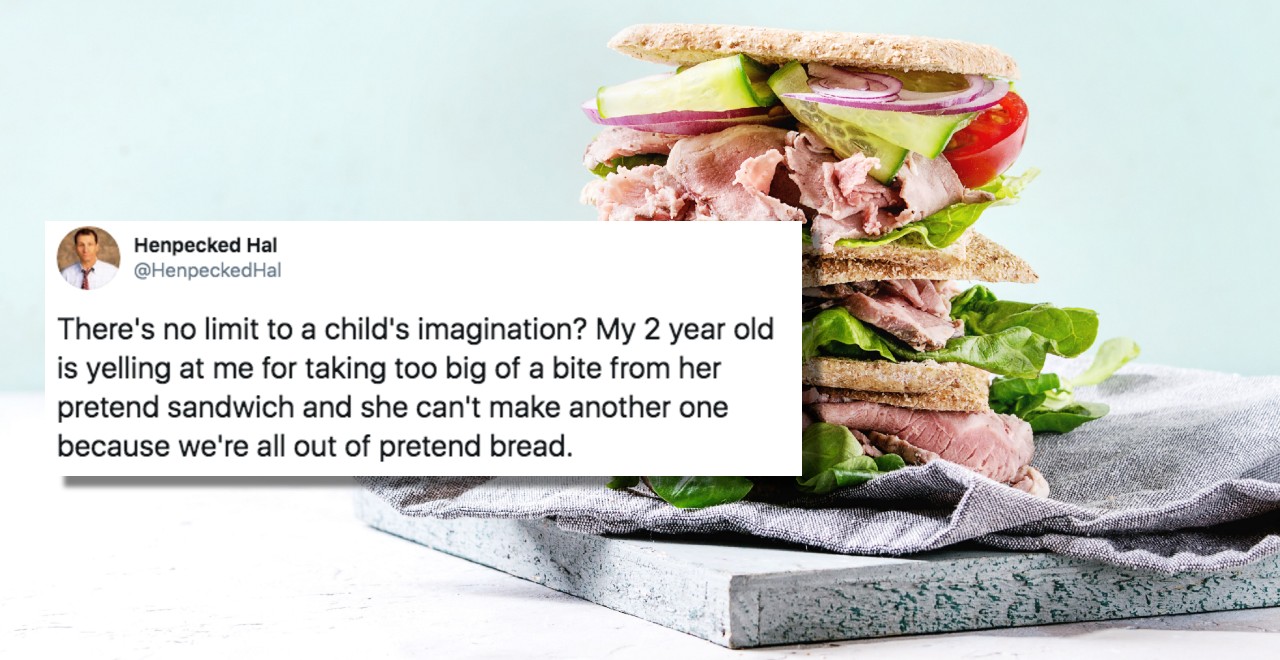 July is in the books, or as we like to call it, 4th March. It hasn't been an easy one, with so many summer activities canceled and normal life still on pause. But you made it, hopefully in one piece. Take a break, relax, and enjoy 12 of the funniest parenting tweets from this week.
It's a confusing time.
If you aren't constantly having to shout each of your children's names until you arrive on the proper child, are you even parenting?

— Crockett🍀 (@CrockettForReal) July 24, 2020
Ok, a REALLY confusing time.
Kids: What's for dinner?
Me: I'm making Chicken, Broccoli and Ziti Alfredo.
Kids:
Me: wut
Child 1: I don't want broccoli in mine.
Child 2: I don't want chicken in mine.
Child 3: I don't want chicken or broccoli.
Child 4: Can you rinse off-
Me [picking up phone]: Pizza it is.

— Rodney Lacroix (@RodLacroix) July 23, 2020
But if we stay alert,
One parental paradox is that you just want your kids to be quiet for an hour but if your kids are quiet for an hour something awful is happening

— Melvin of York (@MelvinofYork) June 11, 2020
And always remember to compromise,
4yo: Daddy I want a tree house.

Me: Oh me too buddy, it's just gonna take some time. I don't know how –

4yo: *sad face*

Me: But hey, how about you start by drawing me a picture of your tree house.

4yo: That's too hard. Can I just get a new Spiderman.

Me: Oh thank god, yes.

— dADDisms (@Beagz) July 27, 2020
We may finally get the answers we've been looking for.
8-year-old: Can I ask you something?

Me: I'm working. Can it wait?

8: It's important.

Me: Fine. What?

8: Do camels pee?

— James Breakwell, Exploding Unicorn (@XplodingUnicorn) July 28, 2020
We're all doing our best,
Toddler: Father
Me: Yes, my child
Toddler: I have made art, father
Me: Well done, my child
Toddler: It is an elephant
Me: Of course
Toddler: You're holding it upside down, father
Me: Ah, I see that now

— Dude-Bro Dad (@thedadvocate01) July 26, 2020
Learning lessons along the way.
What parenting books don't teach you, is that your child can simply look at objects and make them feel sticky

— Vinod Chhaproo (@Chhapiness) July 28, 2020
Remembering how far we've come,
me: I miss when the boys were little.

[Later at the gym where someone brought their 2 yo]

me: nope.

— Dadman Walking (@dadmann_walking) July 28, 2020
And how far we may still have to go.
baby: *crying*.i don't want to lay down right now

me: aww you wanna be picked up

baby: *still crying* lmao no

— Patscals A'Tweetin (@PatsATweetin) July 29, 2020
But by taking time to unwind,
[playing hide-and-seek]

2: I find you!

Me: Yeah, you did!

2: Papa that wasn't a good hiding spot.

Me: You do realize you hide by standing in the middle of the living room?

— A Bearer Of Dad News ✊🏾 (@HomeWithPeanut) July 24, 2020
And using a little imagination,
There's no limit to a child's imagination? My 2 year old is yelling at me for taking too big of a bite from her pretend sandwich and she can't make another one because we're all out of pretend bread.

— Henpecked Hal (@HenpeckedHal) July 26, 2020
Sometimes we find exactly what we're looking for.
We have just had our patio done and my 6yo has loved going out and helping the builder, so it made his day to receive this. What an example of kindness 😊 pic.twitter.com/Wq39TU4uwL

— Steph Kemp (@steph_heathcote) July 27, 2020
Did you miss last week's funniest parenting tweets??