12 Funniest Parenting Tweets of the Week 8/14/20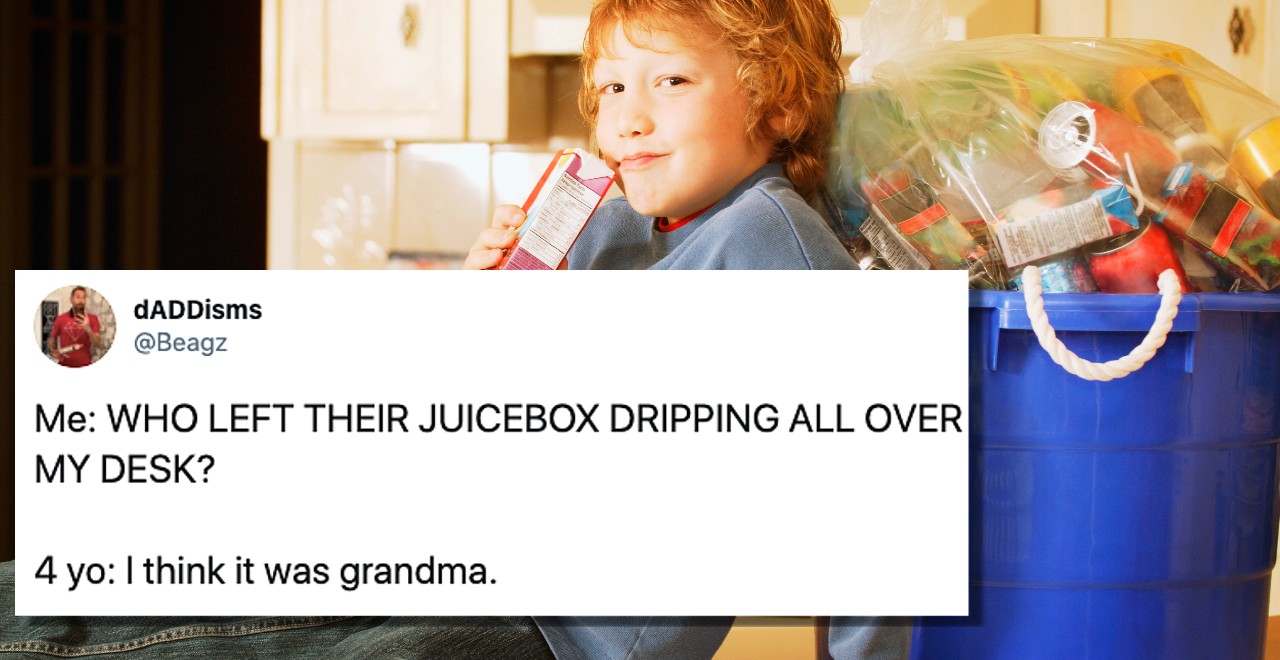 Another week, another opportunity for kids to make it all worthwhile (or something). You know what, they're doing their best, and so are we. We're not perfect, but we're trying. Whatever you were able to get done in week 3,000 of quarantine, well, that's good enough. You deserve a break. You deserve a chance to sit back and laugh for a while. We've collected 12 of the funniest parenting tweets this week for your viewing pleasure, so relax and enjoy.
There's the finger-pointing,
Me: WHO LEFT THEIR JUICEBOX DRIPPING ALL OVER MY DESK?

4 yo: I think it was grandma.

— dADDisms (@Beagz) August 9, 2020
And the excuses.
Me: I had everything under control.

Wife: Then what happened?

Me: The kids woke up.

— James Breakwell, Exploding Unicorn (@XplodingUnicorn) August 11, 2020
The mild horror,
2.5yo to our neighbor: "I have a lot of itchy nipples."

Me to neighbor: "Mosquito bites. He means mosquito bites."

— Stay at Homies (@stayathomies) August 11, 2020
The massive regrets.
The worst thing I ever accidentally taught my kids was copying what they said just to be annoying.

— Dadman Walking (@dadmann_walking) August 12, 2020
But we're all in the same boat,
If the hours of 6 AM or 6 PM in your house don't involve screaming arguments about shoes or showering, congratulations on not having children.

— Rodney Lacroix (@RodLacroix) August 11, 2020
Nobody said it was going to be easy.
son: theres a monster in my closet

me: oh sweetie, there's no such thing as monsters. The real monsters are hidden among us, members of the community. Even your own family can cause unspeakable psychological damage.

son:

me: Well goodnight

— human aaron (@humanaaron) August 11, 2020
Find what works for you,
My 10yo caught me hiding candy, so I did what any good parent would do:

I paid him off

— Robert Knop (@FatherWithTwins) August 11, 2020
Even if it takes a while.
Little kids only want to be independent when you're running late.

— mark (@TheCatWhisprer) August 13, 2020
There are going to be some bumps along the way,
First day of school and my kid already ripped a hole in the knee of his new biohazard suit.

— Dude-Bro Dad (@thedadvocate01) August 11, 2020
But we do whatever it takes to get the job done.
Last night I pretended to kill an imaginary bug that my kid had dreamed about so she could fall back asleep

— Clify (@FuniBob) August 13, 2020
Because no matter what,
Buying a new bunk bed to surprise my daughters! Hope they are as excited to sleep on our old bed

— Vinod Chhaproo (@Chhapiness) August 13, 2020
Being a parent is a job like no other.
It's only been a week of fatherhood and I already have stronger opinions about baby bottles than I do anything else in my life.

— Michael | Black Lives Matter (@Home_Halfway) August 5, 2020
Did you miss last week's funniest parenting tweets?