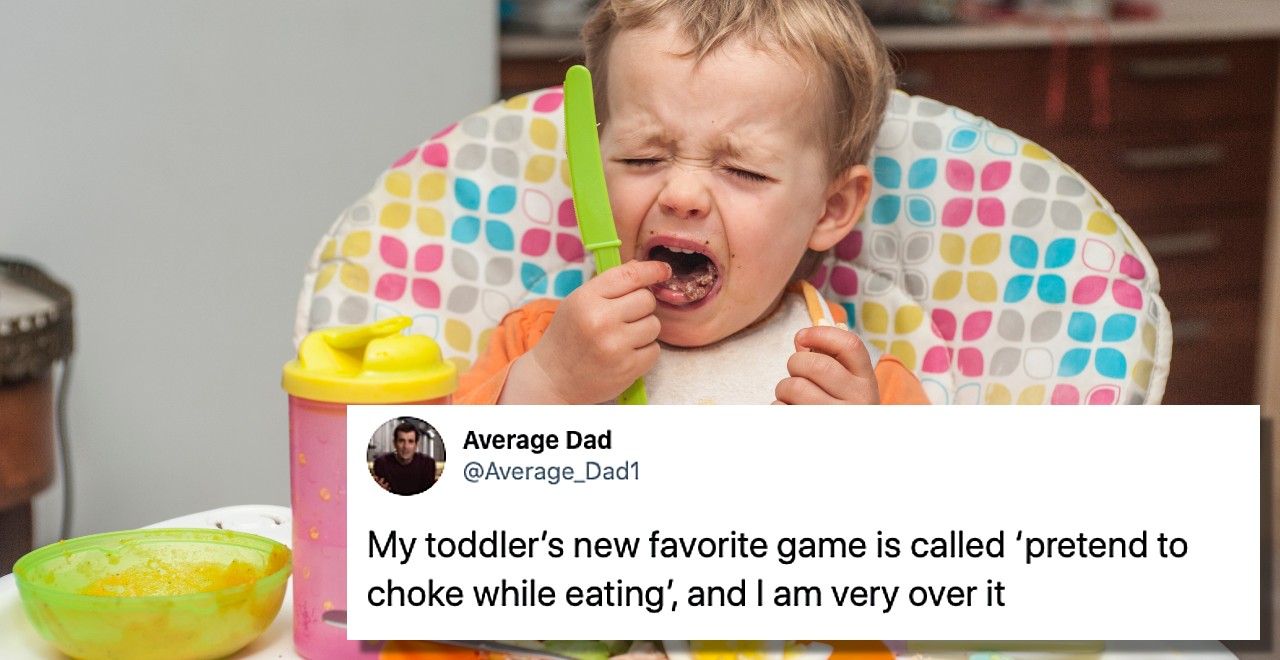 Credit: Getty/VW Pics, Twitter/Average_Dad1
Summer is winding down, but that doesn't mean the fun has to stop. Kids are still being kids, and parents are collecting all of their best material. For your convenience (we know you've got a lot going on right now), we've collected 12 of the funniest parenting tweets this week.
There is no rulebook for being a parent,
7 y/o: I hate oatmeal.

Me: You have to eat something for breakfast.

7: Only if you make a face out of fruit.

Me: *makes a face out of fruit*

7: Hahaha, Stupid. You actually did it.

Me: 😑 pic.twitter.com/YZC4TkpfQa

— Mal (@TheRealPalMal) August 1, 2020
So there's no shame in asking for help.
[Getting my 4yo dressed]

Me: Are those undies clean?

4yo: There's no poo-poo in them.

Me: Can't argue that, let's go.

— dADDisms (@Beagz) August 1, 2020
You're going to hit your limit sometimes,
It's important to encourage children to do something that they normally wouldn't try, like to be quiet or just go away.

— Rodney Lacroix (@RodLacroix) August 1, 2020
Or get very close.
Me: *gets out my tool box*

8-year-old: What are you breaking?

Me: You mean fixing.

8: No.

— James Breakwell, Exploding Unicorn (@XplodingUnicorn) August 1, 2020
Ok, VERY very close.
5: are there people coming tomorrow?

me: no why?

5: well you guys cleaned the house

— Dadman Walking (@dadmann_walking) August 1, 2020
But there's really no right way to do things,
Wait, we are supposed to be monitoring our kids' screen time?

— Simon Holland (@simoncholland) August 2, 2020
And sometimes you just have to laugh.
My daughter just told me that "farts are funny" and then to prove her point she shat herself

— Jonesy the Beautiful Idiot 🇨🇦 (@VikingJonesy) August 3, 2020
Or pretend to, at least.
3 year olds learn the word "Why" and don't shut up

— ₩asir (@naaahsir) August 4, 2020
At this point, we're pretty much experts at pretending.
I deserve an Oscar for my performance as attentive, engaged employee on a Zoom call while his toddler has an epic tantrum off camera.

— Dude-Bro Dad (@thedadvocate01) August 4, 2020
We prepared as much as we could for this wild ride,
Baby proofing is great because your kids solve it in 6 months but it stays on your cabinets, drawers, and outlets for another 10 irritating years.

— Dad and Buried (@DadandBuried) August 4, 2020
But no matter how much we tried,
My toddler's new favorite game is called 'pretend to choke while eating', and I am very over it

— Average Dad (@Average_Dad1) August 2, 2020
Nothing could have prepared us for this.
8 made this sign and made her chinchilla, Archer, hold it pic.twitter.com/z5x8S1WjZk

— Teej (@brwcrw4lyfe) August 1, 2020
Did you miss last week's funniest parenting tweets??