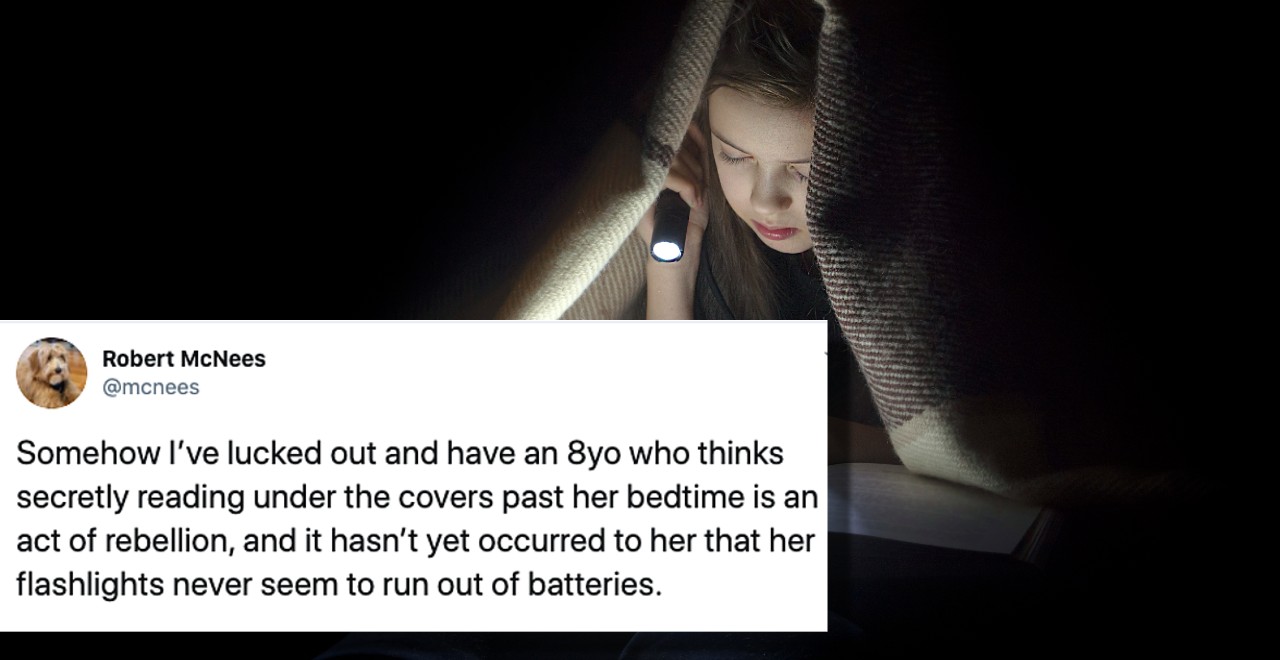 Credit: Getty/rogkov Twitter/mcnees
It's back to school for most kids, which means you may finally get a bit of a breather (unless you're supervising zoom classes, which is a job in itself). No matter what form school is taking for your kids this year, things are going to be a bit different. We have had to adjust to a lot of new normals in the past few months, and school is no different – it may be tough at first, but it will become the new normal sooner than we think. No matter what this upcoming week brings, remember to take some time for yourself. Kick back and relax for a few minutes, and enjoy the 12 funniest tweets from parents this week.
You're seriously killing it at this parenting thing,
Somehow I've lucked out and have an 8yo who thinks secretly reading under the covers past her bedtime is an act of rebellion, and it hasn't yet occurred to her that her flashlights never seem to run out of batteries.

— Robert McNees (@mcnees) August 13, 2020
Even when kids think they have the upper hand.
8-year-old: How many doughnuts can I have?

Me: One.

8: One total or one at a time?

— James Breakwell, Exploding Unicorn (@XplodingUnicorn) August 19, 2020
Sometimes it's a lot,
Working remote with your family at home is just like working at the office but with even more bosses.

— mark (@TheCatWhisprer) August 19, 2020
Like, really a lot –
Kids will ask you a question then have the audacity to follow up your answer with, "what"

— Crockett🍀 (@CrockettForReal) August 19, 2020
But there's a reason we're doing all of this.
My son is the first person to crap all over my pants that I've loved with all my heart.

— Michael | Black Lives Matter (@Home_Halfway) August 16, 2020
Things can get messy,
I'm pretty sure the kids just squeeze toothpaste directly on the bathroom counter and then rub their teeth on it.

— Rodney Lacroix (@RodLacroix) August 19, 2020
And sometimes you just need to lay down for a while –
4: Do you have any money?
Me: No
4: But you went to work today
Me: They only give me money on Fridays
4: Well then why do you go all the other days??

— Teej (@brwcrw4lyfe) August 19, 2020
But there are a million reasons to get right back up.
Rival dad invited us over for dinner and I offered to sharpen his kitchen knives right in front of his wife and kids.

— Simon Holland (@simoncholland) August 20, 2020
Being a dad changes you,
I'm doing a Dad podcast. It's 30 minutes a week on how to know when the coals are just right

— ADHDeanBLM (@ADHDeanASL) August 19, 2020
And you're constantly learning even more.
Son #2 learns chess

S2: So the bishop moves diagonally

Me: Yes

S2: And the king?

Me: He is limited to one space at a time

S2: And the queen?

Me: She's powerful and can go anywhere, as far as she wants

S2:

Me:

S2:

Me: Don't say it

S2: Kinda like you and mom

Me: OK fine

— The Dad Briefs™ (@SladeWentworth) August 19, 2020
And honestly,
My 3 year old stepped on some Lego and cried for a solid 5 minutes but on the bright side no one suspected it was me who left it there

— ThreeTimeDaddy (@threetimedaddy) August 19, 2020
We wouldn't have it any other way.
Teacher: There are 14 slices of bread in a loaf. What are the odds that your sandwich will have both of the end pieces?

Dads: 100%

— Henpecked Hal (@HenpeckedHal) August 18, 2020
Did you miss last week's funniest parenting tweets?