12 Funniest Parenting Tweets of the Week 9/11/20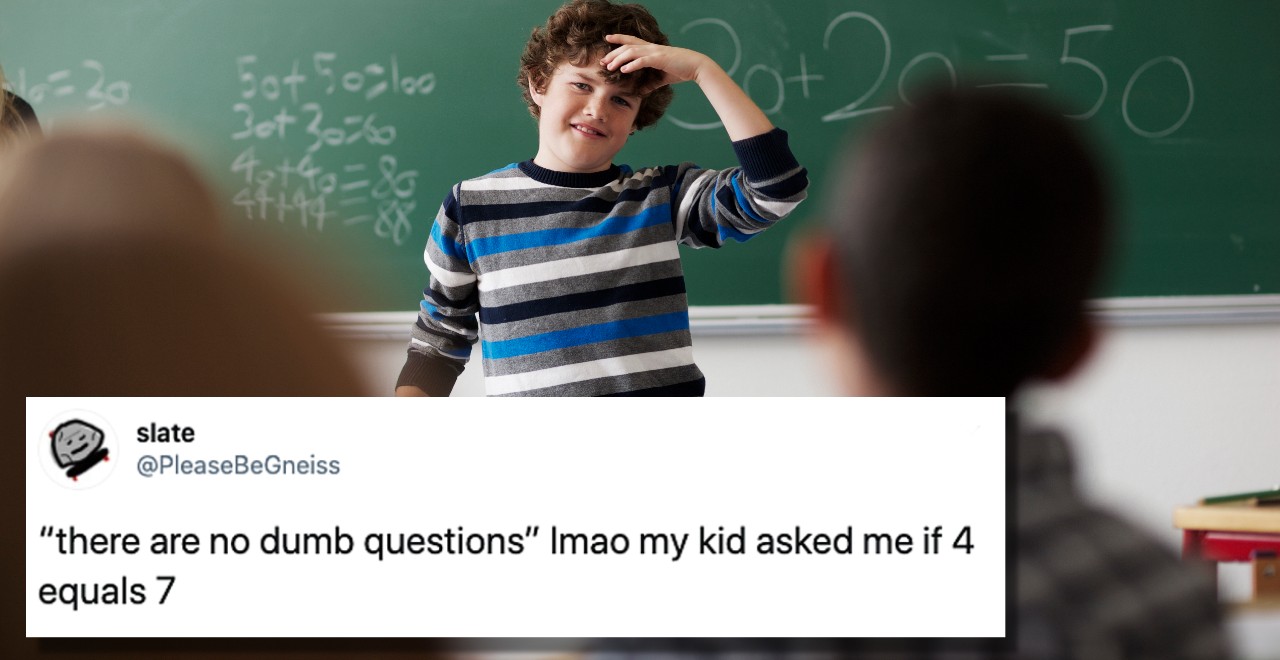 Another week full of the joys and eye-rolls of parenthood, with our trusty Twitter parents keeping track of their most memorable moments. Sometimes relatable, sometimes just plain absurd – these parents share it all. We've compiled 12 of the funniest parenting tweets this week to remind you that whatever being a parent looks like to you, you're not alone. Sit back and let these hilarious tweeters do the parenting for the next few minutes.
Close enough
[watching Mulan]

Me: Do you know what the lesson is?

8-year-old: Don't get married. Go to war.

— James Breakwell, Exploding Unicorn (@XplodingUnicorn) September 4, 2020
There are so many reasons to wash your hands
You don't know sticky until you try to use your kid's tablet

— Robert Knop (@FatherWithTwins) September 6, 2020
Remember how excited we were when they started talking?
When do kids develop their inner voice and why is it never?

— ThreeTimeDaddy (@threetimedaddy) September 6, 2020
We'll fix it later
Electricity goes out…
Me: Transformer must have blown.
Son: Transformers control the electricity?
Me: yes.

— Abe Yospe (@Cheeseboy22) September 7, 2020
School is going fine
"there are no dumb questions" lmao my kid asked me if 4 equals 7

— slate (@PleaseBeGneiss) September 6, 2020
Good to know they're concerned for our well-being
My son, who repeatedly coughed right in my face when he was sick last week, is suddenly gravely concerned about spreading his germs by giving me a bite of his ice cream.

— Henpecked Hal (@HenpeckedHal) September 3, 2020
It's ok to be a little overprotective sometimes
Wife: You got to quit drinking in front of the kids.

Me: Ok kids, turn around.

— 🧙‍♂️Nostradumbass🧙‍♂️ (@The_Albinoshrek) July 25, 2020
So many lessons to learn, so little time
3yo: why do I need a special seat to poop on the potty?

Me: so you don't fall in.

3yo: when I'm older I won't need the seat.

Me: that's right.

3yo: because my butt will be SO big.

Me: yep.

3yo: like mommy's.

Me: shh stop talking now.

— WTFDAD (@daddydoubts) September 8, 2020
It's important to check-in
11 just asked me to look at his poop because "I pooped something weird", in case you're still asking if kids are right for you.

— Dadman Walking (@dadmann_walking) September 9, 2020
Sometimes there are no good answers
Me: [walking through front door]

4: Is it storming outside?

Me: Yeah it is buddy.

4: Did you get hit by lighting?

Me: Nope I'm all safe-

4: Why not?

— A Bearer Of Dad News ✊🏾 (@HomeWithPeanut) September 9, 2020
Honestly, impressive
I thought my 3-yr-old mispronounced toilet as "turtle", but I later figured out she was telling me that she took a shit on her sister's pet

— Jonesy the Beautiful Idiot 🇨🇦 (@VikingJonesy) September 7, 2020
I don't think you can get a refund when they're that old
My 18 month old daughter figured out the childproof cabinet lock today so can I get some sort of refund on that please

— Average Dad (@Average_Dad1) September 10, 2020
Did you miss last week's funniest parenting tweets?