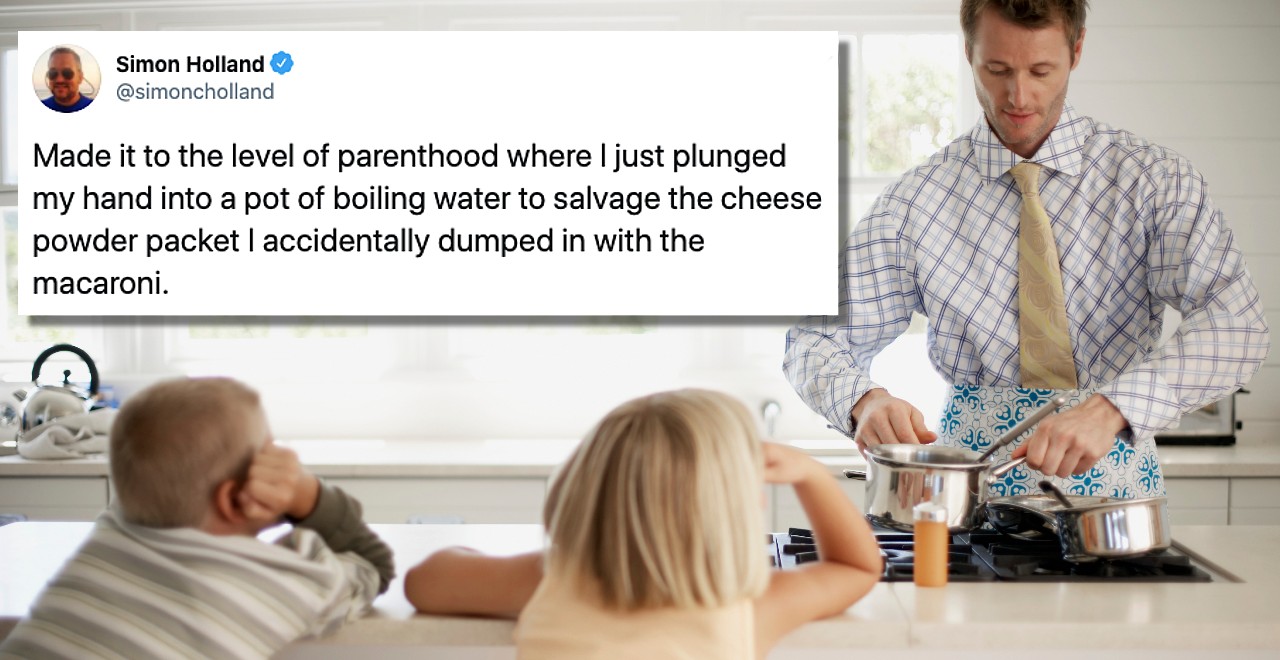 Credit: Getty/Fuse, Twitter/simoncholland
Sometimes it feels like kids' brains are constantly on shuffle. There's no way to know from one moment to the next what's going to come out of their mouths, which can lead to some of the funniest parenting moments – or the moments that make you want to curl up and take a nap for a few weeks. From the laughable to the cringeworthy, Twitter parents share them all. So you don't miss out, we've collected 12 of the funniest parenting tweets of the week.
Well,
My toddler's insisting that I lie down so he can draw a chalk outline around my body like we're practicing for my eventual murder.

— Dude-Bro Dad (@thedadvocate01) August 29, 2020
You made it through another week.
Kids: 🎶happy birthday to you, happy birthday to you, happy birthday dear daddy, happy birthday to you🎶

Me: aww. thanks guys-

Kids: 🎶How old are you now? How old are you now? How-🎶

Me: 52

Kids: holy shit

— Rodney Lacroix (@RodLacroix) August 29, 2020
Another week of finding joy in the little things,
When in the car with my daughter she has my phone running Spotify.
We have a game where she plays any song ever and I can guess the artist & title within seconds of listening.
She believes I'm a musical genius.
She's unaware the song info is on the little screen behind the wheel

— Levela (@DJLevela) August 29, 2020
Because honestly,
Me: Your shirt and pants don't match.

6-year-old: My shirt is cool, and my pants are cool.

I stand corrected.

— James Breakwell, Exploding Unicorn (@XplodingUnicorn) August 31, 2020
There's a lot to smile about.
When my son was 4 he saw a commercial that said "brushing alone is not enough to prevent cavities and tooth decay" so he made us start brushing our teeth with him.

It's been 3 years.
Nobody tell him.

— 🌹Luciux Riker 💥 (@Luciuxness) August 17, 2020
We know,
Camping update: my four year old shit in the hammock

— Henpecked Hal (@HenpeckedHal) August 30, 2020
it doesn't always feel that way.
Today my 4 year-old asked "when you are an adult do you have to buy a car or do they just give you one because you are old?"

Absolutely shredded by a kid who pissed his bed this morning.

— Yukon Guzman 🍁 (@GrahamKritzer) August 31, 2020
I guess what we're trying to say
Fact: kids have 2 stomachs. One is the meal stomach. It's about the size of a pea. This is why children cannot consume a full breakfast, lunch, dinner.

The second stomach is the snack stomach. This stomach stretches and has infinite amount of space.

— Dadman Walking (@dadmann_walking) August 28, 2020
Is that we're impressed.
Made it to the level of parenthood where I just plunged my hand into a pot of boiling water to salvage the cheese powder packet I accidentally dumped in with the macaroni.

— Simon Holland (@simoncholland) August 31, 2020
Well, at least most of the time.
My toddler is sitting on the floor chewing on my dad's false teeth. Not sure if that makes me a bad father or a bad son.

— Jonesy the Beautiful Idiot 🇨🇦 (@VikingJonesy) August 31, 2020
Even if nothing goes according to plan,
It should be illegal for your kids to change their favorite color without giving you a 30 day notice

— Vinod Chhaproo (@Chhapiness) September 3, 2020
At least you're doing it as a family.
I knew our family isn't "outdoorsy" when we saw a moose an my 14-year-old son asked, "What is that, some kind of weird giant horse?"

— Abe Yospe (@Cheeseboy22) August 29, 2020
Did you miss last week's funniest parenting tweets?