12 Funniest Parenting Tweets of the Week 9/18/20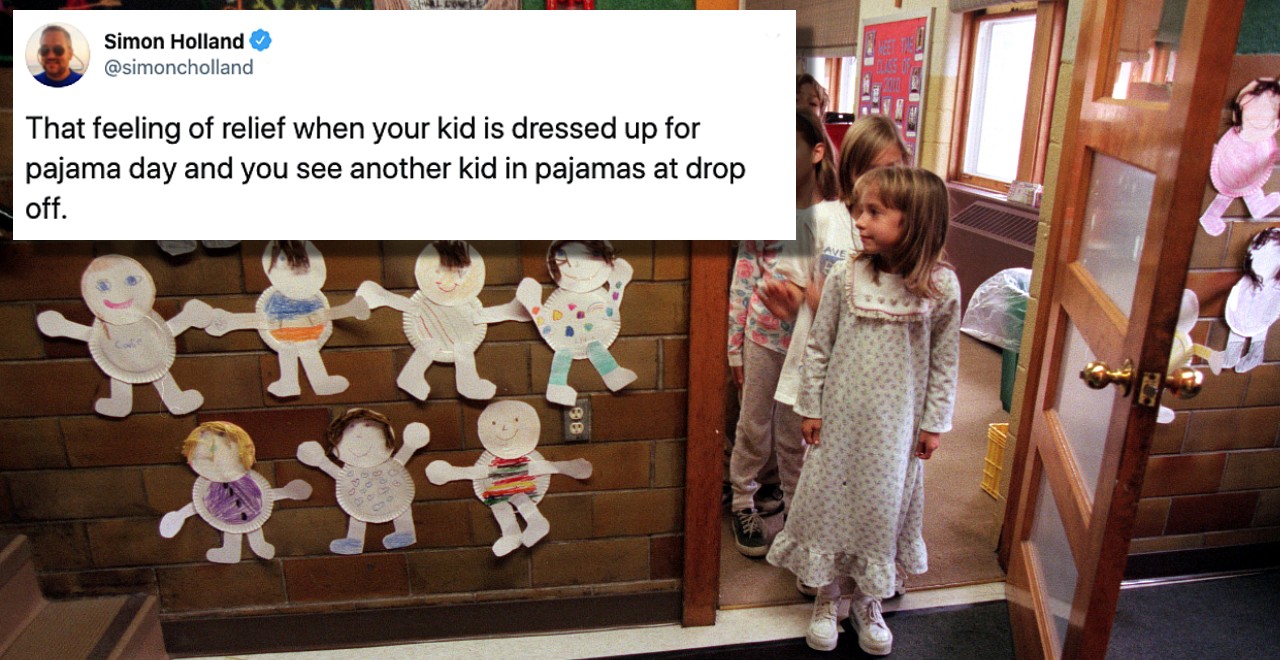 Few things are more hilarious than a kid saying or doing something ridiculous, mostly because they often don't even realize just how funny they are. Even better, if the really embarrassing stuff comes from a kid that's not yours. Fortunately for us, Twitter parents document the good, the bad, and the just plain absurd. Each week, we collect the funniest parenting tweets for you to enjoy from the comfort of your own home – any messes these kids get themselves into aren't yours to clean up. Here they are, the 12 funniest parenting tweets of the week.
The backbone of his household
If I die, my family will not know how to use the Dominos app. They will starve.

— Dude-Bro Dad (@thedadvocate01) September 11, 2020
Maybe be more specific next time
Me: use your words

Toddler who knows one word: doggie

Me: ok that was actually not very helpful

— Average Dad (@Average_Dad1) September 12, 2020
I think I'd have the same reaction if I saw whatever that is
Playgrounds reopened in Melbourne today and I think my 3y.o was a bit overwhelmed.. #lockdownMelbourne pic.twitter.com/C8UvGZG5cr

— Steve 🏳️‍🌈 (@papaneedscoffee) September 14, 2020
You've earned it
"i love the gray in your hair."

thanks i have three kids

— boots boy (@dadopotamus) September 13, 2020
I bet he's the coolest kid on the block
Nobody:

7yo son: "Wombats have square poops."

— jdstalnaked (@jdstalnaked) September 13, 2020
Nothing like seeing your kids push themselves to succeed
Been teaching 7 year old about time and she told me she needs 30 minutes to have a poop so I guess my work here is done

— ThreeTimeDaddy (@threetimedaddy) September 14, 2020
Uh, you learn something new every day
My son just asked me how long he's had a birthmark for and now I'm afraid to send him out into the world

— DaddyJew (@DaddyJew) September 15, 2020
Jealous?
Have kids so instead of celebrating your wedding anniversary with a romantic weekend away at a luxury hotel you can wake up at 4am to change a diaper and then spend the rest of the day chugging coffee and angrily vacuuming up jagged LEGO pieces from the living room floor.

— Dad and Buried (@DadandBuried) September 16, 2020
Sign me up
My dad just asked my 3 year old son who he would vote for and this absolute political genius confidently replied "SNACKS!" and I've never been so proud.

— The Mayor of Portlandia (@LoganLowbrow) September 15, 2020
If you think you're muted, mute yourself again
Daughter: My teacher wants me to turn the camera on and I dont know how.

[Me messing around for 5 minutes]

Me: I can't figure this fucking thing out honey.

Her: My microphone works daddy and teacher is not happy

— 🧙‍♂️Nostradumbass🧙‍♂️ (@The_Albinoshrek) September 15, 2020
Third time's the charm
That feeling of relief when your kid is dressed up for pajama day and you see another kid in pajamas at drop off.

— Simon Holland (@simoncholland) September 17, 2020
You're doing great
25% of parenting is resisting the urge to scream, "Get to the point!"

— The Dad Briefs™ (@SladeWentworth) September 17, 2020
Did you miss last week's funniest parenting tweets?