12 Funniest Parenting Tweets of the Week 9/25/20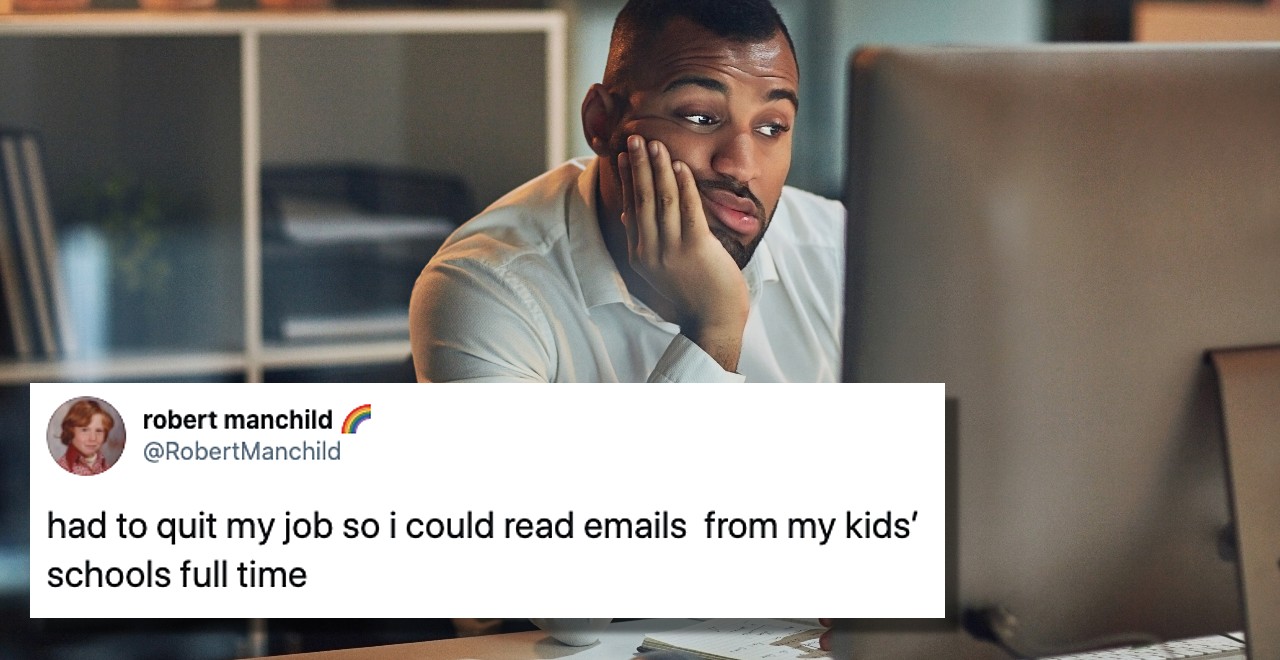 It's officially fall, but we are still in the middle of a pandemic – so I guess that means everything is more or less the same, but the leaves are changing colors, so that's nice. The thrill of being a parent isn't bound by the seasons, which means the hilarious parents of Twitter haven't missed a beat. Here are 12 of the funniest parenting tweets of the week – but like, imagine that they're pumpkin spice-scented or something.
Make it a quiet celebration
Parents make a big deal over their kid's first step, and first tooth, and first word, but why not when they first learn to whisper?

— ThreeTimeDaddy (@threetimedaddy) September 19, 2020
If it works, it works
Playdates were invented to force parents into cleaning their home

— Vinod Chhaproo (@Chhapiness) September 20, 2020
That's just science
I can clean my car, vacuum it squeaky clean. Put my kids in. Give them absolutely nothing and there's 52 lbs of crumbs in the seats when they get out. This is how I know children are 98% made up of crumbs.

— Dadman Walking (@dadmann_walking) September 20, 2020
What I mean when I say "yeah, I read a lot"
had to quit my job so i could read emails from my kids' schools full time

— robert manchild 🌈 (@RobertManchild) September 19, 2020
And it's always true
Dads love saying "look at the line now, good thing we came when we did"

— Average Dad (@Average_Dad1) September 20, 2020
How do they all know it works every time
It doesn't matter where you're sitting if a child needs to tell you something they will stand directly between you and the television

— Crockett🍀 (@CrockettForReal) September 20, 2020
No reason for both of us to go
Child: Is it cold out?

Me: OMG go outside and check, I'm not your personal meteorologist.

Child: Fine. [goes outside, checks temperature, comes back in]

Me: Is it cold out?

— Rodney Lacroix (@RodLacroix) September 21, 2020
Why not "Toilet Tot" or "Little Latrine?" Really missed the mark.
Kid: Mom, Dad, I wanna be Spider-Man for Halloween

Parents: You'll be TOILET CHILD and you'll like it pic.twitter.com/JPhOOy4DyZ

— Bill Badger Corbett (@BillCorbett) September 21, 2020
*Sweating*
Is "fire" one or two syllables? My kindergartner needs to know and I'm freaking out.

— The Best Dave You Know (@TheFaceOfDave) September 20, 2020
HOW ABOUT EVERYONE STOPS YELLING
Sometimes i find myself yelling at my daughter down the hall to stop yelling at me down the hall

— Clify (@FuniBob) September 22, 2020
Internal investigation
Good cop/bad cop except it's my wife and I trying to figure out how our kid's first day of school was

— WTFDAD (@daddydoubts) September 22, 2020
At least it wasn't a dog biscuit
4-year-old: *scratches my head*

Me: What was that for?

4: The dog likes it.

— James Breakwell, Exploding Unicorn (@XplodingUnicorn) September 22, 2020
Did you miss last week's funniest parenting tweets?