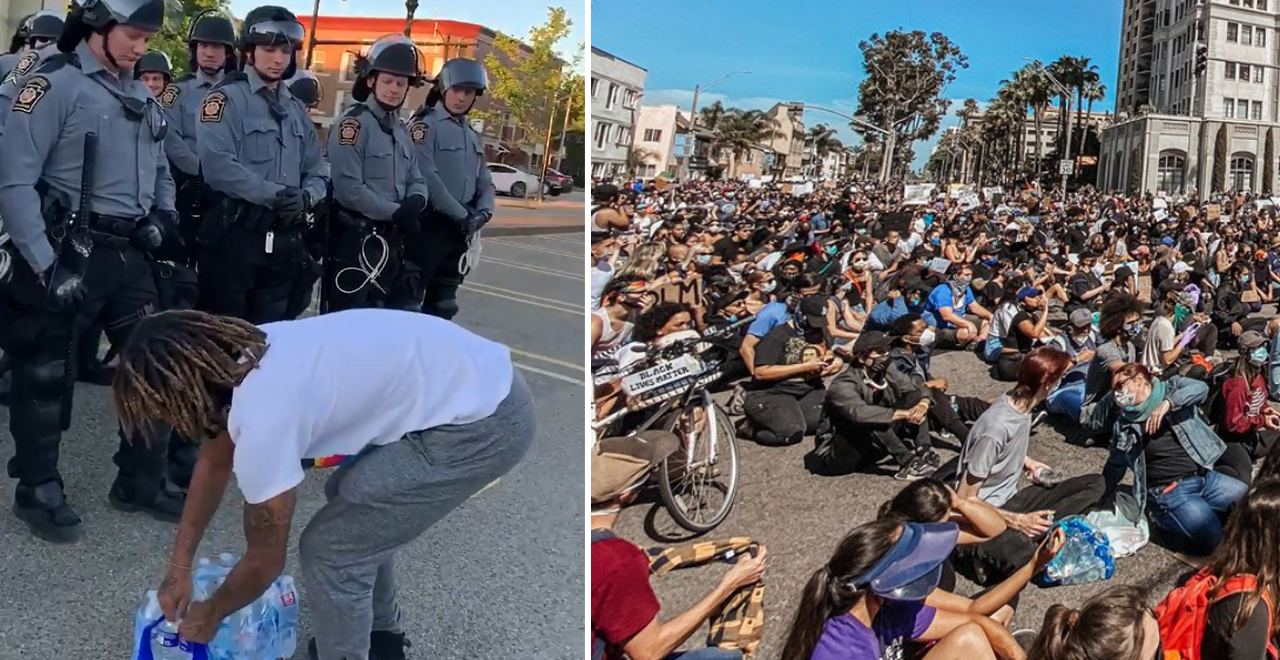 Credit: Twitter/RexChapman/GSVarley
Many images in the news over the past several days have been ones of chaos, violence, and destruction. The grief and anger in response to the unjust killing of George Floyd is palpable. Floyd's brother Rodney spoke to CBS news, and shared a powerful message with protesters on behalf of his brother. Rodney stated, "I'm asking for peace the same way my brother would ask us to if he could see the situation, if he was here. Peace. Peaceful protests. It is the best option we have to bring justice."
So this is for you, Floyd—a collection of powerful, peaceful moments from protests across the country.
There was this enormous gathering in Chicago, with residents marching side by side.
People seem determined to share only violent images tonight.

Please make sure that the massive peaceful protests like this one in Chicago get just as much attention.#BLACK_LIVES_MATTER

— Joshua Potash (@JoshuaPotash) May 31, 2020
Protesters in Augusta, Georgia held signs and embraced.
Peaceful protest in Augusta, GA #BLM🙏🏾✊🏾 pic.twitter.com/c1CX0VNEfH

— Tyyy (@__TColemann) May 31, 2020
Long Beach residents sat peacefully in protest of Floyd's murder.
Incredibly peaceful protest in Long Beach today.

Massive moment of silence while taking a knee in the intersection of Ocean and Alamitos. pic.twitter.com/XzjxWOebbM

— Greg Varley (@GSVarley) May 31, 2020
In El Paso, Texas, protesters held signs with messages like "All lives don't matter until black lives matter."
A peaceful protest in El Paso.#GeorgeFloyd pic.twitter.com/gpNTXSq7vb

— Keenan Willard (@KeenanKFOX_CBS) June 1, 2020
San Diego protesters ask for justice.
SAN DIEGO: peaceful protest happing now outside the La Mesa police department pic.twitter.com/mDv1gJVe4I

— introvert cobain (@ally_mason_) May 30, 2020
Harlem protesters marched for eight peaceful miles.
The Harlem protest was absolutely beautiful today. We walked over 8 miles down to Times Square and gathered so many people along the way and they are still going ❤️ It was SO PEACEFUL, don't let the media tell you otherwise #NYCPROTEST pic.twitter.com/wz5Vpbg0u8

— Nina (@ninacolar_) May 30, 2020
Brooklyn streets were filled with nonviolent protesters.
Peaceful protests

📍Brooklyn #JusticeForGeorgeFloyd pic.twitter.com/g0ngctQNAm

— Complex (@Complex) June 1, 2020
David Holt, mayor of Oklahoma City, joined protesters. Perhaps more importantly, he listened.
Today's protest & march in NE OKC was well-attended & entirely peaceful. When someone defaced our Capitol, a group of people removed their shirts & began cleaning. My gratitude to the organizers & those who attended. I listened & I learned. #1OKC pic.twitter.com/FhBmhTNuMe

— Mayor David Holt (@davidfholt) May 31, 2020
A diverse group of Sioux Falls, South Dakota protesters unite, powerfully and peacefully.
So proud of Sioux Falls right now. Peaceful, thoughtful protest with masks on a massive sea of diverse faces. pic.twitter.com/eGLbyzHpVk

— Andy Howes (@_AndyHowes) May 31, 2020
These LA protesters are even practicing social distancing.
Zero cop presence and guess what? Completely peaceful protest with social distancing. #laprotest pic.twitter.com/reX3MJjStE

— 𝙡𝙪𝙣𝙘𝙝𝙖𝙗𝙡𝙚𝙨 𝙤𝙛𝙛𝙞𝙘𝙞𝙖𝙡 𝙖𝙘𝙘𝙩 (@IanZandi) May 31, 2020
Protesters in Floyd's home state protest his death peacefully, as he would have wanted.
My favorite photo from today. When thousands of people kneeled on the bridge in silence for #GeorgeFloyd

There's been so many peaceful protests in Minneapolis, they just don't make the national news like the riots do. Which is why riots happen – to get attention & make change pic.twitter.com/T0pdjhpj9X

— Bri Lewerke (@brilewerke) May 30, 2020
Elmira, New York protesters carry signs, side by side.
Pictures today from the peaceful protest downtown today. Elmira, New York. Please share pic.twitter.com/YAsLoe5hq4

— … (@KerrickDuchy) May 29, 2020
Downtown Indianapolis protesters link arms as they face police officers.
peaceful protest downtown indianapolis pic.twitter.com/XIEc0ibMxD

— Randy Nguyen (@randyvnguyen) May 30, 2020
Baltimore protesters take a knee and raise a fist for George Floyd.
You won't hear from the national media about Baltimore's peaceful #JusticeForGeorge protest tnght. And that's a shame. pic.twitter.com/vV8vTMu8v8

— J. M. Giordano photo (@jmgpix) May 30, 2020
And finally, this protester in Pittsburgh, Pennsylvania, ending a long day of peacefully protesting by giving water to the police. He states, "I'm not mad at you."
Pittsburgh, Pennsylvania:

A wonderful 44-seconds.

This was how the peaceful protest concluded yesterday — with one of the organizers giving the state police water that was donated to protesters.

Please listen to his words.🌎❤️ pic.twitter.com/7Xht0Ap94s

— Rex Chapman🏇🏼 (@RexChapman) June 1, 2020