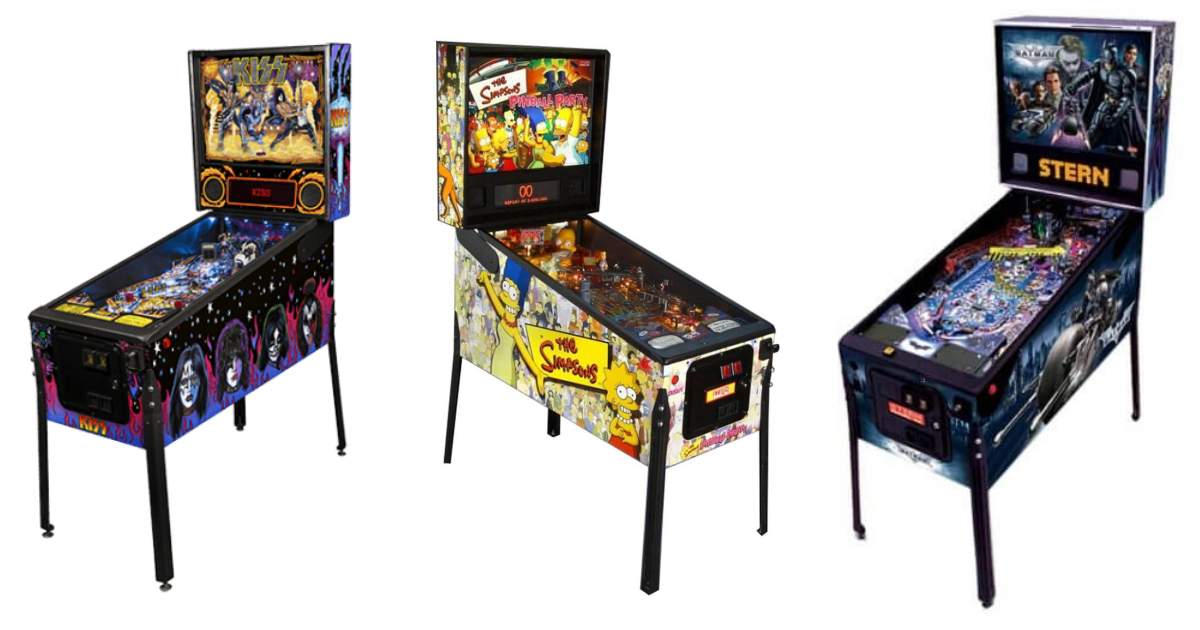 Since 1871, pinball machines have entertained the masses. Memories as a kid of going to an arcade and seeing the loud noises and bright colors as some local pinball wizard secured a ridiculously high score was always such a cool and fascinating experience. Now, you can bring that experience to the comfort of your own home (and become a pinball wizard yourself).
No matter how old we are, we just want to have fun, and having your own pinball machine could be a game-changer. Since some of the pinball machines listed here are pretty rare, they are used models — but they do come completely refurbished. They're definitely worth it if you're a collector and any machine on this list would be a great addition to your home if you want to own a classic pinball machine that you and your whole family can enjoy.
Star Wars Pinball Machine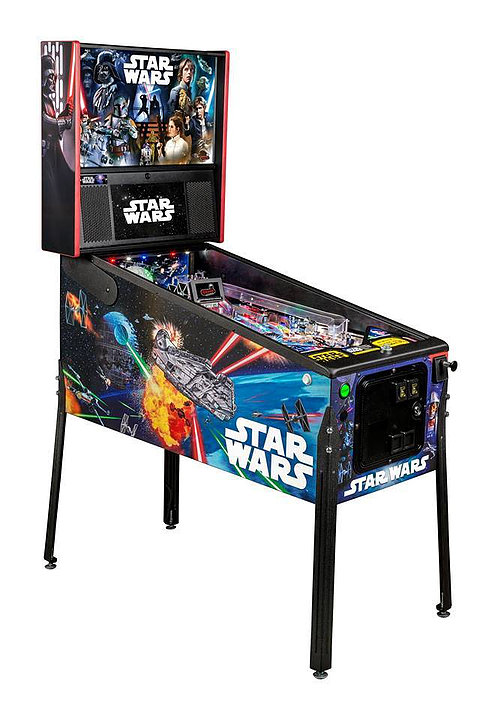 You can relive your favorite moments from a galaxy far, far away with this Star Wars Pinball Machine from Stern Pinball. Based on episodes IV, V, & VI, you can watch scenes play out on the two High Definition LCD screens as you listen to the original musical score from John Williams played through the included stereo high-fidelity sound system. The new Star Wars Pinball Machine is available in Pro, Premium, and Limited Edition models depending on your preference. This Pro Edition includes a molded static Death Star inside that lights up and includes 9 green Super Laser Weapon LEDs.
Kiss Pinball Machine
If you wanna rock and roll all night and party every day (but not really because you have to get up early in the morning), then the KISS Pro Pinball Machine is just for you.
Experience 10 famous KISS songs as you embark on a thrilling journey, ultimately becoming an elite member of the KISS Army. Players score points and finish game objectives to fuel the audience's energy and excitement. This means that the higher your score gets, the bigger and louder the show gets, resulting in a KISS concert pinball experience like no other. The game also features custom speech from KISS members Paul Stanley and Gene Simmons.
Best Pinball Machines
You can really show off to your friends with this one. Medieval Madness is widely regarded as one of the best pinball machines ever created. The main objective of the game is to "destroy" six castles by hitting the castle's entryway with the pinball, but it also features dozens of mini-missions for you to complete. The Medieval Madness Pinball Machine was released in June 1997 by Williams and had a production run of 4,016 units. It was an immediate success and achieved widespread popularity among collectors. Unfortunately, demand for the machine dwindled the supply substantially, making it one of the most collectible machines you can find today.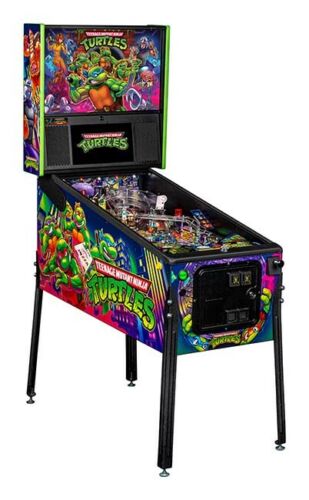 In this classic TMNT pinball adventure, players will go into battle with Leonardo, Mikey, Donatello, & Raphael against classic TMNT villains like Shredder & Krang.
This machine features 3 flippers, 3 high speed ramps, a hidden ninja training ball lock area, and a high speed magnetic spinning pizza disc capable of holding and throwing 3 balls during pizza multi-ball mayhem. The original 1987 theme music complements the action with custom video scenes and events created exclusively for this extremely entertaining pinball experience.
Just like the blockbuster movie, the Jurassic Park Pro Pinball Machine recreates all that heart-pounding excitement of a T-Rex chasing you through a forest… but with flashing lights and pinball sounds.
Your mission is to rescue park staff and recapture dinosaurs that have been released by that awful Dennis Nedry. The Pro, Premium, and Limited Edition models also feature a Jungle Adventure Vehicle target in the middle of the play area that is a spinning Newton Ball. This kinetic target registers direct hits and determines the direction players navigate on the island during all that frantic dino action.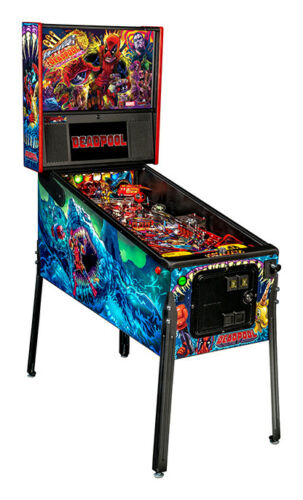 Yes, even the "Merc with a Mouth" has his own pinball machine.
Players will team up with X-Men characters such as Wolverine, Dazzler, Domino, and Colossus as they battle against villains Juggernaut, Sabretooth, Mystique, Sauron, and Mr. Sinister. In typical Deadpool fashion, you'll also battle against a T-Rex and the Megalodon (because it's Deadpool). Well known voice actor Nolan North (Uncharted) once again provides his talent to the voice of Deadpool. Each game features a 3-bank drop target with a ball lock that's guarding a custom molded Lil' Deadpool bash toy target. In addition, all models include two stainless steel and wire form ramps with a Katana Sword ramp return.
Cheap Pinball Machines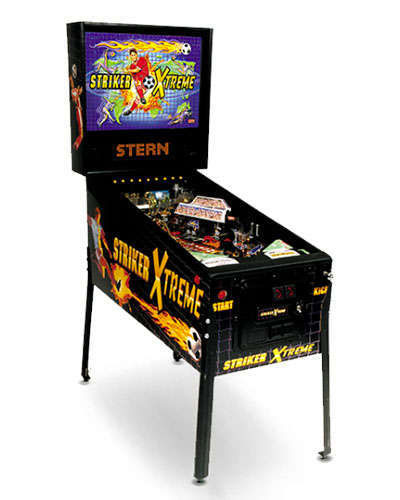 For the soccer fanatic in your family, Striker Xtreme is a fast-paced soccer pinball machine with a moving magnetic goalie that actually blocks, passes, and saves. This machine features all the gameplay you'd expect like corner kicks and "throw-ins." If you do manage to win against all the countries, you'll gain championship status and be rewarded with some celebration multi-ball mode to show off your victory.
Prepare yourselves for the spookiest of times with the Mary Shelly's Frankenstein Pinball Machine. Based on the 1994 film, this game utilizes an oversized dot matrix display for added video action. There is even a Frankenstein figure that grabs both balls with its hand and throws them onto the playfield during multi-ball. Try explaining that feature to someone with a straight face.
Simpsons Pinball Machine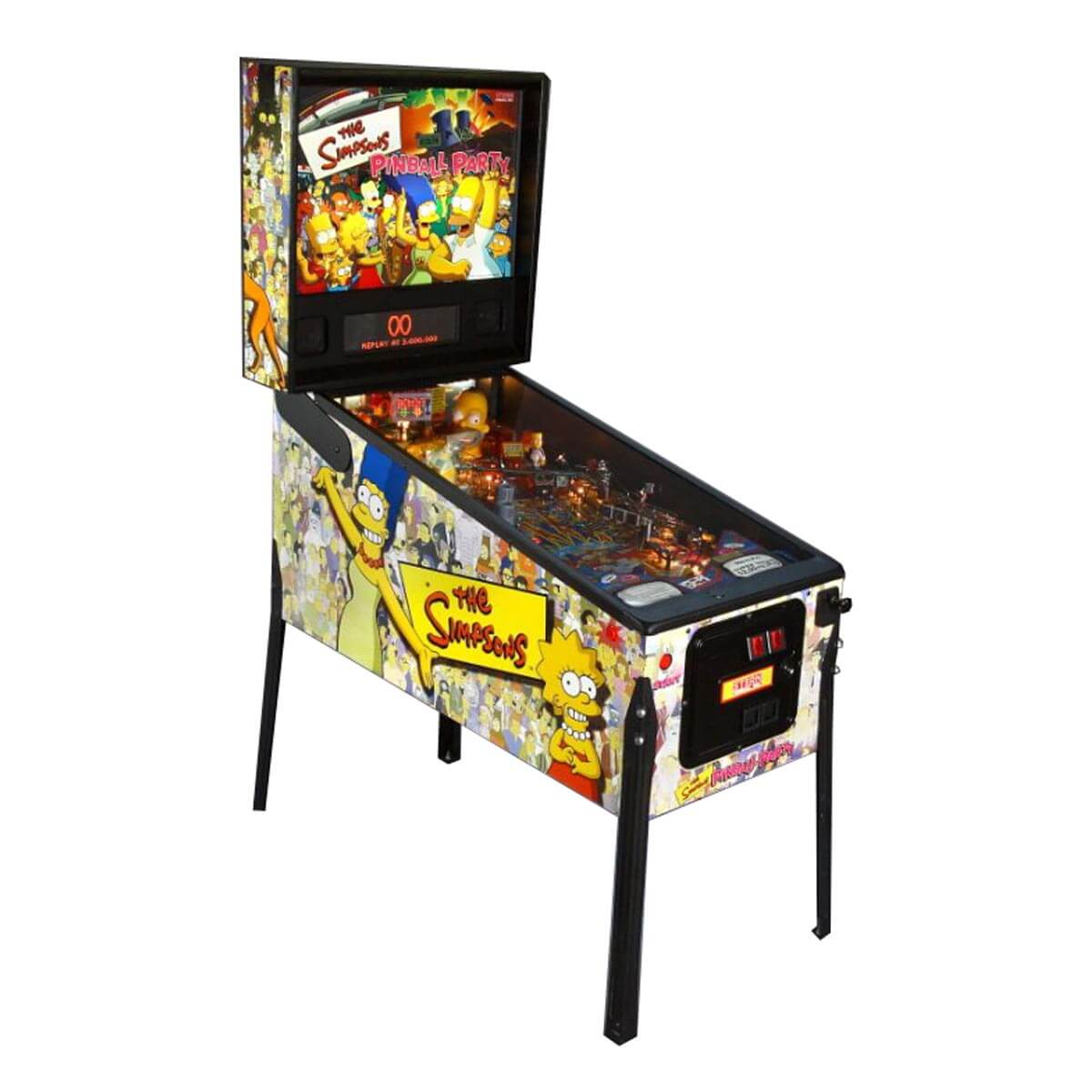 Don't have a cow, man, but The Simpsons Pinball Party Machine is said to feature one of the most complex rule sheets that have ever been designed for a pinball machine. Reaching the "Super Duper Mega Extreme Wizard Mode" requires an obscenely large number of shots to be achieved and apparently, only a few people have ever reached that lofty goal. The iconic Simpsons' house garage door leads to a second playfield level which features a dot matrix color television, a monorail that transports the ball across the playfield, and a couch that when filled with three pinballs, starts multi-ball mode.
Addams Family Pinball Machine
The Addams Family Pinball Machine is the best-selling pinball machine since the 1930s, having sold 20,270 units. Based on the 1991 movie of the same name, this pinball machine features custom speech by the movie's stars, Raul Julia and Anjelica Huston. It's even got 'Thing' hanging off the top right-hand corner to cheer you on!
Baseball Pinball Machine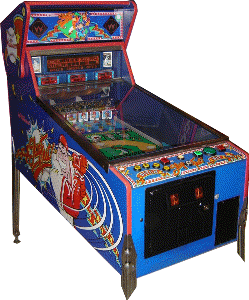 The Slugfest Pinball Machine is actually known as the last pitch and bat pinball machine to be manufactured. You can play 2 players and switch between batting and pitching or 1 player can play against the computer by batting only. When the ramp in the middle is up, you have the chance to hit the ball into the upper deck for a home run! This one is a nice alternative to the regular old pinball machine with its unique features.
Batman Pinball Machine
The Dark Knight is one of the best comic book movies (and one of the best movies in general) and the Batman Dark Knight Pinball Machine is a gorgeous pinball machine worthy of the film's legacy. Features of the pinball machine include "The Joker's Reveal," a mechanical cylinder that rotates to reveal a taunting Joker, Scarecrow's Crane, a mechanical crane featuring a spring-attach pinball which the player can strike with the pinball, and the Batmobile Bridge, a see-saw mechanism that races a pinball alongside a miniature Batmobile.