Plumber Fixes Elderly Woman's Boiler, Sends Her an Invoice for $0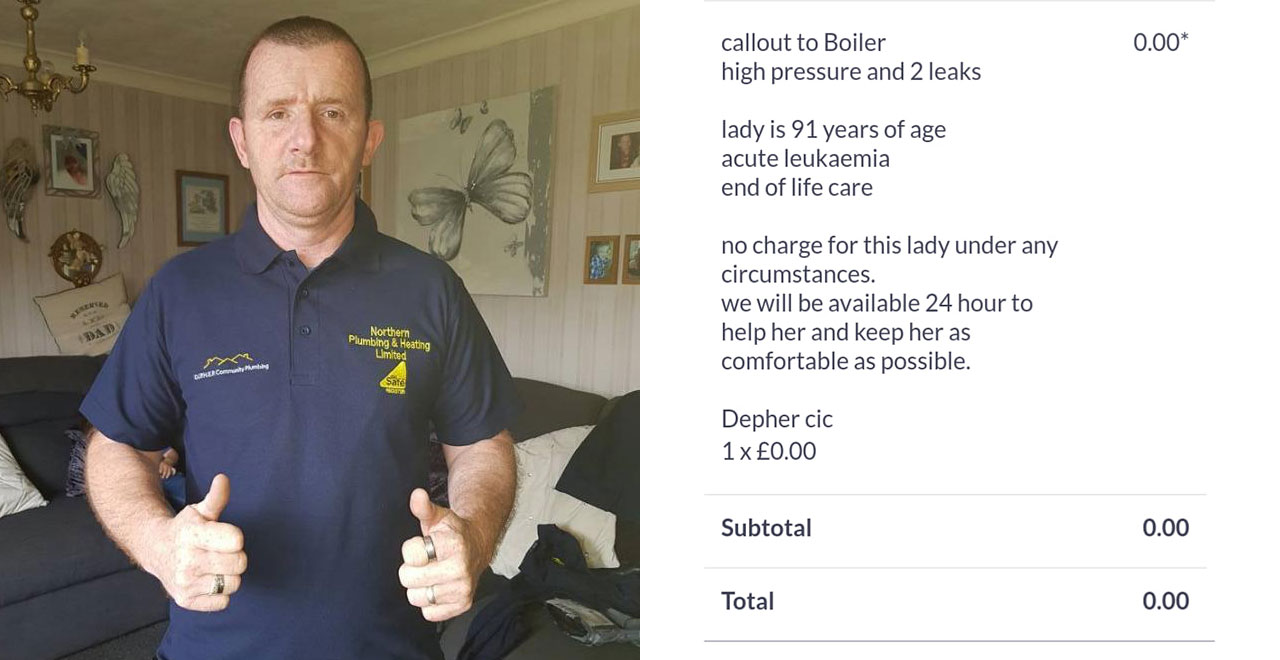 Owning a home can be a financial rollercoaster of ups and downs. Unforeseen maintenance needs, such as broken appliances or a leaky roof, is often enough to back even the savviest savers into a corner. However, many seniors in America have relatively fixed incomes, making even small home repairs financially devastating.
This was the case recently for one 91-year-old woman in the UK. The culprit? A faulty boiler — one of those typically unplanned for costs that sends shivers down any homeowner's spine. Her daughters attempting to locate a plumber to address the issue, eventually getting ahold of James Anderson. The veteran plumber just happened to be close by and agreed to stop over and take a look.
After addressing a few leaks and fixing a high-pressure issue, the woman's daughter, Christine, asked the Andersen for the bill. The next day, an invoice arrived at Christine's email.
The final total? Nada. Nothing. $0.
And as for any future work performed? the invoice cleared that up:
"lady is 91 years of age
acute leukemia
end of life care
no charge for this lady under any circumstances.
we will be available 24 hour to help her
and keep her as comfortable as possible."
While most people are floored by maintenance costs, Christine was experiencing a very different type of sticker shock. Christine telling CNN it was "overwhelming," adding "James is an absolute star."
Although a one-off act such as this would warrant accolades on its own, this is hardly the first time Andersen has played angel to those in need. Anderson owns a company called DEPHER, an acronym for Disabled and Elderly Plumbing and Heating Emergency Repairs. The not-for-profit was formed after Andersen witnessed another trade worker taking advantage of an elderly person. "We need to do something more to help the people who need it most," he told CNN. "A lot of elderly and disabled people don't like asking for assistance, and if they can't afford something like fixing the boiler, they might not do it and get in trouble," Andersen said. "We are there to take that worry away."
The profitless plumber estimates he has helped over 2,000 people since 2017, all thanks to donations and crowdfunding campaigns, telling CNN "As long as I have enough money to full up the tank in my car, I will be there to try and help people who need it."
Hats off to James and everyone else who gives their time to those who need it most.