Psychiatrists at Comic-Con Examined the Dad/Son Dynamics in Star Wars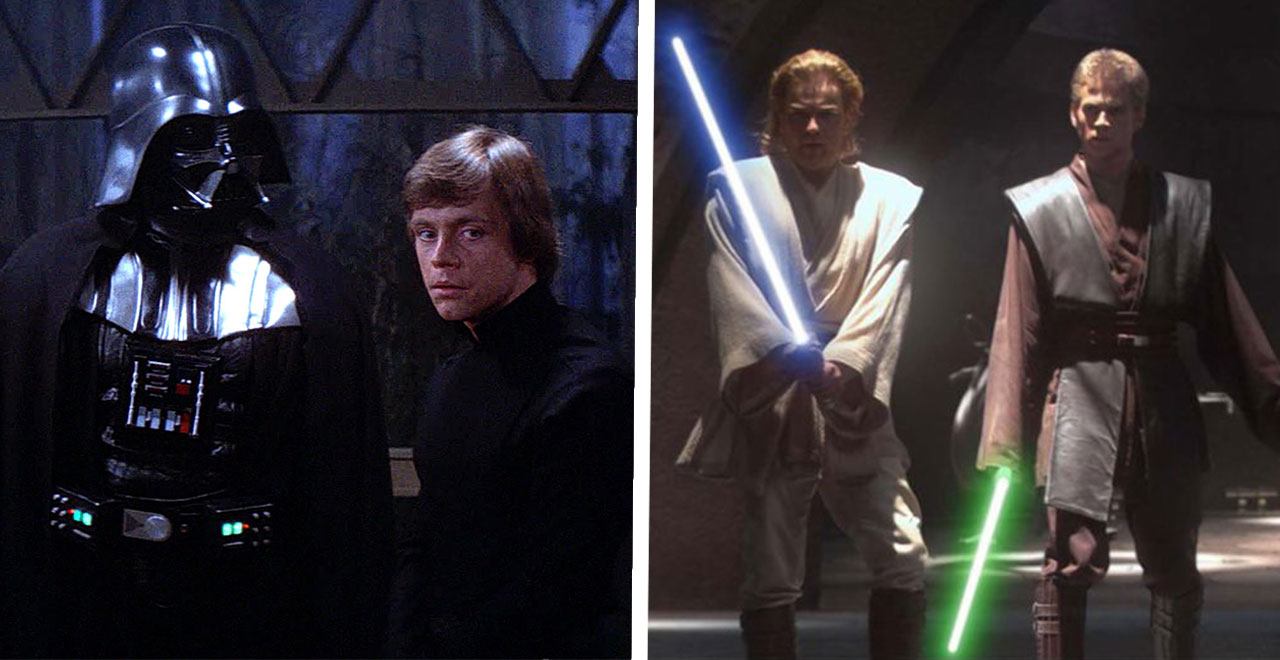 We can all admit that the father/son dynamics in the Star Wars franchise are both apparent and complex. However, it would take a team of psychiatrists heavily versed in the subject to even scratch the surface of how truly messed up the whole situation really is.
Luckily, that was the situation that played out recently at the Raising Skywalker panel at this year's San Diego Comic-Con. The panel and its members took a deep and almost surreal look into the paternal perplexities that presented themselves over the decades-long film series. Issues such as nature versus nurture and the impact of these relationships on several of the characters were all examined by a group of forensic psychiatrists — Eric Bender, Praveen Kambam and Vasilis Pozios — who dove into these themes giving professional diagnoses to several well-known characters.
"Star Wars, like no other sci-fi franchise, has family conflict, especially between fathers and sons, as a central component of the mythology," Pozios said. "In fact, an overarching theme to the entire series is good and evil battling within the same family."
The team of consultants — who assist the entertainment industry in this type of subject matter — broke down several underlying themes that likely decided the course of each character.
Luke Skywalker and Darth Vader
First and foremost: Why didn't Luke join his father on the Dark Side?
Pozios says it was likely his ability to channel his emotions thanks to his Jedi training. "He sure came close, but what prevented him from going over the edge?" Pozios said. "One of the key factors is a Jedi's control of his or her emotions."
Panelists indicate the Light Side has often been seen to represent peace and empathy while the Dark Side is more closely representative of selfishness and a desire for overreaching power.
Anakin and Obi-Wan
"Obi-Wan did step into a role in Anakin's life, but that role was somewhat confusing," Bender said. "In 'Attack of the Clones,' we hear Anakin tell Obi-Wan that Obi-Wan is the closest thing he's had to a father."
Long before he became Darth Vader, young Anakin Skywalker learned the ways of the force under the tutelage of Ben Kenobi. Born into captivity and dealing with loss his entire life, Anakin's emotions in handling loss and grief had long predicted his path. "The impact of this on him is pretty large," Bender said. "He develops a strong, strong fear of abandonment." This, along with narcissistic traits and an arrogant attitude lead Bender to conclude "I don't think that Anakin meets all the criteria for a narcissistic personality disorder or all the criteria for a borderline personality disorder, but there are traits that he shows." 
Kylo Ren and Han Solo
Can blame be placed upon Han Solo for creating such an evil entity? The rough-along-the-edge space smuggler and career criminal likely didn't help the situation. "Let's face it, Han's kind of deadbeat dad," Kambam said. "All of these characteristics would be suggestive of what we call in psychiatry antisocial personality traits."
Kambam speculates the absence of Han during his son's formative years likely contributed to the eventual transition into the villain we all came to know. "Like Anakin, problems with attachment play a major role in the transformation from Ben Solo to Kylo Ren," adding "It's not unreasonable to conclude that Kylo's narcissistic and borderline traits may have a genetic piece here."
While looking at relationships in movies may seem fruitless, the general observations and takeaways can often help average folks understand otherwise complex, real-life themes. Plus who doesn't love dissecting classic movies in deeply detailed panels?