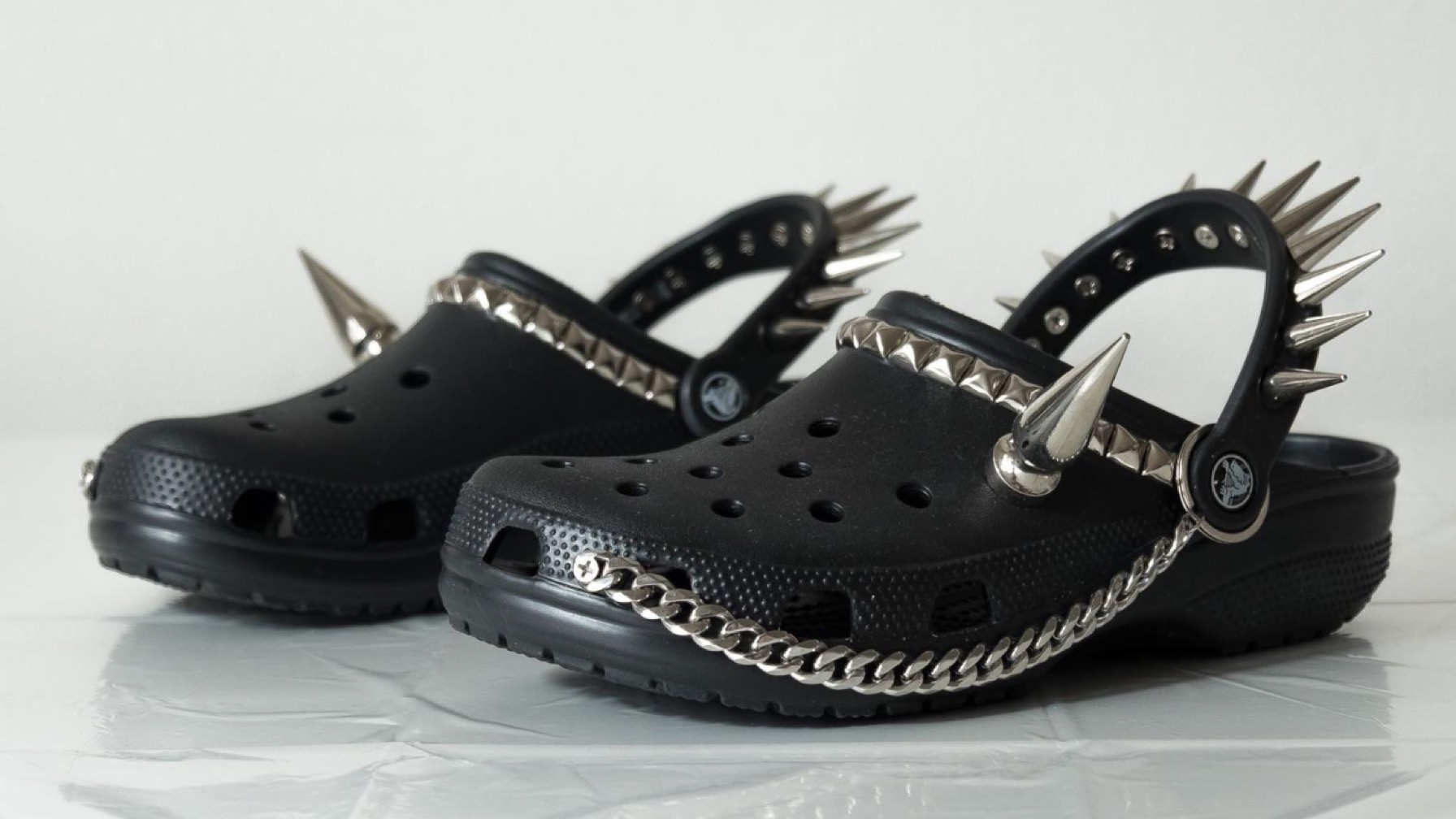 Credit: Etsy/HeavyCreamStore
Every dad worth his salt knows the comfort and versatility of a good pair of crocs, but as great as they are, they don't exactly scream "PUNK ROCK."
Well, thanks to a very special Etsy store, you can now be front and center during the revolution without sacrificing your favorite foam resin polymer kicks.
They only come in black (obviously) and are covered in enough gleaming spikes and studs to make a Hot Topic employee swoon. Plus, the handy metal chain will keep them conveniently leashed to your pants in any mosh pit or anarchist riot.
Sure, they'll run you a whopping $240 but can you really put a price tag on being a total badass?…errr, dadass?
Folks on Twitter have been raving about these bad boys ever since spotting a special soul wearing them in the wild (aka, an Auntie Anne's), with most comments reflecting awe and wonder since no one has the cajones to criticize someone whose shoes alone could be considered weapons of mass destruction.
I'm not exaggerating when I say these are the hardest shoes I've ever seen pic.twitter.com/l36fcuVUfz

— brody (@brodymckeegan) March 25, 2019
therapist: goth crocs aren't real, they can't hurt you
goth crocs: pic.twitter.com/CQuTqJztXv

— Dev (@probablysatann) March 26, 2019
cries in emo

— Super Whatevr (@superwhatevr) March 25, 2019
This what they remind me of pic.twitter.com/qMDLQK9OaJ

— moni???? (@hellhe4rt) March 25, 2019
I've never seen so many ☠️????????????⛓ emojis in my mentions in my life and that says a lot coming from a soundcloud producer jfc

— brody (@brodymckeegan) March 25, 2019