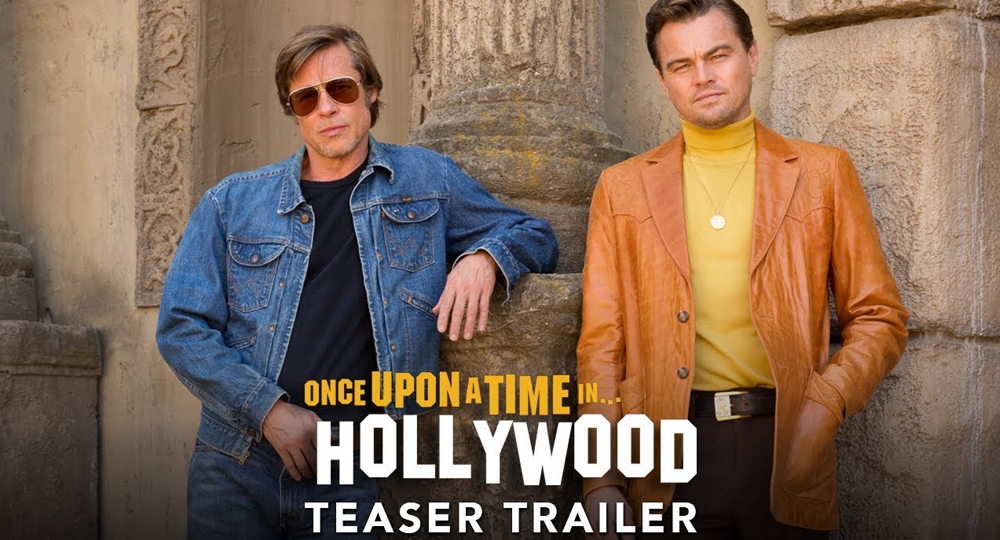 Credit: YouTube/Sony Pictures Entertainment
A new Quentin Tarantino movie is always an occasion. A new Leonardo DiCaprio movie is too. A new Quentin Tarantino/Leonardo DiCaprio collaboration that also stars Brad Pitt and Margot Robbie, takes place in late 60s Hollywood, and features a story-line that somehow includes Bruce Lee and Charles Manson?
I've already bought my tickets.
ONCE UPON A TIME IN HOLLYWOOD is Tarantino's 9th flick and his first since THE HATEFUL EIGHT in 2015. A lot has happened since then. Tarantino's benefactor and friend, Harvey Weinstein was outed as ground zero for the #metoo movement and his studio was shuttered. The director himself ran into some trouble regarding past statements defending Roman Polanski and PULP FICTION star Uma Thurman's airing of grievances over the abusive treatment she received on the set of KILL BILL.
But today Tarantino is back in the news for his work, as the sun-dappled first trailer for his new movie landed on YouTube and looks to be a heck of a good time. The teaser trailer even makes it look a little like it might be the writer/director's first comedy, the many hilarious moments and quotable lines from his previous films notwithstanding.
Then again, Charles Manson (played by Damon Herriman, aka the affable idiot Dewey on Justified) shows up, and Margot Robbie is portraying Sharon Tate, the young starlet who was infamously murdered by Manson and his acolytes. So maybe "comedy" is a bit too strong a word.
Here's the official plot synopsis:
A faded TV actor (Leo) and his stunt double (Brad) strive to achieve fame and success in the film industry during the final years of Hollywood's Golden Age in 1969 Los Angeles.
One thing's for sure – everyone in the cast seems to be having a great time, and we didn't even catch a glimpse of co-stars Al Pacino (his first QT joint!), Kurt Russell, the late Luke Perry, and typical Tarantino stalwarts Tim Roth, Michael Madsen, and more.
I can't wait to see this thing. It hits theaters on July 26th.
Watch the fun teaser trailer: