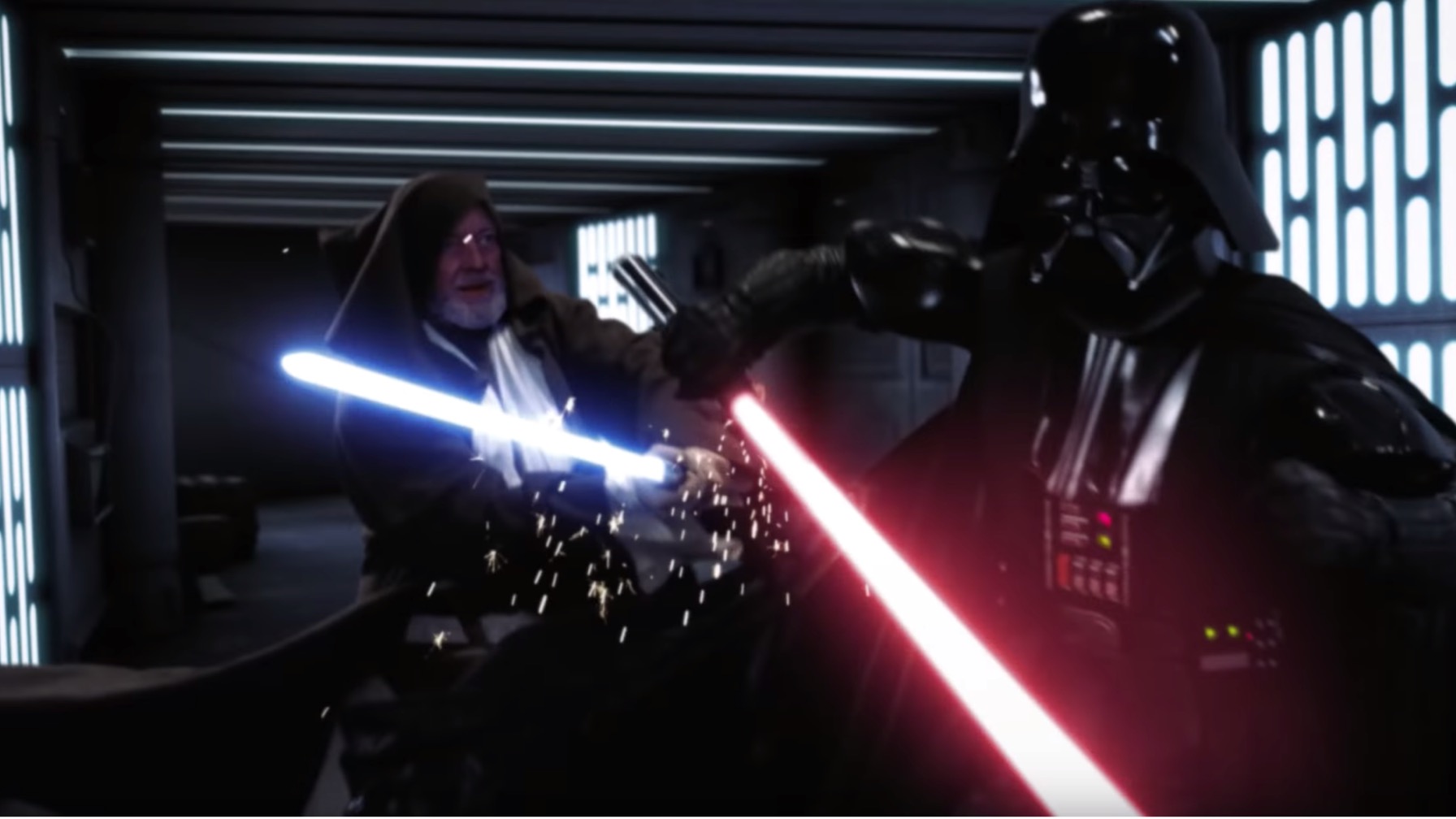 Credit: YouTube/FXitinPost
Star Wars Day has come and gone, and just when you think you can't handle anymore content from a galaxy far, far away, someone drops a video like this.
The Death Star duel between Obi-Wan Kenobi and Darth Vader isn't known for its high octane action. Despite playing a Jedi Master, Sir Alec Guinness wasn't exactly a spring chicken in the mid-seventies, so expecting him to do the outrageous flips, falls, and other stunts would have been pretty ridiculous.
But this was supposed to be a truly epic and emotional battle—two friends turned bitter enemies, finally facing each another again after nearly twenty years. Instead, what we got was a painfully mild broadsword-esque fight that lacked the grace and superhuman feats of other Star Wars duels.
Fortunately, VFX producer Christopher Clements and his crew at FXitinPost have stepped in to give this scene a facelift with more modern technology and choreography, and their reimagining of the scene has been blowing everyone away.
According to Clements, he and the FXitinPost crew were inspired by the brutality of Darth Vader at the end of Rogue One (2016).
"The Vader we saw in that hallway was something we had always wanted to see present in the Original Trilogy," Clements told The Dad. "At the end of the day, our goal was to update the scene to reflect the history between Obi-Wan Kenobi and Darth Vader that viewers were unaware of when A New Hope was originally released.  We wanted to capture the weight of what this fight meant to both characters."
This passion project took roughly two-and-a-half years to complete. With next to nothing in terms of a budget, it was only made possible through the volunteered time and efforts of their extremely talented cast and crew.
"Oftentimes, there were problems that would arise that in a normal production could be solved with money," Clements reported. "Since this was a self-funded project, we had to get a lot more creative."
One of those problems is obviously the fact that the late Sir Alec Guinness passed away in 2000. In order to put him back into the scene, the team had to get experimental.

"We wanted to use as much Alec Guinness as we could," Clements wrote, "but some of the time we needed to bring in a 3D Face Model to supplement whenever we had lots of movement in a shot.  I scouted through the movie to find angles and moments that matched closely to what we had shot."
All the hard work clearly paid off considering the sensational response from fans all over the internet. The video passed a million views in under 24 hours, likely due to the fact that it's practically impossible to watch only once.
Clements and his crew are amazed at the reaction the video has received so far and are looking forward to sharing more information about the project as well as behind the scenes footage in the coming days, so make sure you check out their channel here.