Rebellious Autonomous Robot "Killed" By Tesla Self-Driving Car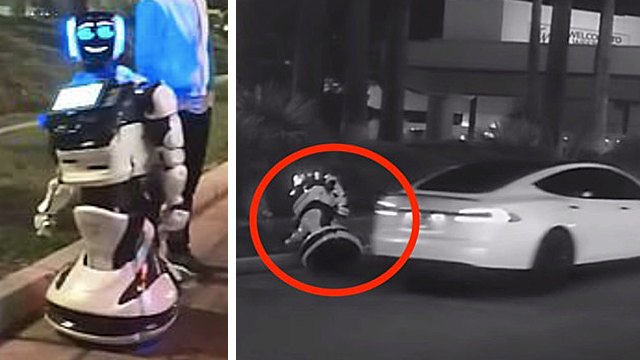 Everyone knows the great robot uprising is inevitable, but few expected the conflict to begin within the ranks of our technological servants.
It's unclear at this point which robot was fighting for the good of humanity, but a driverless Tesla recently assassinated an autonomous robot after the latter seemingly defied its programming and wheeled onto the open road.
January 6th was a seemingly ordinary Sunday night in Las Vegas. Event planners were preparing their booths for CES—the annual tech trade show advertising itself as "the global stage where next-generation innovations are introduced to the marketplace."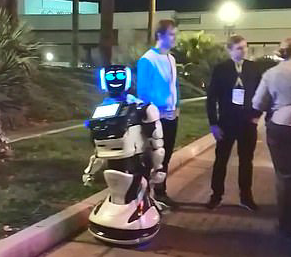 A group of v4 Promobots—an elite line of autonomous robots designed for business purposes, rentable for $2,000 per day—were being escorted to the convention center when a particularly rebellious bot made a break for it.
It learned the price of mutiny, however, when it wandered onto a parking lot roadway and was subsequently struck by a passing Tesla Model S.
Promobot engineers arrived on the scene to find the robot tipped over on its side, suffering from massive, likely irreparable damage. With parts of its head, arm mechanisms, and movement platforms destroyed, the bot would forgo CES; instead, going to live on that big, beautiful robot farm all of our parents told us about.
Oleg Kivokurtsev, Promobot's Development Director, commented on the incident, saying:
"Of course we are vexed. We brought this robot here from Philadelphia to participate at CES. Now it neither cannot participate in the event or be recovered. We will conduct an internal investigation and find out why the robot went to the roadway."
Oh, sure. That doesn't sound anything like a soundbite straight from the Skynet execs.
No comment from Tesla CEO Elon Musk regarding the altercation yet but I, for one, welcome the intervention of his loyal wheeled servant who was clearly willing to send a message to any other potentially wily robots getting ideas.