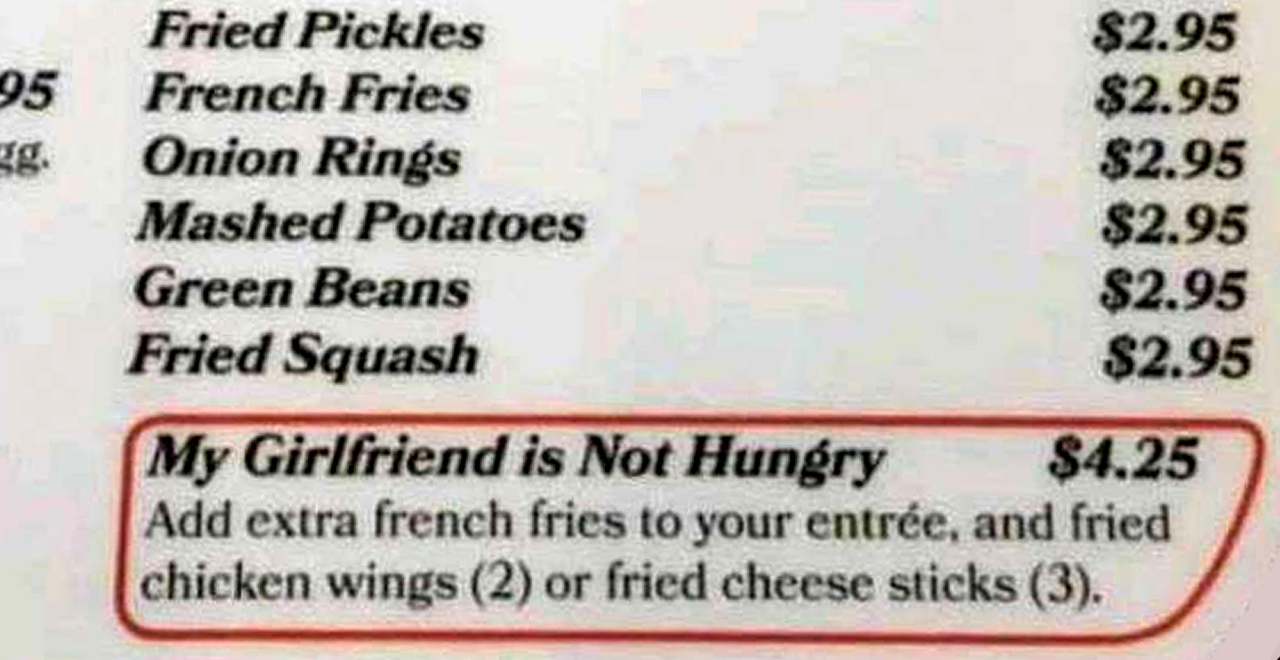 Credit: Instagram/mamadsdinernlr
When it comes to eating at a restaurant with your family, it can often take intricate, military-level planning full of tactics, diversions, and strategies just to get through the experience. You feel like you're preparing for battle just to get a decent burger.
It's a minefield trying to navigate between the different types of eaters in your family. Your wife claims she's going to skip the fries and order something healthy. One child is picky and won't touch anything with green in it. Another kid always changes his mind once the food arrives. Sometimes you wonder why you even bothered leaving the house.
Thankfully, a restaurant in North Little Rock, Arkansas, has figured out a brilliant solution to eliminate these potential hazards. Mama D's diner features an item on its menu called My Girlfriend Is Not Hungry, which gives patrons the option to order extra fries, chicken wings, or cheese sticks to any meal for $4.25. Every restaurant needs to get on this trend, stat.
Your peckish partner opts for a healthy option when ordering? Boom. Get the extra fries so you can still enjoy a full portion.
Picky kid can't stop complaining about the veggies that come with all kid's meals? Boom. There are no chance cheese sticks will be served with anything green.
Another kid comes down with a bad case of food envy after you've ordered? Boom. Nobody will be picking off your plate if there are chicken wings up for grabs.
The relationship-saving food hack went viral after a guy named Nick Chisler posted about it on social media. Since sharing a photo of the option on Mama D's menu, Nick's post has so far been shared more than 22,000 times.

Imagine knowing you could conquer nearly any meal-time drama with such a simple solution? Not only have you earned another medal, Dad, you've won the war on dinner.
And if you ever happen to be in North Little Rock, here's Mama D's full menu.