Restaurant's Menu Takes the Hassle out of Ordering Food for Your Kids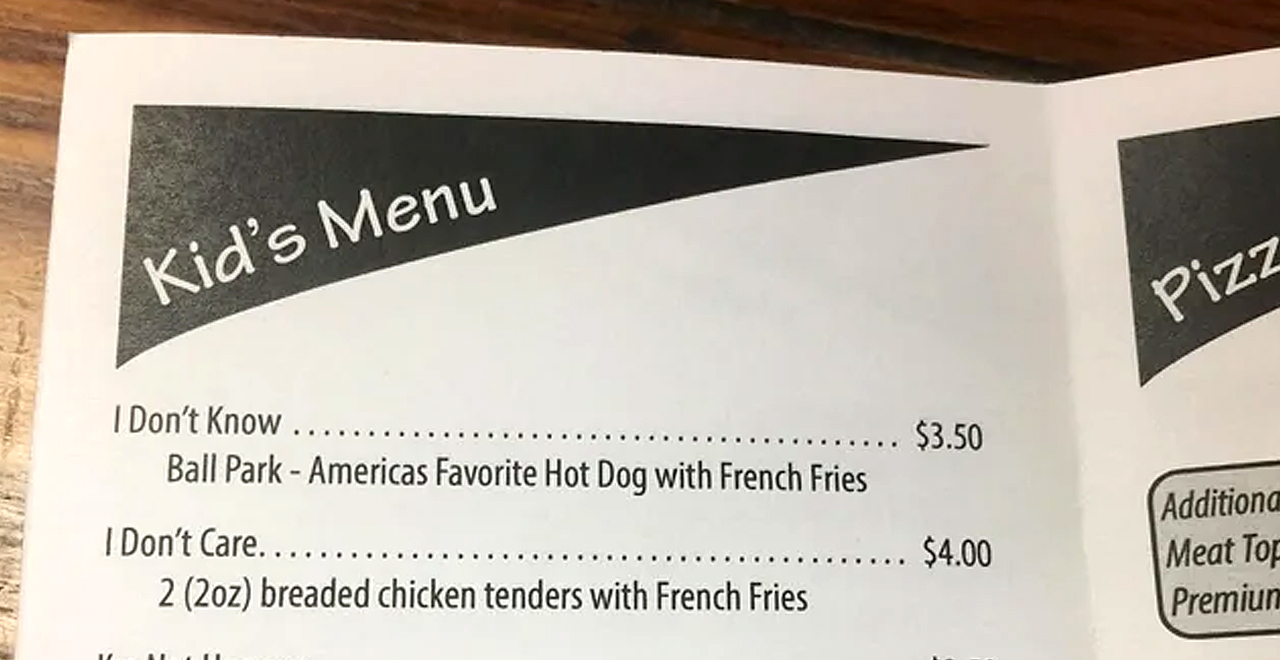 Going places with young kids is exhausting and frustrating and usually loud and almost always stressful. Especially when that thing involves being in a public place surrounded by other people who aren't as attached to your kid as you are.
Even more especially when going to that public place involves spending your hard-earned money on food. Sorry, did I say "spending?" I meant "wasting." Because every parent of a toddler knows that buying them food at a restaurant is the equivalent of lighting your money on fire.
Thankfully, some restaurants are aware of this fact, and one even has a healthy sense of humor about it. Which is sure to lessen some of the stress of the situation. How can you not laugh when you see a kid's menu that includes an item called "I Don't Want That," aka, fish sticks with French fries?
The establishment with this delightful, tells-it-like-it-is menu is The Deli at Mansion in Altoona, Pennsylvania, and a Reddit user named Nabced shared an image of their menu on the site. It has 50,000 upvotes, because it's genius. And not just because The Deli at Mansion knows how essential French fries are to a kids' diet.
As you can see, every kids' item comes with the fried potatoes, because that's often the only thing parents can get their toddlers to eat.
The three alternatives to fish sticks are a hot dog (listed on the menu as "I Don't Know"), chicken tenders ("I Don't Care") and grilled cheese ("I'm Not Hungry"). That pretty much sums up the entire "eating with kids" experience. Well done, guys!
The geniuses at The Deli at Mansion have not only made a hilarious menu, but they've also made the ordering process much easier for parents. From now on, if I ask my kid what he wants for lunch and he says "I don't know" he's getting a goddamn hot dog.
I'm also going to be frequenting any restaurant that offers a sides menu for girlfriends who "aren't hungry."