Ridley Scott & Sigourney Weaver Respond to Stage Production Of 'Alien' [WATCH]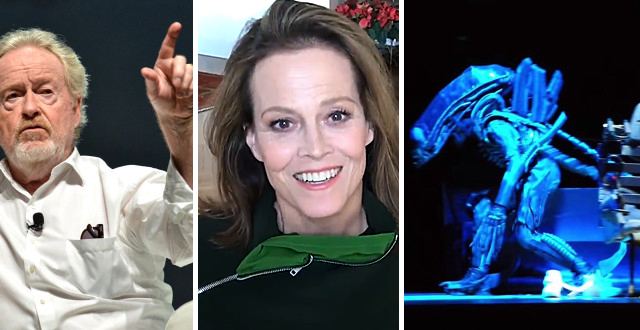 As we previously covered, the drama club at North Bergen High School in New Jersey recently threw all of the traditional plays and musicals out the window and went with something a bit more epic.
Here's a refresher clip:
A parent filmed the facehugger scene. pic.twitter.com/oamxaxikM2

— Paul Owens (@oh_pollo) March 23, 2019
Their elaborate stage rendition of Ridley Scott's Alien made headlines across the country for its amazing aesthetic on a shoestring budget; so much so, in fact, that it grabbed the attention of the creator himself!
Though Ridley Scott had admittedly only seen snippets of the performance, he was thoroughly impressed by the performances and costume design and even penned a letter to the group expressing his support.
Not wanting the group to be limited by something as simple as financial restraints, Scott forwarded some cash in order for the cast and crew to put on an encore performance of the space drama—something many audience members were clamoring for.
Finally, he left them with his two cents regarding which of daunting production to pursue next.
"How about your next TEAM production being 'Gladiator'?"
Then Sigourney weighed in via Twitter, she was equally impressed but also left them with a grave warning:
Students at North Bergen High School in New Jersey recently put on an AMAZING production of #Alien. Hollywood noticed. And so did… the Queen. pic.twitter.com/u3iNOgk8Pr

— Alien (@AlienAnthology) March 28, 2019
No news as to whether the North Bergen drama club will take him up on it or not, but here's the viral version of Alien: The Play that caught Scott's eye in case you missed it.