Rough Day? Here's A List Of The Most Laughably Horrible Toilet Setups Ever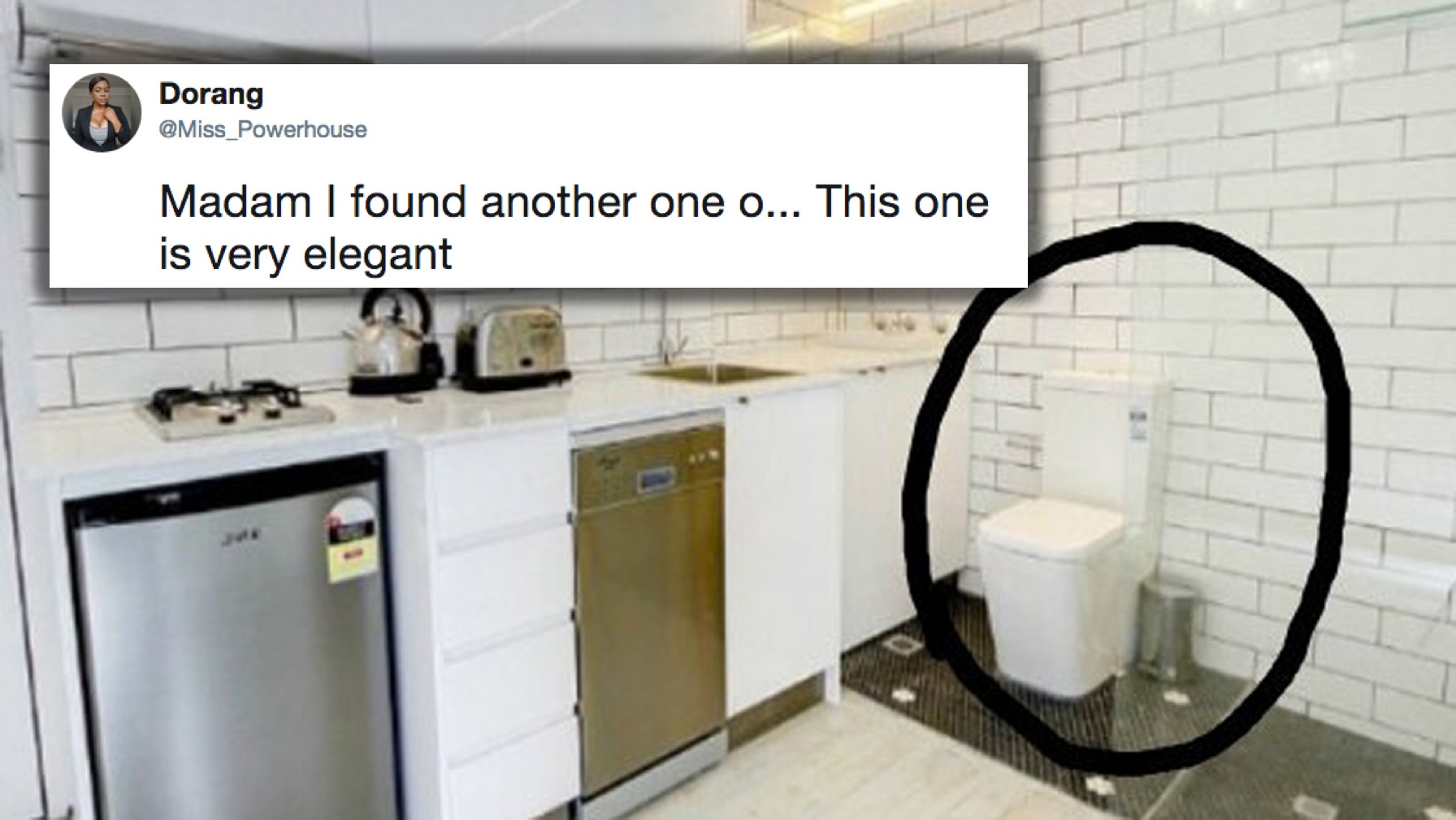 I'm no contractor, but I know the basics when it comes to installing a toilet: It needs to flush, you should be able to sit on it, and it probably shouldn't go in the middle of a kitchen.
Unfortunately, according to @Miss_Powerhouse on Twitter, these simple rules aren't always so obvious. She's documented some of the most inconceivable commode configurations ever constructed and we don't know whether to laugh or cry.
Agent: I found another house madam. Since you didn't like the toilet I showed you last time pic.twitter.com/iFb4ISy74u

— Dorang (@Miss_Powerhouse) April 21, 2018
Madam I found another one o… This one is very elegant pic.twitter.com/NBSbjM1c2L

— Dorang (@Miss_Powerhouse) April 21, 2018
I want this ???? pic.twitter.com/DceNoVpbGA

— Dorang (@Miss_Powerhouse) April 21, 2018
What madness is this pic.twitter.com/Nr8HzPr1S4

— Dorang (@Miss_Powerhouse) April 21, 2018
" if u see the toilet in this one Madam… U will bow… As I know u take ur toilet time seriously….This is the one" pic.twitter.com/0JycJpLGUr

— Dorang (@Miss_Powerhouse) April 21, 2018
When he carries his phone to the toilet
Me:…. It's okay… Shit… I'll wait pic.twitter.com/aUizWHXYQh

— Dorang (@Miss_Powerhouse) April 21, 2018
Ah ah pic.twitter.com/iYBEWZcwPI

— Dorang (@Miss_Powerhouse) April 21, 2018
"Let's pause the meeting…I need to pee" pic.twitter.com/XcUjjG60za

— Dorang (@Miss_Powerhouse) April 21, 2018
Ah ah pic.twitter.com/29uX1EobRc

— Dorang (@Miss_Powerhouse) April 21, 2018
Dassit I'm unable to can ???????????????????????????????????????????????????????????? I'm finished pic.twitter.com/kNiu5oHfb6

— Dorang (@Miss_Powerhouse) April 21, 2018
Last one ????
"can I use ur toilet"
Me: number 1 or number 2…i need to know if I must start cooking or wait pic.twitter.com/LNhndQ2Ey4

— Dorang (@Miss_Powerhouse) April 21, 2018