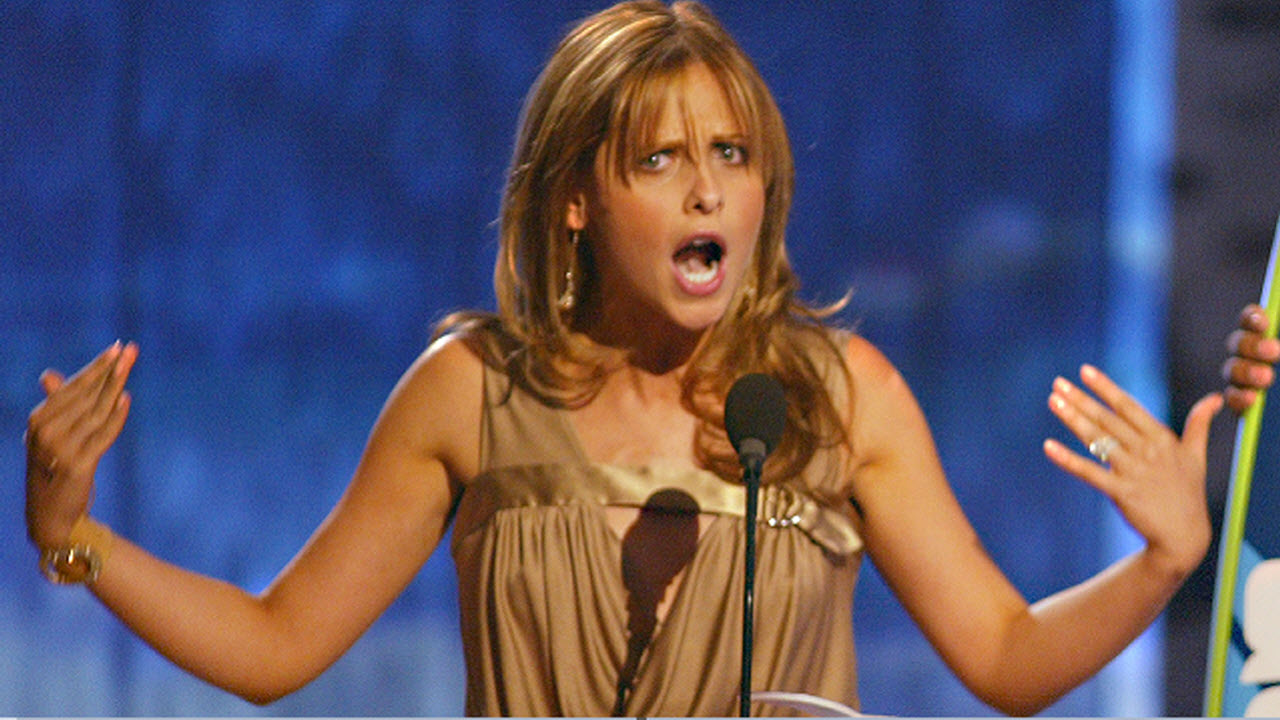 Credit: Kevin Winter/Getty Images
She says her husband's addiction nearly derailed their marriage
Marriage is a vulnerable thing. There are a lot of ways it can die, from bangs (literally banging someone else) to whimpers (I've considered ending it with my wife because she doesn't like animals). There are mundane issues, like money problems and kid-related stress, health issues, job issues, simple growing apart, too much drinking, he's a Jets fan, she loves Moulin Rouge, and on and on and on.
There are countless ways for love to die.
Including, apparently, an addiction to video games.
At least that's what former Buffy the Vampire Slayer star Sarah Michelle Gellar told Harry Connick Jr. about her marriage to Freddie "Never let it drop" Prinze Jr. on his talk show, which he has for some reason.
https://www.instagram.com/p/BYiviYqDndL/
Gellar went on Harry to discuss the secrets to a successful marriage, or at least the secrets to theirs, which is going strong after 15 years. Despite Freddie's once-crippling World of Warcraft addiction, according to his wife.
"There used to be a game called 'World of Warcraft,'" SMG told Connick Jr. "I literally at this point was like, I lost my husband, so I joined a support group ― not a joke ― called 'Widows of Warcraft,'" she said.
Gellar went on to offer suggestions to other women who may have super-nerd gamer husbands, and suggested one foolproof way to get them to stop.
"Ladies, if you are losing them to video game world, there are support groups out there on this thing called the world wide interweb and you can meet other people who have dealt with this same issue and have suggestions on how to communicate [about] the video game," she said. Or, Gellar joked, "Have kids, cause there's just no time."
I can vouch for that! I'm not a gamer – the last time I played regularly was when I was single and unemployed and I would mute the TV and listen to CDs on my boombox while I played Madden '99. I'M AN OLD MAN. I prefer my phone. – but it's hard enough to wipe your own butt without your kids crawling up it.
I've seen them around flashing screens; they're even more attractive to my kids than disrupting my bowel movements.
Oh, that's another thing Gellar suggested, aside from guilting her husband into not having fun: separate bathrooms.
"Separate bathrooms," she told the crooner. "I feel like there are certain things that should just be kept your own and they never need to know."
Sounds like Freddie needs to get his Playstation installed in the shitter!