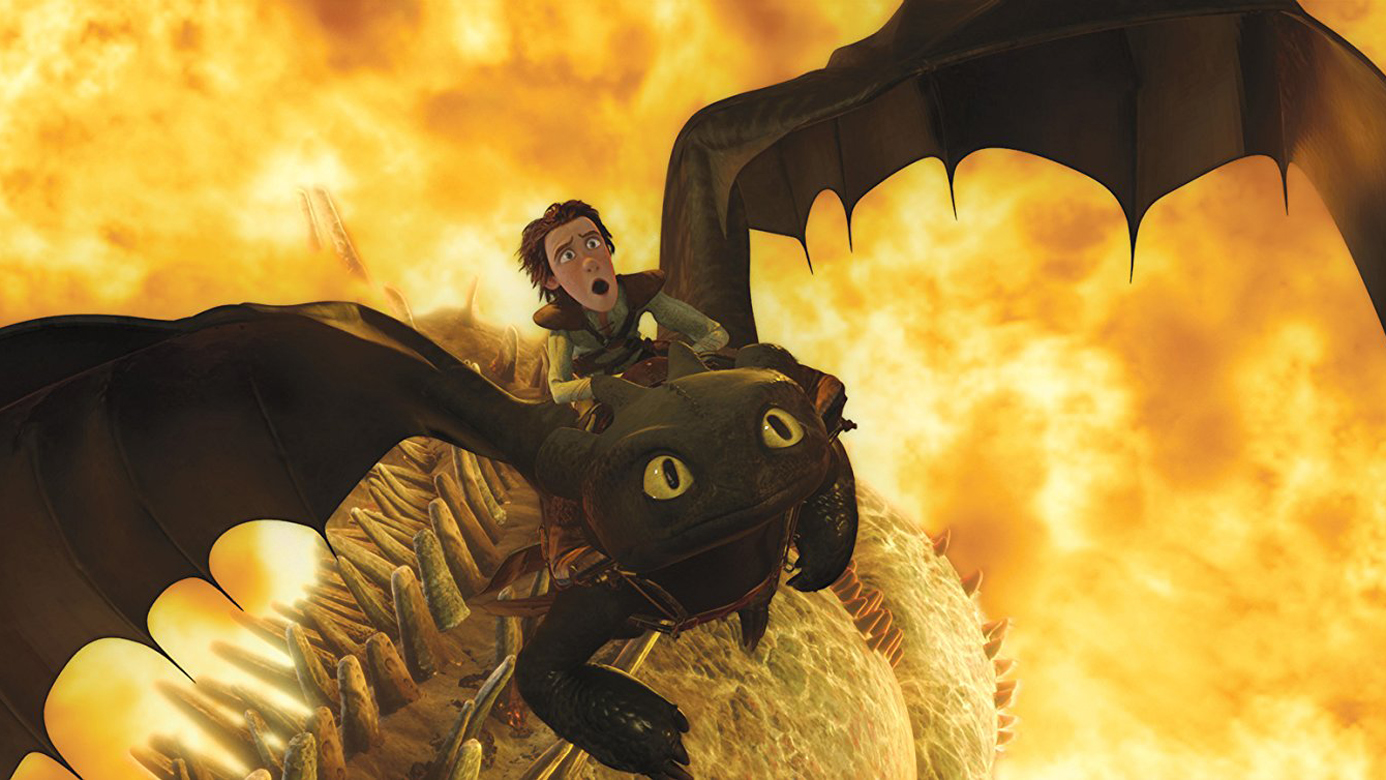 Credit: Paramount Pictures
Whether we like it or not, our kids are going to learn from the movies they watch. What's more, we have very little control over which lessons they take to heart, and which they miss. Films have messages on the surface, messages buried within, unintended messages, poorly constructed messages. Whether the lesson they take from Spirit: Riding Free is "horses are great" or whether its "horses are terrifying" largely depends on which parts they were paying attention to, which parts linger in their little brains.
Dreamworks' 2010 animated feature How To Train Your Dragon has a lot of different messages in it, most of which are great. There's the lesson about being true to yourself, finding your own purpose. There's a story about a young boy raised in an aggressive, violent society, taking it upon himself to redefine what masculinity and courage actually mean. There's even a message in there about what loss and grief can do to a family dynamic if you really look. I don't know which of them my daughters' will take on board, but I know which one lingers in my little brain: The message about warfare.
Towards the end of the first act of the movie, there's a line which feels weird, out of place. Its spoken by Astrid, after Hiccup yet again embarrasses himself in anti-dragon training. Furious with his ineptitude, she loudly yells "Our parents' war is about to become ours!"
The reason it stands out is that in an instant, the conceit of the film is reframed. It brings the concept of warfare to the front of what was previously more an issue of pest control. Suddenly we are thinking about HTTYD in terms of War, it's lessons recontextualized as being about not everyday life, but about conflict.
This is a deliberate act. The film-makers wanted to make a connection between the Vikings' "war" against the Dragons, and present-day warfare. Well, if they want to make that connection, let's do it.
What does How To Train Your Dragon have to say about warfare?
At first blush, the message is a simple one: Humanize your foe. By treating your enemy with empathy, you can learn about the underlying cause of your conflict (be it socio-economic, or, y'know, a Big Dragon with a magic roar). This is a nice message, and it is handled well by the film. Hiccup slowly builds trust with Toothless, then teaches others to do the same. It is only after everyone learns to think of the dragons as sentient creatures that the larger problem can be addressed.
Unfortunately, that message falls apart when they reach the Larger Problem. As mentioned above, the larger problem is just a much larger version of those creatures the film has spent its entire run-time teaching us to sympathize with. So is the message "Empathize with the enemy unless the enemy is very large?", "Empathize with the enemy unless they have a power you don't like?", "Empathize with the first enemy you encounter, but kill the crap out of the second one?"
Worse, it's pretty clear that the Big Dragon is acting out of self-preservation. Sure, she's enlisted an army of smaller dragons to help feed her, and that's no good. But how else do you expect her to eat? She's clearly too unwieldy to do much hunting herself. And given Toothless' appetite, can you even imagine how much a dragon of her size would eat?
Hiccup, after risking everything to convince the Vikings that dragons aren't so bad, doesn't even ATTEMPT any of his non-violent tricks to subdue Big Dragon. He just goes straight for destruction. He makes no effort to delve any deeper into the socioeconomic or evolutionary circumstances that have created this nest. Perhaps dragons operate something like bees, and by destroying their queen he has doomed them all to extinction. Perhaps Big Dragon is an elected official and the food brought to her is akin to taxation.
I mean, yeah, that bit where she eats another dragon seems bad, but to be honest, it's not even super clear she realized he was there. Even if she did, plenty of places still have the death penalty and we don't know what kind of heinous crimes that dragon committed. At the very least we see him attempt to get away with tax evasion. Seems like a harsh punishment, but I imagine Hiccup's remote village of literal Vikings has some pretty backward ideas about law & order too.
But none of this matters to Hiccup. All he sees is a big ol' dragon getting fed, and that's enough to scare him into destroying her.
Of course, it always had to end this way. Final acts require a climax, action movies require a final fight. The dictates of the genre have to win out in the end, no matter how good your intentions.
Perhaps that's the real lesson behind Astrid's words. We humans can empathize, we can form alliances, we can learn to see the humanity in even our deadliest enemies, but when it comes down to it, when we see something we don't understand, something that scares us, our first instinct is always to shoot first and ask questions later. No matter how sensitive or evolved we are, when something new comes along, we fear too much, too quickly, to ever consider understanding first. The cycle of violence repeats. Thoughtlessly, we attack. Our parents' war, inevitably, tragically, becomes our own.
Hopefully my kid just picks up on the "Be nice to animals" thing.