ScreenTime is not an educational column. Sure, sometimes you learn something, like Which Paw Patrol Puppy Is The Worst, or How Barbie: Life In The Dreamhouse Prepares Your Kids For The Apocolypse, but today you will learn something even more valuable: How to save $38,760 with nothing but a basic Netflix subscription.
This Friday, November 17, 2017, marks the release of Season 3 of the Netflix/Dreamworks Original Series Spirit: Riding Free. The surprisingly controversial spin-off of the 2002 movie Spirit: Stallion of the Cimarron has many admirers, but my daughter and I will not be returning to it. This is the story of why.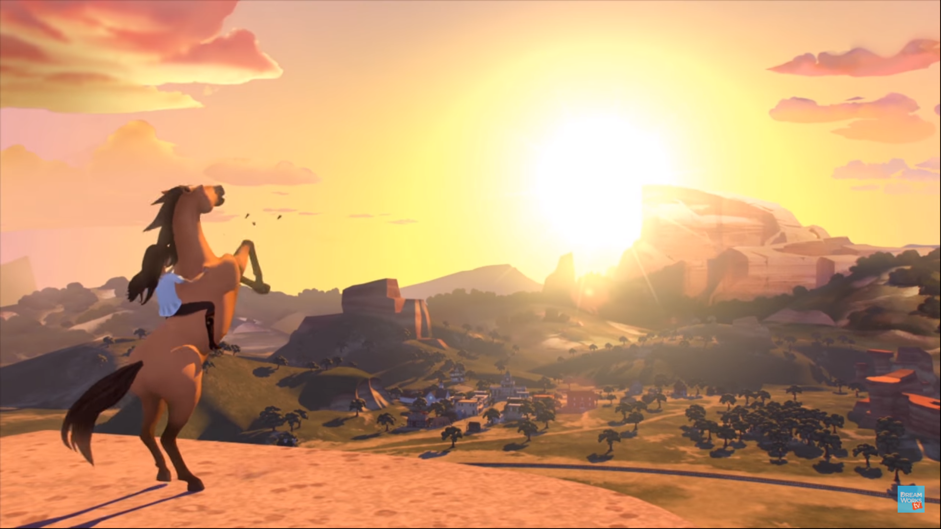 When my daughter first pointed at the title screen for Spirit: Riding Free and screamed, "NEIGH!!! WAMMA WATCH NEIGH," I clicked with no small amount of trepidation. Netflix's kids programming isn't exactly Stranger Things-quality, and given the lackluster approach content makers often take when it comes to shows aimed at young girls, my expectations were at rock bottom. But I don't like to judge a book by its cover, so we gave it a shot.
If you watch the show's title sequence, you might think my apprehensions were well founded. The theme song is a country-pop tune blander than a Kidz-Bopped Florida Georgia Line and the animation is ripped straight from the cut-scenes of an early 2000s PlayStation 2 RPG about horse grooming. The particularly savvy amongst you may have noticed aspects of the aforementioned controversy. But you, like me, are focusing on the wrong aspect of the sequence. The key scene, the scene that unlocks the true heart of the show, is the one of the girls dodging flying boulders as they charge down a narrow canyon.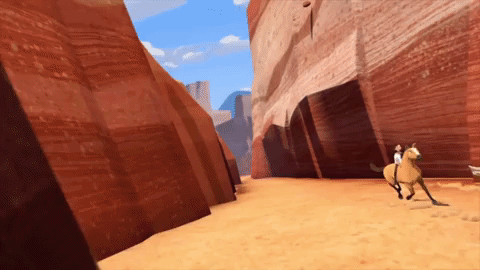 It is here that we see the first hints of what this series is all about: putting humans and horses in legitimately, unnecessarily terrifying situations, over and over again.
The first season of Spirit: Riding Free only has six episodes in it, but it is not until the second episode that it reveals to the unsuspecting viewer its harsh message. The pilot is inoffensive and straightforward: girl arrives in town, makes some friends, makes some enemies, the scene is set. We are introduced to our protagonists, Lucky and her horse Spirit. Yeah, along the way she witnesses a horse being wrangled in a somewhat unnecessarily traumatic way, but it's a minor blip.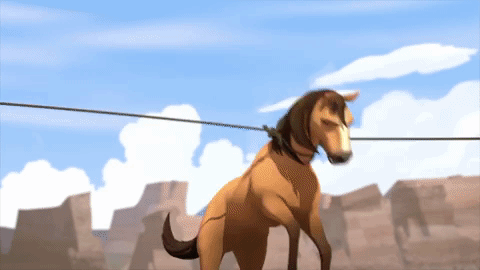 This lulls the viewer into a false sense of security. This is going to be a nice show about a girl, her friends, and their horses. Then Episode 2 begins and the facade starts to slip.
"Lucky & The Treacherous Trail" starts with Lucky's horse Spirit going nuts and smashing through the walls of a barn, and climaxes with a set of scenes in which Lucky and Spirit ride through a dangerous trail about which we have previously been given dire warnings. First they mess up a jump and we see the deadly results of one false move. Then the unstable cliff edge gives way causing Lucky to trip, nearly plummeting to her death, with poor Spirit hurting his ankle trying to save her. I'm not too proud to admit, my heart was in my mouth.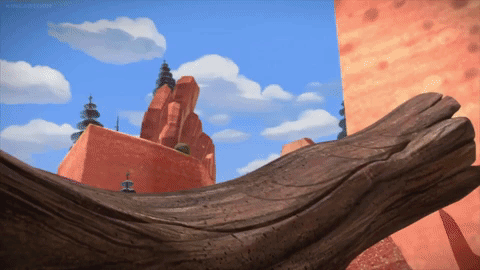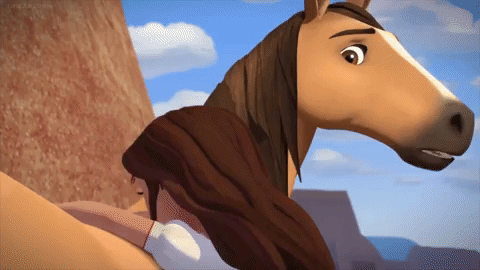 The show presents the lesson of the episode as one of listening to your friends and not being too proud, but the true lesson it seeks to impart is this: Don't Fuck Around With Horses. You Will Die.
I had learned my lesson, and was ready to move on, but my daughter is made of sterner stuff than I. I have seen her sit through scenes like Tai Lung's escape in Kung Fu Panda, or the final battle in How To Train Your Dragon, that have made lesser children literally shit their pants. So we persisted.
As if Episode 2 hadn't put Lucky, Spirit, and my nerves through enough, Episode 3, "Lucky & The Mysterious Map", opens with exactly the kind of terror-inducing vertigo that drove me to drink at the end of Episode 2. Here, Lucky, her father, and her two friends, Pru and Abigail, are ascending a steep and narrow canyon pass when Spirit freaks the fuck out and causes their wagon and all their possessions to careen off a cliff. The wagon nearly takes two horses and Lucky's dad with it, and it's only because Lucky's dad is some kind of super-powered acrobat that he survives.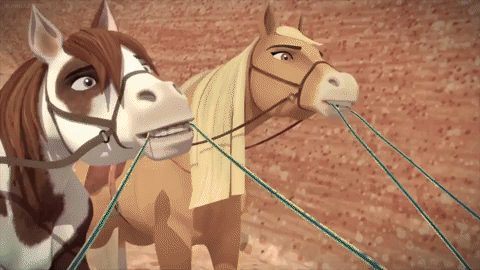 Already I was concerned: If this is where "Lucky & The Mysterious Map" starts, at what fearful pitch will it end? Sure enough, it isn't long before Lucky, Pru, and Abigail are TRAPPED IN A DARK CAVE BY A WILD BEAR. And this isn't some friendly, picnic-stealing Yogi Bear type. It is made clear that this bear is trying to maul and eat these preteens.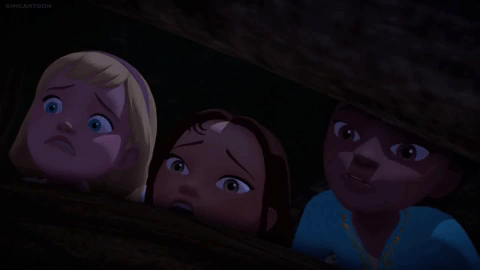 It was Episode 5 that finally finished me. Specifically this scene, in which an abused and terrified horse is trapped and panicked. Our heroes can't go near him for fear of getting a hoof to the solar plexus. Meanwhile, a dam is about to burst, unleashing a tidal wave that tears down trees and crumbles rock. Just look at this damn horse. I can't take it.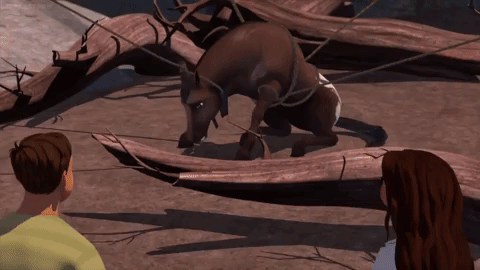 Maybe one day my daughter and I will return to Spirit: Riding Free, but we will return to it humbled, our lesson learned: Horses are terrifying.
And in years to come, when my daughters' friends gaze longingly at horses galloping majestically in open fields, or bring home flyers for riding lessons, or for conveniently-located stables, my children will remember "Lucky & The Mysterious Map", and, fearful of the inevitable bear mauling and near-death experiences that accompany horse-related activities, search for some safer, cheaper hobby.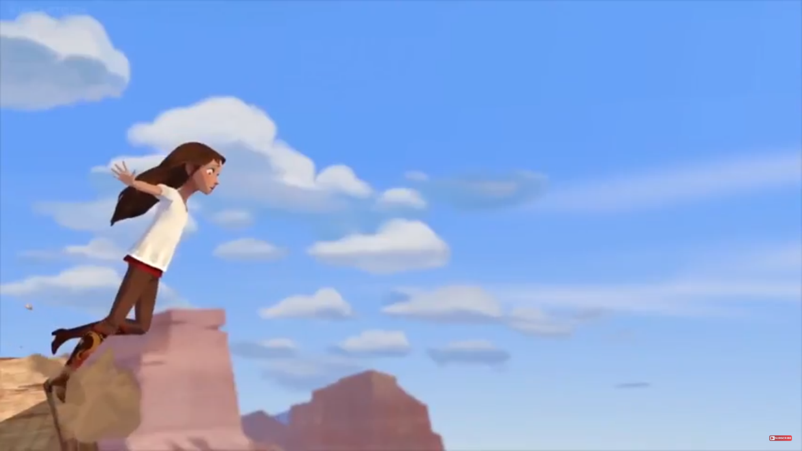 So enjoy your approximately $38,760 in horse activity-related costs, parents who haven't seen Spirit: Riding Free. My daughter and I will be over here on the couch, breathing into brown paper bags, resisting flashbacks of "Lucky & The Treacherous Trail".