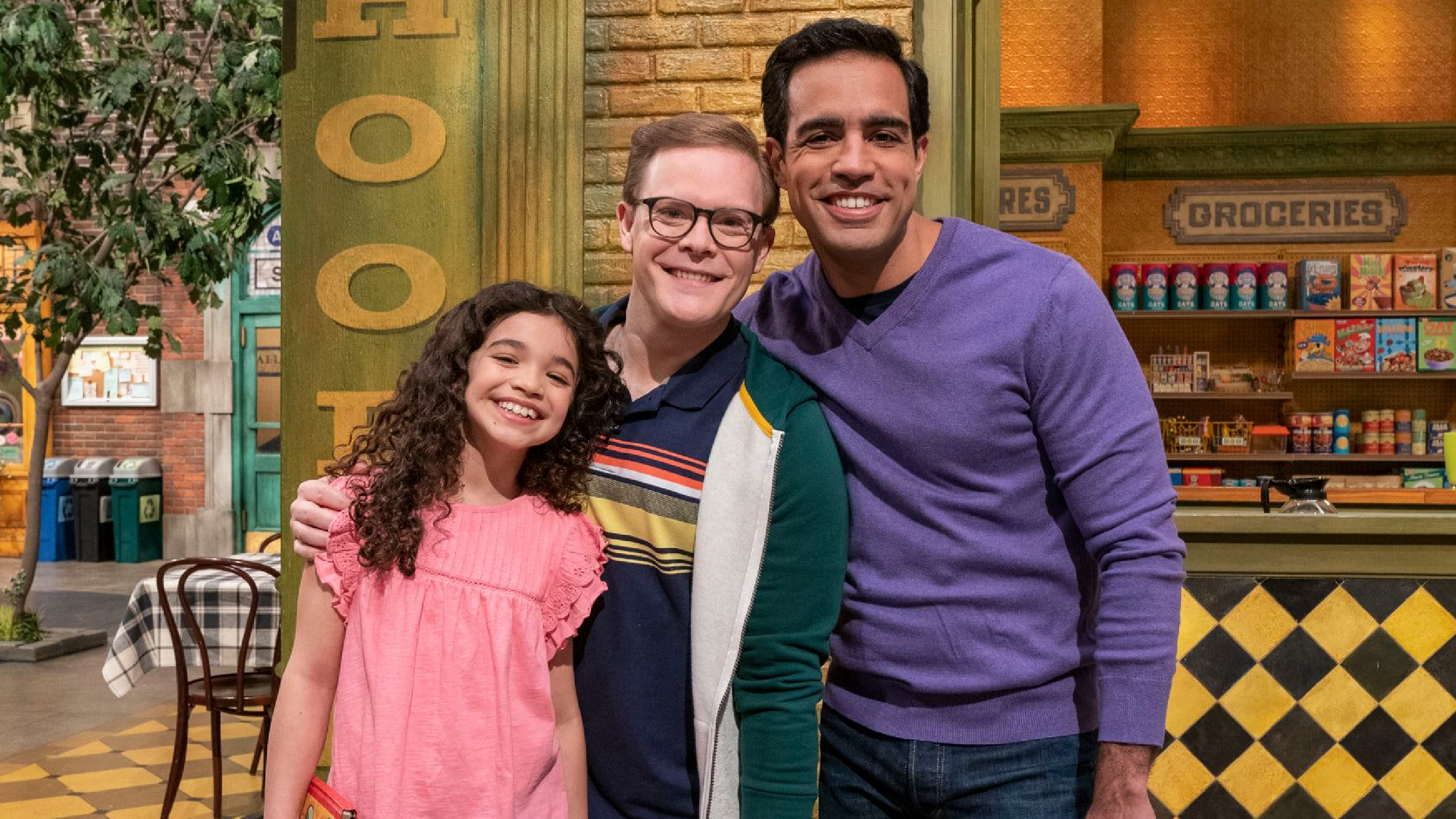 Credit: 2021 Sesame Workshop / Richard Termine
Sesame Street is recognizing Pride Month in a way they never have before, by showcasing a family that is becoming increasingly more common. The show aired a special episode called "Family Day" that featured a family with two dads and their daughter. The gay married couple, Frank and Dave, along with their daughter Mia, join the rest of the block in surprising Big Bird at a party.
While it's far from a first on TV, it does mark a historic first for the longtime children's show. It's the first time in 51 years of Sesame Street that they've showcased a family with two gay dads. One character remarks that "all of our families are so different" and one of the dads responds that there are all kinds of different families.
"But what makes us a family is that we love each other," one of the dads says.
The episode was directed by Alan Muraoka, who is a longtime actor on the show who owns Hooper's Store. He shared a post about how special the episode was.
"Sesame Street has always been a welcoming place of diversity and inclusion," he wrote. "So I'm so excited to introduce Nina's Brother Dave, his husband Frank, and their daughter Mia to our sunny street."
"I am so honored and humbled to have co-directed this important and milestone episode. Love is love, and we are so happy to add this special family to our Sesame family. Happy Pride to all!!!"
When stories like this pop, the response is either overwhelmingly positive, or it's a lot of "who cares?" And here's the thing people making the second comment miss. Yeah, it's 2021, very few people care if you're gay or not. Families are made up of all sorts of different relationships and setups, sure.
But, representation does matter. For kids who may be gay to see it normalized on TV does matter. Especially when the suicide rate for LGBTQ kids is so high. You may not personally consider it a big deal, but to certain people, it's an enormous deal, and anything that helps that community of children should be encouraged.
Anything we can do to help kids who may otherwise be feeling very alone and isolated is a good thing. And if Sesame Street can do its part by showing families with two dads can be normal, we are here for it.